How COVID-19 Will Impact Canada's Real Estate Industry
How COVID-19 will impact Canada's Real Estate Industry
The Coronavirus outbreak has decimated financial markets in recent weeks. As of March 16th, the S&P 500, Dow Jones Industrial Average, and TSX composite indices have all seen ~25% drawdowns from their recent 2020 highs.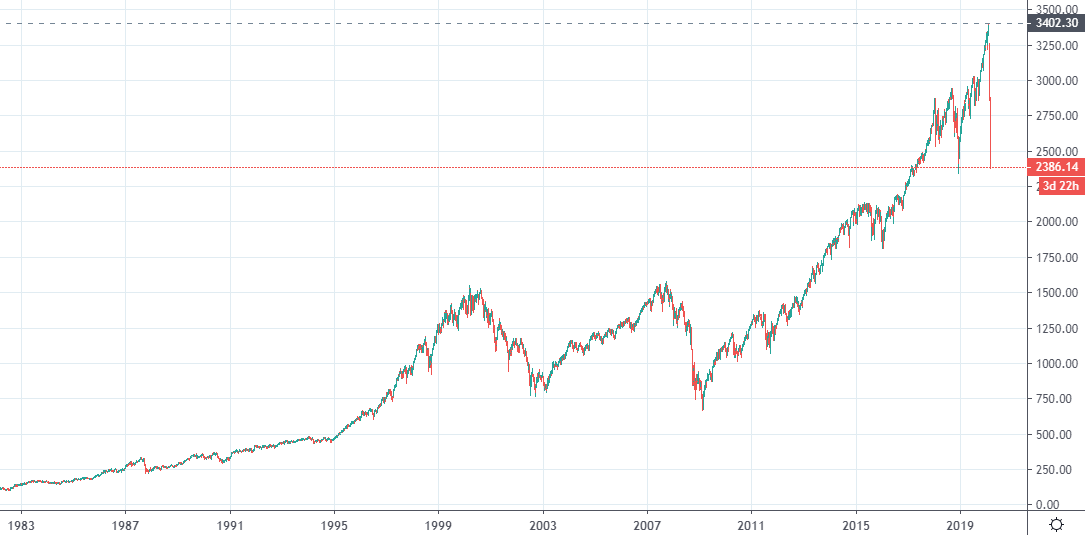 The S&P 500 since 1980.
In an attempt to stabilize equity markets, the central banks of countries like Canada, America, the United Kingdom, New Zealand, and Australia have slashed interest rates by 50 to 75 basis points and are expected to be round 5 of Quantitative Easing – in other words, they're once again firing up the money printing press.
The Bank of Canada's prime rate is now targeted at 0.75%. In an attempt to remain profitable through the COVID-19 crisis, Canada's big five banks have just increased consumer mortgage lending rates across the board by 20 to 75 basis points.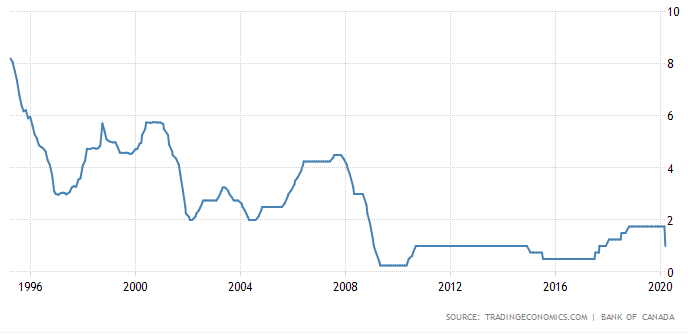 Canada's Prime Rate since 1996.
Canada's 5-year variable rate mortgages are now yielding ~3.2%, while 5-year fixed mortgages are offered at ~4%.
How will this affect our economy?
The SARS epidemic had a roughly 1/10th of one percent impact on the national GDP. If Covid-19 were to be 500% more impactful, it could lower forecasts by as much as half a percent from 3.5% growth to 3% growth. While this outcome would be far from ideal – it's not quite a doomsday scenario.
Having said that, we cannot accurately predict the full economic impact of the Coronavirus on a global scale. With the looming supply chain slowdowns and with industries like travel, sports, and entertainment taking a major hit, the crisis will continue to affect our economy, at least in the short run.
If we've learned one thing from prior financial black swan events, it's that when the stock market sees a massive sell-off, capital tends to flow into safe-haven assets like gold and real estate.
QE Infinity
Due to the effects of Quantitative Easing – which has no end in sight – we should eventually see significant price increases for Canadian REITs, multi-family investment properties, and the broad real estate market.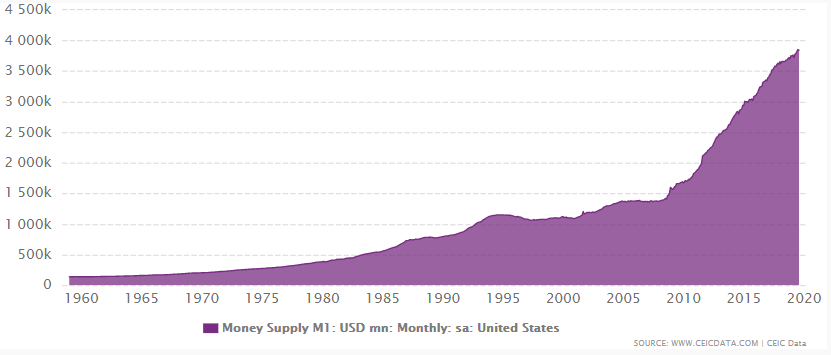 The US M1 Money Supply Since 1960.
In the short-run, citizens will be laser-focused on this crisis, and we expect to see a serious damper on March / April numbers that will create pent up demand come May/June.
Remember that consumer confidence was high through January and February 2020. Add to that some seriously cheap money provided by the Fed, and you've got a recipe for a runaway May.
But that also depends on how well Canada handles containment. Let's assume we do a fairly good job, tackle the virus, and reopen our borders. Our success should also drive more migration to Canada. You can bet that Chinese will be coming over in droves once they're given the All-Clear, which will create increased demand for both the rental and the resale market.
Residential Property Prices in Canada Since 1970. Notice how housing prices follow the M1 Money Supply.
In the meantime, we ask everyone to exercise their best judgment and get the support you need. Follow the advice of the WHO and CDC. We at Vantage are well equipped to help you practice social distancing and secure a great deal on real estate.

To manage this crisis, we're employing digital technologies to keep each other safe:
We can meet together online through Zoom.us or Skype.

We'll provide 3D virtual tours on all of our listings and offer the ability to create immersive, narrated video walk-throughs of any MLS property.

We can complete real estate contracts remotely via DocuSign.


The Center for Disease Control and World Health Organization have provided lists of recommendations to prepare you and your household for COVID-19:
Stay vigilant, stay positive, look out for one another in your community - and remember – this too shall pass.
Selling Your Home?
Get your home's value - our custom reports include accurate and up to date information.
Get Home Value