Realtors: Provide Value or Become Extinct
The Real Estate Career in the 2020's and 10 Ways to Prevent Yourself From Going Extinct
If you ever find yourself awake at night pondering how Amazon.com, Artificial Intelligence, and automation are going to take away your job, you are not bringing enough value to the marketplace.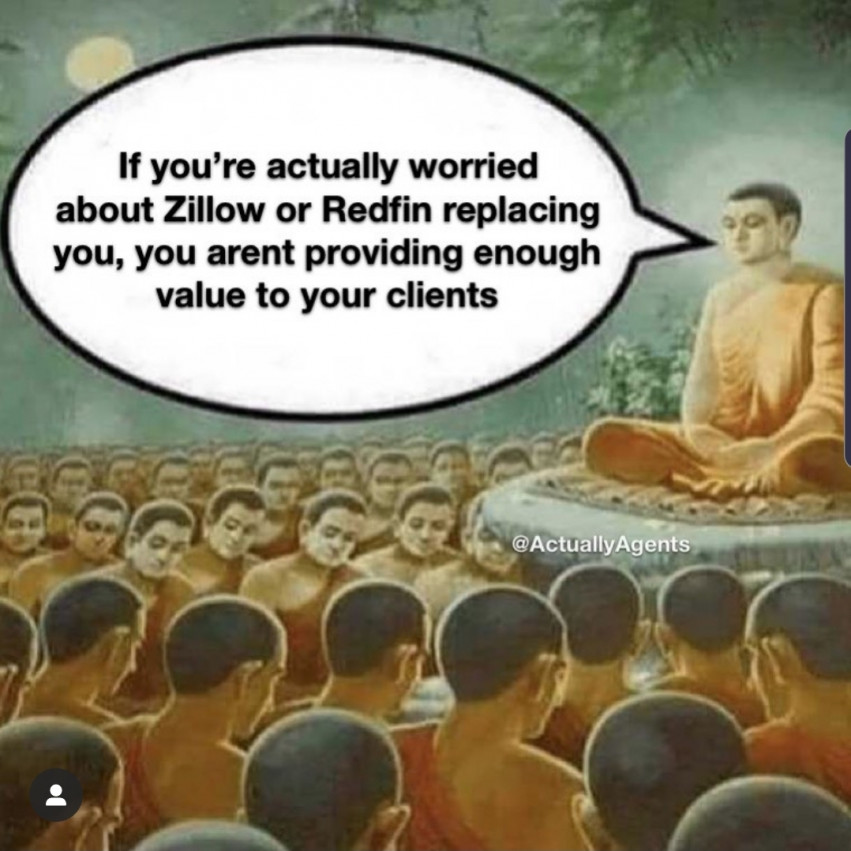 I'm going to be brutally honest - the future is bleak for the vast majority of real estate agents. I believe that 80% of realtors will be extinct within a decade or less because most realtors fail miserably at two fundamental tasks.
For one, they fail to properly educate themselves on the skills needed to provide clients with real, tangible value. Secondly, they fail to effectively articulate said value to the marketplace.
You might be thinking, the industry follows the 80/20 rule where the top 20% of agents capture 80% of the available market share and leave the other 80% scrounging for scraps in the dust. That may be true, but in the brave new world ahead, the 20% who are successful today, might not be the ones that survive the impending realtor reckoning.
Learn to Adapt
Hard work is hard work - grinders who have pulled themselves up by the bootstraps to make it in today's market will have the opportunity to adapt, pivot, and succeed again in the dystopian real estate world of AI, Big Data, Virtual Reality, and Smart Contracts.
We don't know exactly what the future landscape of the real estate industry will look like, who the game changing players will be, or precisely when it's all going to happen, but the writing is on the wall for those making their living by simply obligating their "sphere of influence" or by trading properties based on privileged access to information sources like the MLS.
How'd we end up here?
Somewhere along the way in the mid 2000's, digital technologies came along and started making our lives a lot easier. We shifted from signing carbon copy contracts in person to using email and DocuSign to make real estate transactions more efficient - but at what cost?
The act of driving to meet with your clients, sitting down and having an honest face-to-face conversation with them during one of the most stressful moments of their lives had major value. And negotiating offers in person provided tangible value. But if streamlining the transaction is our only goal, we will not like where that road leads us.
For years it was our inside access to the information on the MLS that made realtors the information gatekeepers. Nowadays, our clients have access to so much information that they'll often know more about the homes on their list than their buyer's agent.
It was only 20 years ago that people had to get in their cars and drive to a local real estate office to view home listings. The floor agents would go into the back and get "The Book" - which could not leave the agent's office - and go through the listings with their customers. This act alone, combined with having the keys to the houses, was the primary exchange of value, and this lasted for nearly a century.
Enter AI and automation, your Brave New Competition
Next it came down to who could build a website and provide buyers with an online browsing experience with all of the local listings. And now, since the MLS lost its vice grip on the data, big corporations with vast resources are pouring into the space and will just plain out-spend and out-innovate local realtors or the board on being the first step in the buying journey.
Heck, Amazon.com just entered the space. Sorry to say, but a good IDX website on its own just ain't gonna cut it.
What about access to homes? This problem was already solved by ZipTours back in 2015; buyers can now access listings by lockbox without even having an agent present. There are hordes of real estate agents that provide scarcely little value beyond basic access to the properties.
What about chauffeuring people around on guided tours? With today's smartphone tech, augmented reality, and the autonomous vehicles of the future, buyers will be able to gather all of the local intel they need without having to interact with another human.
In the not too distant future, most buyers will tour homes from the comfort of their living rooms with a Virtual Reality system strapped to their face. Companies like Matterport are already offering immersive, high definition virtual home tours, and if that doesn't scare you, they've just raised tens of millions in additional funding.
Interactive Augmented Reality comes next, which will completely automate home tours.
Writing a contract? We're not far from a world where home titles are transferred in a matter of seconds through peer-to-peer smart contracts coded on decentralized, public blockchains like Bitcoin and the Ethereum network. Lawyers, bankers, and realtors are all going to feel this one in the pocket book.
What about price expertise? Well just like medical diagnosis can now be done more effectively by AI systems like IBM's Watson, or how law firms are using AI instead of hiring articling lawyers for case research, the value of homes will be derived from big data systems that optimize buying and selling prices better and faster than most humans.
If being a pricing oracle is a big part of your current trading strategy, I've got some bad news for you.
So what's left for us as realtors?
If access to inventory, guided tours, pricing, and writing contracts all get automated, are we all going extinct? Yes and No.
If you're what I call an "Obligatory Agent", meaning your clients are mostly friends and family that feel obliged to work with you to avoid an awkward dinner conversation at Christmas time, then yes, you are done like the Dodo.
But if you're one of the rare agents who's made the shift from Salesperson to Consultant and you're relentlessly trying to add value for your clients, then you've got a fighting chance of being one of the rare survivors in the Brave New Real Estate World.
What's the real estate profession going to look like through the 2020's?
To answer this question we have to think ahead and analyze the gaps. What advantages do us humans have over artificial intelligence? The intangible, hard to quantify skills and expertise that a machine simply cannot replicate - at least yet.
There's a saying that in the information era we are "long on information but short on expertise".
Here are 9 ways to build your expertise and stay relevant as an agent in today's data-driven real estate market:
Be able to see hidden potential or latent value in properties, and having the expertise to know how to maximize its value.
Many agents have major skill gaps in negotiation. All the data and smart contracts in the world aren't going to help clients negotiate great deals; this requires proficiency and intuition that can only be developed by a human mind and face to face interaction.
Provide solutions - Foster an awareness of creative strategies that can solve your clients problems. Your client needs an instant offer? Boom, you have investors in waiting. The client is underwater facing a huge mortgage penalty? You know straight away the best path is a Lease Option. They need to get out from under a big mortgage in a tough market? Consult on how to structure trade deals.
Understand construction. Be able to renovate a property in your mindseye and be good at explaining the prices and options available to your clients so you can customize a diamond in the rough. Know the programs available to help them finance it. Know or have the construction team at the ready.
Understand Data Analysis. Know how to read market drivers and market indicators to guide your clients to make smarter real estate investment decisions and stay ahead of the curve.
Understand and guide people through the intricacies of subdividing or developing property. With rents on the rise, these skills will only become more relevant in tomorrow's real estate marketplace.
Speak the language of and build the skills needed to work with investors and curate the best opportunities.
Be a one stop shop for your clients - become a HUB with a professional network that can move a deal start to finish in 5 star fashion.
The opposite of the generalist - become super niche - be the local expert on pet-friendly condos, the go-to-gal for short term rental property, or specialize in vineyard estate properties.
Making the shift from Salesperson to Consultant
With the dual agency ban in effect, the perception that you are merely selling someone's home is an antiquated idea. You are now the consultant that helps guide a person through this stressful and challenging life event.
What's the difference between a salesperson and a consultant? While salespeople pitch and push their products, a good consultant asks questions, listens well, and then educates and advises their clients. And by using a streamlined, process-driven approach, clients get a 5-star experience and feel confident that they're making the best decision.
Is an agent still needed?
My feeling is a resounding yes, because at the moment, AI can't do it all.
This is because when it comes to home transactions, the vast majority of buyers and sellers are completely unreasonable with their pricing expectations. Buyers want a fire-sale and sellers want the moon.
There are some things that can only be performed by veteran agents that have successfully negotiated hundreds of transactions.
Real estate agents perform a special function
The best analogy I can give is that a real estate agent is the much needed cartilage that prevents a painful bone on bone injury from happening. Realtors are the necessary buffer between two often unreasonable parties. If you remove that buffer, I think you'll end up with carnage.
You see when a buyer wants to make a totally insulting offer, it's the agent that tempers their expectations and gets them thinking straight again. On the flip side, when a seller gets a lowball offer, their knee jerk reaction is to tell the buyers to go fly a kite.
They're hopping mad with their egos and feelings on full display. Enter their sellers agent who tempers their expectations, explains that this is a normal part of how the game is played, and then brings them back into the moment so the deal can proceed.
These situations don't just come up during price negotiations. Any agent will tell you that most deals that actually close die a couple of times along the way. It might be during inspection, appraisal, or over any number of things that can pop up throughout a real estate transaction.
Something is bound to happen during a deal. And when it comes up, you'll want an agent who has seen it all before and is mutually incentivized to keep the deal from coming off the rails.
But technology is absolutely coming for our industry and if you haven't noticed already, it's dramatically changing the real estate profession.
I believe that if we allow technology platforms to take centre stage in property transactions, we are going to become mere cogs in their wheel, and eventually both realtors and their clients will ultimately pay the price to these monopolistic tech behemoths. What we should aim for is a subtle shift in our process that uses technology to improve quality of service and makes a massive impact on the final outcome.
We must become high calibre, tech-enabled real estate agents.
Local agents that have the very best tools in AI analysis at the ready, offer convenient VR showings, and expertly manage the transaction as a consultant to be a guide and fiduciary for our clientele.
This is the version of the future that has value, the one where agents stay at the centre of the real estate ecosystem, utilizing the latest and greatest to only further improve their client experience and enhance their suite of services.
Hard Lessons from Deep Blue vs Gary Kasparov
It was over 20 years ago that a primitive AI from IBM known as Deep Blue beat the world's grandmaster of chess, Gary Kasparov. Since then supercomputers have found ways to outplay humans at most of our own games.
Did humans just accept this new reality? No, they created a whole new class of player, dubbed Centaurs for being half man half machine, these combinations of Super computer precision and Super Human intuition have proved to be unbeatable. You see where I'm going with this, enter the real estate cyborg. These data and tech savvy realtors will combine human relationship and market intuition while, harnessing the power and precision of AI systems to deliver a data-driven, yet comfortably human client experience.
As we move towards an inevitably data driven future, we cannot assume that yesterday's dusty tactics will yield fresh results tomorrow. Stay relevant, specialize, and provide real value to clients by developing the skills needed to benefit from the AI revolution.
And besides, learning new tricks can be fun, even if you're an old dog.