12 Best Kelowna Boat Rentals | 2023 Guide to Okanagan Lake Boating, British Columbia
Looking to rent a boat for a day on Lake Okanagan in Kelowna, British Columbia? This guide shows you the best Kelowna boat rental businesses in 2022 based on equipment quality, availability, customer service, and Google reviews.
Boat Rental Kelowna, BC | 2023 | Kelowna Boat Rentals
There are 2 categories of businesses offering Kelowna boat rentals:
Lakefront marinas where you can rent a boat that's already docked on the water, hire a driver (or drive yourself), and get set up with all of your desired watersports equipment like water skis, wakeboards & wake surf boards. There are 3 lakefront marinas in the Kelowna area - and they get very mixed reviews.
Independent boating businesses who store their boats on dry land, then meet you at a Kelowna boat launch ready for the day out on Lake Okanagan. These companies are generally cheaper, and offer more unique boating experiences - but they usually have a much smaller fleet of boats and a smaller inventory of life jackets compared to Kelowna's Marinas. On the other hand, Kelowna's independent boating businesses tend to get better reviews for customer service, equipment quality, and overall experiences.

To make sure you win the day, book your boat rentals in Kelowna well in advance, and make sure the company you pick has enough life jackets to fit everyone in your crew. And always work with a company who is licensed, insured, and has great online reviews.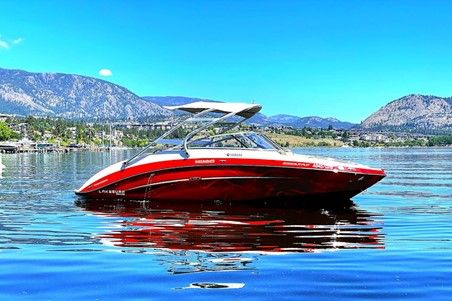 LakeSurf Premium Rentals, West Kelowna
4.6 stars (68 reviews)
LakeSurf Premium Rentals is a West Kelowna boat rental business located on the waterfront inside of The Cove Resort on Gellatly Road. LakeSurf has a range of boats, pontoons, Waverunners (Sea-Doos), stand-up paddleboards (SUPs), and kayaks for rent, and is known for being well-organized, professional, and family-friendly.
Boats for rent:
Wake and ski boats

Waverunners

Pontoons

SUPs & kayaks
Info:
Open 8am to 8pm

4205 Gellatly Rd, West Kelowna, BC V4T 2K2

(250) 707-7873
Kelowna Downtown Marina
4.5 stars (665 reviews)
Kelowna Downtown Marina is a centrally located Marina along the waterfront promenade with a large fleet of boats and Sea-Doos. Known for affordable rental rates, a landmark location, and easy online booking, this is a very popular place in Kelowna to rent a boat.
Boats for rent:
Wakesurf & wakeboard

Bowrider

Pontoon

Jet Ski

Kayaks & paddleboards
Info:
Open 9am to 7pm

210 Bernard Ave, Kelowna

(250) 763-5599
Boat Rentals Kelowna (West Kelowna Marine)
4.5 stars (8 reviews)
Boat Rentals Kelowna is a boat rental company that operates out of West Kelowna Marine on the Gellatly Rd waterfront. They offer a range of boats, boat tours, water taxis and rescue services.
Boats for rent:
Pontoon boats

Power boats & wake boats (Stingray, Montego Bay)

Seadoos

Non-motorized equipment
Info:
Open 9am to 8pm

4058 Gellatly Rd, West Kelowna

(250) 769-0008
Eldorado Marina
4.3 stars (82 reviews)
The Eldorado Marina, also known as "The El," is a Kelowna marina located in the South Pandosy Mission area next to its namesake hotel and waterfront restaurant. The Eldorado Marina rents out a range of powerboats including Suncatcher, Cobalt, and the newest 2022 Nautique tournament boats.
Boats for rent:
Wakesurf & wakeboard

Bowriders

Pontoons

Personal watercraft
Info:
Open 9am to 7pm

500 Cook Rd Unit 3, Kelowna

(250) 763-3625
Okanagan Luxury Boat Club & Valet
5.0 stars (43 reviews)
Okanagan Luxury Boat Club is a Kelowna boat rental business offering single day and multi day rentals with affordable pricing. If you're heading out on the lake for the day, you'll meet to board your boat at the Water Street launch. Okanagan Luxury Boat Club also has a range of boats for sale and provides boat storage by day, week, or month.
Info:
Open 8am to 8pm

425 Bay Ave, Kelowna

(250) 869-5720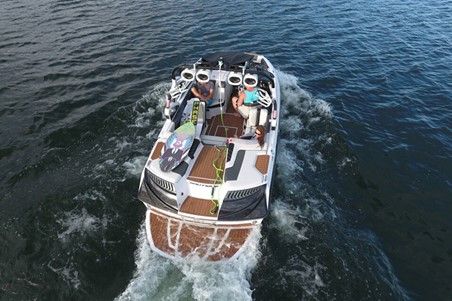 Wakebenders Boat Rental
5.0 stars (32 reviews)
Wakebenders is a Kelowna boat rental company that's becoming known as one of the best boat rental companies in the Okanagan. With a brand new, state-of-the-art Nautique G23 wake boat and drivers who are highly skilled at wakesurfing, Wakebenders is the place to go for wake surf trips or just enjoying time on a gorgeous new boat.
Boat for rent:
Info:
Open 6am to 9pm

211 Bernard Ave, Kelowna

(778) 215-0090
Off The Grid Wakesurf School
5.0 stars (22 reviews)
If you want to learn to wakesurf on Okanagan Lake, Off The Grid is a watersports coaching business offering wakesurf lessons, wakeboard lessons, boat rentals, and event packages.
With 5-star reviews across the board, Off The Grid has great coaches to help you learn to surf the wake.
Boats for rent:
Info:
Open 8am to 10pm

500 Cook Rd, Kelowna

(604) 765-1354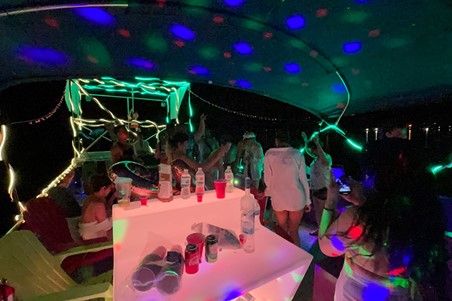 Free Spirit Boating
5.0 stars (10 reviews)
Free Spirit Boating is a Kelowna boat rental company offering wake boat rentals, Kelowna houseboat rentals, personal watercraft, and party boat rentals. If you're looking to host an event or just let loose on the lake, Free Spirit gets rave reviews as a party boat operator.
Boats for rent:
Pontoon boat

Seadoos

Surf and wake boats

Houseboat event rentals
Info:
1191 Sunset Dr #2207, Kelowna

(250) 300-5165
Kelowna Boat Charters
5.0 stars (7 reviews)
Kelowna Boat Charters offers boat tours on Okanagan Lake and other nearby lakes on a Heydey wake sports boat driven by their own captain. They offer both lake tours and water sports packages if you want to try out wake surfing, wakeboarding, water skiing, and tubing.
Boat for rent:
Heyday WT-2DC (designed for wake sports)
Info:
Open 8am to 10pm

1354 Water St, Kelowna

(519) 860-9381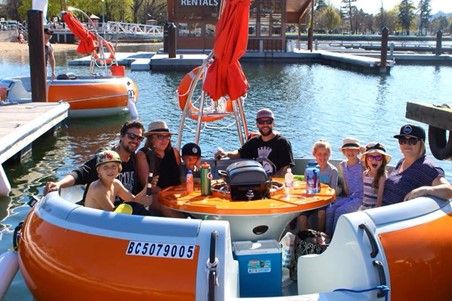 Maeg's BBQ Boats Rentals & Tours
4.9 stars (97 reviews)
Maeg's BBQ Boats offers a unique Lake Okanagan summer boating experience: you cruise along the waterfront on a comfortable, round boat with shaded seating for up to 10 passengers, a barbeque table in the middle, and a cooler full of drinks. They offer a 45 minute lake tour with a captain (no BBQ), or you can rent out the boat for 2 hours and be your own captain - provided you have your Pleasure Craft Operator Card (boating license).
Info:
Open 10am to 9pm

230 Queensway, Kelowna

(778) 821-2628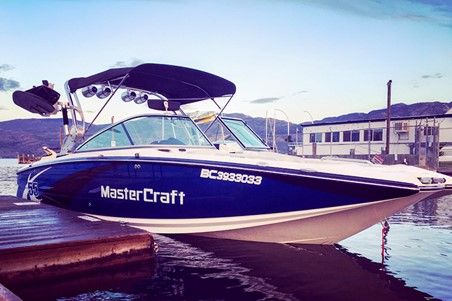 Kelowna Boat Rentals
4.8 stars (230 reviews)
Kelowna Boat Rentals is an Okanagan boat rental company with a large fleet of power boats, wake boats, and pontoons for rent in Kelowna, West Kelowna, Fintry, and Peachland. Kelowna Boat Rentals is known for being friendly, punctual, and highly accommodating.
They offer single and multi day rentals - and you can choose your own location to launch the boat from (Water Street, Gellatly Bay, Cook Road, Lake Okanagan Resort, Kekuli Bay, Fintry, Pentowna, Peachland).
Boats for rent:
Speed boats

Pontoons

Sea Doos

Water toys (tubes, wake surf, wakeboards, water skis)
Info:
Open 8am to 8pm

(250) 300-8685
Kelowna Boat Club
4.8 stars (17 reviews)
Kelowna Boat Club offers a fleet of premium wake boats and a new Seadoo for daily and long-term rentals on Okanagan Lake. They get great reviews for having top-notch boats and great service.
Boats for rent:
2022 ATX 22 Type-S

2022 Seadoo Spark 3up

Malibu MXZ 24

2022 Moomba Mondo

Supreme ZS 232

2022 Montego Bay 8522 2PT BK DELUXE Pontoon
Info:
Open 9am to 8pm

(403) 866-2580
What You Need to Know About Renting a Boat in Kelowna, BC, Canada
How Much is it to Rent a Boat on Okanagan Lake?
Kelowna boat rentals for Lake Okanagan usually cost between $350 to $800 for a half day, and $600 to $1,300 for a full day - depending on the size and model of the boat.
Hiring a boat captain costs around $50 per hour, and hiring a watersports instructor costs around $75 per hour.
How Much is it to Rent a Jet Ski on Okanagan Lake?
Renting a Jet Ski for Okanagan Lake costs around $125 per hour, $400 for 4 hours, or $600 for a full 8 hour day. If you're getting a multi-day rental, you can usually get a discount of 10% or more.
Can I Drink on a Boat?
Technically speaking, a lot of people unknowingly break the law when they enjoy a day on Lake Okanagan. According to Boatsmart, to consume alcohol on a boat in BC, the boat must:
Be docked or anchored

Be licensed to consume alcohol on board

Have a permanent toilet, cooking facility, and sleeping accommodation
In other words, you need to be parked on a houseboat or yacht to legally consume alcohol on Okanagan Lake. The RCMP regularly conduct spot checks on Okanagan Lake where they check your boat for alcohol.
Do I Need a Boating License on Lake Okanagan?
A boating license is not required to rent a boat with most Kelowna boat rental companies; they provide you with training and a temporary Pleasure Craft Operator license.
Do Boat Rentals Come With a Boat Captain?
Most boat rental companies rent their boats to you with a qualified driver who has a boating license and is experienced on Okanagan Lake. While driving a boat seems simple in practice, it's a lot different than driving a car. Renting a boat with a driver is a great way to kick back and enjoy a stress-free experience.
Boating Precautions
Note that the weather can quickly change when you're out on Okanagan Lake, especially towards the evening when the wind strengthens and big waves make for a bumpy, uncomfortable, and often dangerous boat ride. Plan to be home off of the water well before the sun goes down.
And if you are going to be on the water after dark, make sure you have an experienced driver and proper navigation lighting ready to go. And always, always have enough life jackets for everyone on board.
Where Can I Buy My Own Boat in Kelowna?
You can buy your own new or used boat for Okanagan Lake at a number of excellent Kelowna boat dealers. Our top 6 boat dealers in Kelowna are Lake House Marine & Surf Shop, Martin Motor Sports, Flagship Marine, Dockside, Seca Surf + Marine, and Absolute Classics.