2023 Kelowna Driving Range Guide | 6 Best Places for Golf Swing Therapy
Looking for a place to practice your golf swing before playing one of Kelowna's world class courses? These are the 6 best driving ranges in Kelowna, BC.
Kelowna Driving Range
The Kelowna Driving Range is a Toptracer range and 18 hole championship mini golf course at 3810 Casorso Rd in the Lower Mission area that some say is the most fun range anywhere in Kelowna, BC.
Toptracer ranges use cameras to track your golf ball in flight, then show you detailed information about each shot on the Toptracer app so you can improve your game. You can play interactive virtual golf games that simulate real courses, get your club fitted, get golf lessons, and completely nerd out on golf data.
30 Min | $29.99 - includes 68 Balls
45 Min | $39.99 - includes 102 Balls
60 Min | $49.99 - includes 102 Balls
90 Min | $69.99 - includes 136 Balls
120 Min | $99.99 - includes 204 Balls


9am to 8pm, Monday to Sunday
3810 Casorso Rd | (250) 763-6181
Two Eagles Golf Course, West Kelowna
Turf tee boxes, stunning views, discount packages
Two Eagles is an 18 hole golf course with a practice range, putting green, pro shop, patio restaurant, and stunning views overlooking Okanagan Lake and Okanagan Mountain Park.
$9 medium - 50 balls
$14 large - 100 balls
Two Eagles offer 3 Range FOB packages that let you load up credit at a discounted rate that can be used for multiple seasons. In addition, you can get a $595 annual season pass that gives you 2 large baskets per day.
$125 payment = $139 credit (1 extra large bucket)
$175 payment = $203 credit (2 extra large buckets)


Open 7:30am to 7pm
3509 Carrington Rd, West Kelowna | (250) 768-0080
Gallagher's Canyon
Grass tee boxes, putting green, and great views
Gallagher's Canyon is a Kelowna golf club with an absolutely beautiful golf range featuring grass tee boxes and stunning views of Layer Cake Mountain.
$10 small basket
$18 large basket


4382 Gallaghers Dr E | (250) 861-4240
The Harvest Golf Club
Turf tee boxes, chipping greens with sand bunkers, and 1,700 sq ft putting green
The Harvest is an 18 hole golf course with a practice range, practice facility, and great golf instructors for hire on KLO Road in South Kelowna, BC.
$6 small basket
$14 medium basket
$18 large basket

2725 K. L. O. Rd | (250) 862-3103
World Beat Golf
Great instructors, fair prices
World Beat is a golf range and training centre located in the Ellison area north of Rutland offering affordable prices and golf lessons for the whole family.
$7 small basket - 40 ball
$12 medium basket - 80 balls
$17 large basket - 120 balls
$22 X-large basket - 185 balls


Open 10am to 7pm
625 Old Vernon Rd | (250) 765-7010
The Golf Centre
Turf tee boxes, 240 yard pitch, central location
The Golf Centre is a small, well maintained, and centrally located Kelowna driving range on Benvoulin Road offering golf lessons and instructions.
$9 small bucket - 40 balls
$13.50 medium bucket - 70 balls
$19 large bucket - 110 balls
Key FOB passes (tax included, $10 key fob deposit):
10 smalls - $80 | 25 small - $175 | 50 small - $300
10 mediums - $120 | 25 mediums - $277 | 50 medium - $475
10 large - $170 | 25 large - $395 | 50 large - $700


Open from 9am to 6pm
2650 Benvoulin Rd | (250) 762-4653
Driving and Practice Range FAQs
When do practice ranges open for the season?
Golf courses and driving ranges usually open in late March or early April when the snow melts, then close for the season in November or December.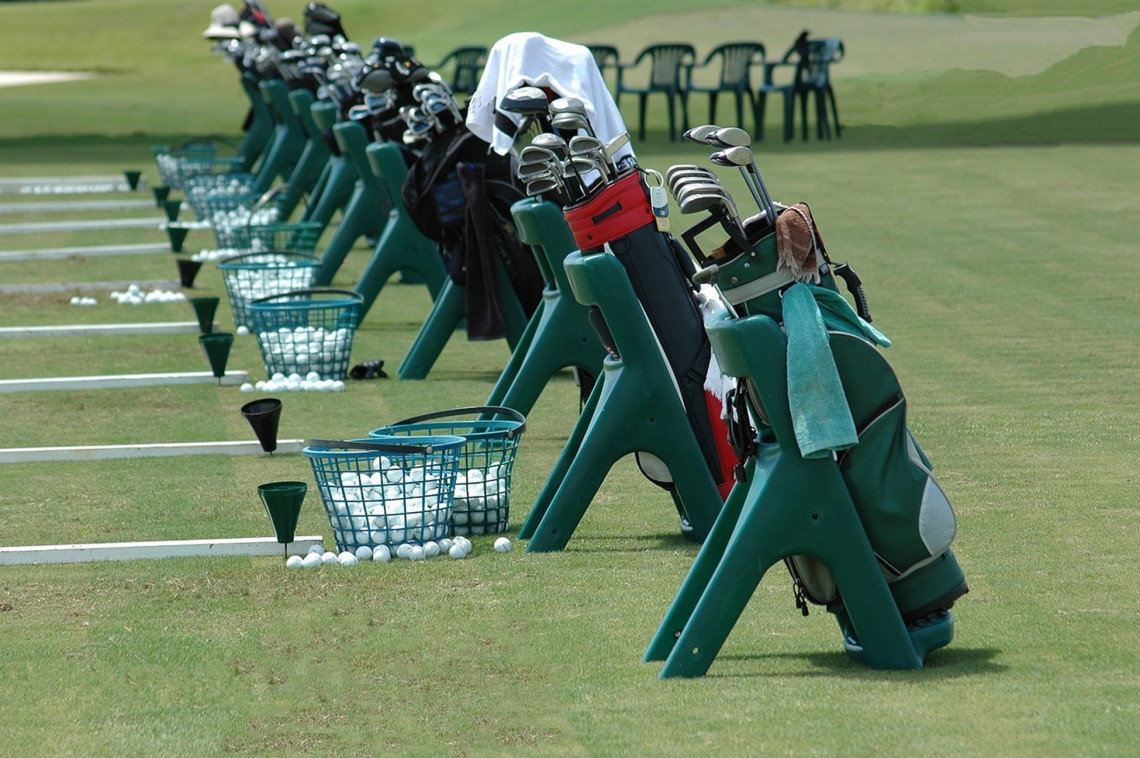 What should I know about golf range etiquette?
According to Golf.com, you should follow 5 basic etiquette 'rules' at the range:
Don't 'spread' stuff outside your station
Get your balls and then find your tee box
Don't waste time
Don't be overly loud
Have a chat, but don't be too chatty


Can I use Okanagan Lake as my driving range?
Since golf balls are made of plastic, they'll eventually break down into microplastics. We highly recommend practicing at a driving range in Kelowna - or enjoying a driving range alternative.


What are some practice range alternatives in Kelowna, BC?
Indoor and outdoor golf simulators like Simplex Sportszone in Kelowna, BC
Get a set of Almost Golf Balls and practice in your backyard or at a sports field
Many courses have large golf nets where you can warm up before a round - or you can put a small golf net in your backyard
Find a putting and chipping area and practice your short game instead
Play mini golf