Where to Party in Kelowna, BC | The Best Clubs, Nightlife, Music, & Dancing Venues in 2023
This article shows you the best nightlife, clubs, music, and dancing venues in Kelowna, BC for 2023-24.
Kelowna Night Activities & Nightlife in Kelowna, 2023
Kelowna nightlife has transformed into a vibrant and eclectic scene as old venues like Flashbacks dance club gave way to new ideas like the BNA, Gotham, and Skinny Dukes.
Kelowna's nightlife scene is busiest during the hot summer months when the city is full of tourists and clubs in Kelowna have lineups going out the door. While Kelowna's nightlife used to slow down throughout the fall and winter months, party-hungry students at the new UBC Okanagan campus and a booming population have brought new life into Kelowna's party scene year-round.
Kelowna's finest nightlife is concentrated in the heart of downtown and the Entertainment District in the North End; but this guide book covers the entire town. If you need bachelor party ideas or something to do this weekend, read on!
Downtown Kelowna Nightlife | Kelowna Clubs, Bars, Restaurants, & Venues
Kelowna Nightclubs | Night Clubs Near Me | Night Club | Bachelor Party Kelowna
Night clubs in Kelowna are concentrated in the heart of downtown and in the Entertainment District / North End.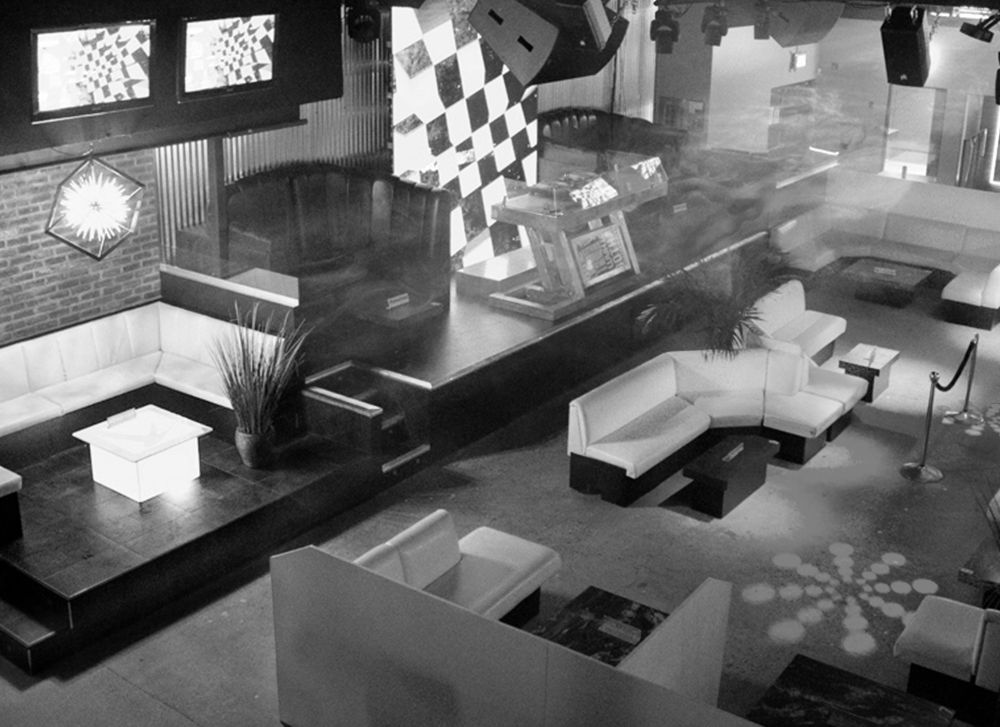 Gotham Nightclub - 275 Leon Ave
Gotham Nightclub is a new live music venue setting higher standards for nightclubs in Kelowna. If you're still in your 20's - or just want to act like it for the evening - this is a great place to party on a Kelowna saturday night. You can expect a big crowd, themed nights, local and international DJs, booming bass (consider bringing earplugs), electronica, hip hop, and lots of booty shaking. Chill out in the tres chic private lounge area, or experience the music on your toes.
The Liquid Zoo Lounge & Gentlemen's Club (Strip Club Kelowna) - 274 Lawrence Ave
Liquid Zoo is a hybrid Kelowna nightlife venue featuring a brand new upstairs lounge and downstairs excitement featuring the venue's roster of exotic dancers (yes, it's a Kelowna strip club).
OK Corral Cabaret - 1978 Kirschner Rd
Love country music? Check out the OK Corral - one of the liveliest night club dance floors in Kelowna with live country music and rock, an all ages crowd, great drink specials, and some seriously talented 2 steppers.
The Blue Gator - 441 Lawrence Ave
The Blue Gator is Kelowna's own blues bar with on-stage bands, a lively dance floor, and a mixed-age dance bar experience which leans towards an older crowd.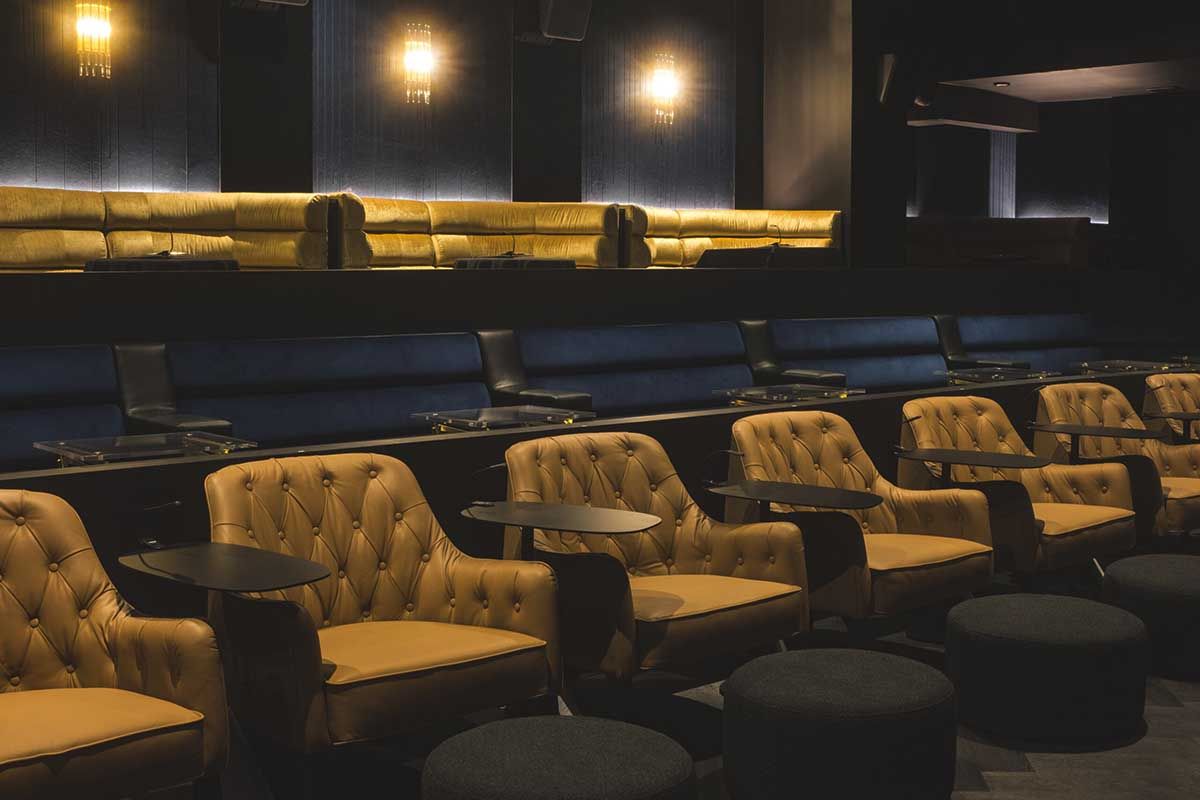 Bernie's Supper Club & Cinema - 353 Bernard Ave
Bernie's Supper Club is a new nightlife venue in Kelowna offering a unique dinner and a movie cinema experience that's perfect for date night in Kelowna Downtown. Located at 353 Bernard - the former location of Doc Willoughby's - Bernie's has comfortable seating, relaxed atmosphere, awesome food with a Spanish influence, artisinal cocktails, and local craft beer.
Doc Willoughby's - or just 'Docs' - was one of Kelowna's classic eating, drinking, and live music establishments, which has been running since 1999. Named in honor of the late and great Kelowna physician, Dr. Charles Willoughby, Doc's is now known as Bernie's Supper Club.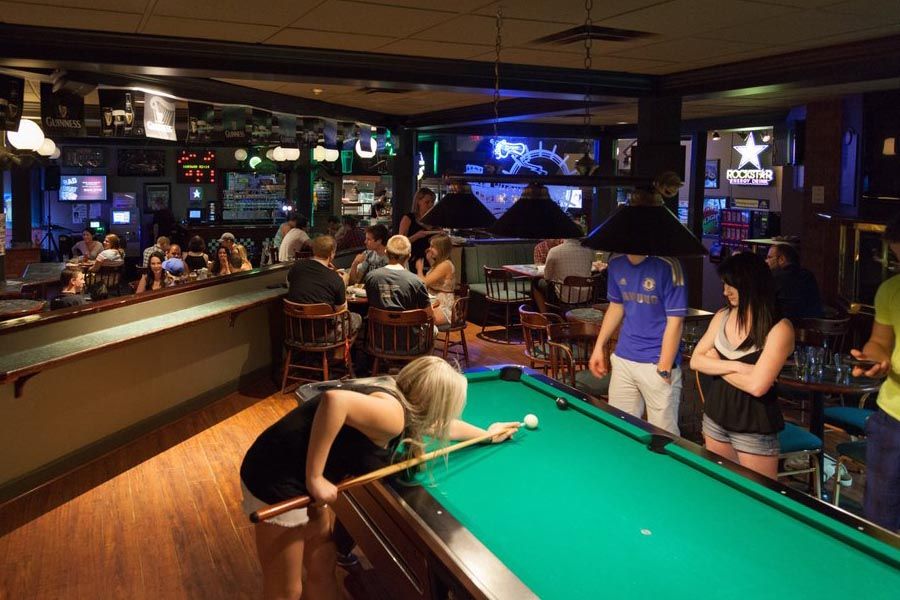 O'Flannigan's Pub - 319 Queensway
O'Flannigan's is Kelowna's best Irish pub. Don't be put off by the riff raff that often haunts the nearby bus stop; once you're inside, this is one of Kelowna's best party spots and a great dive bar to hear live music, shoot pool, or play darts in Kelowna.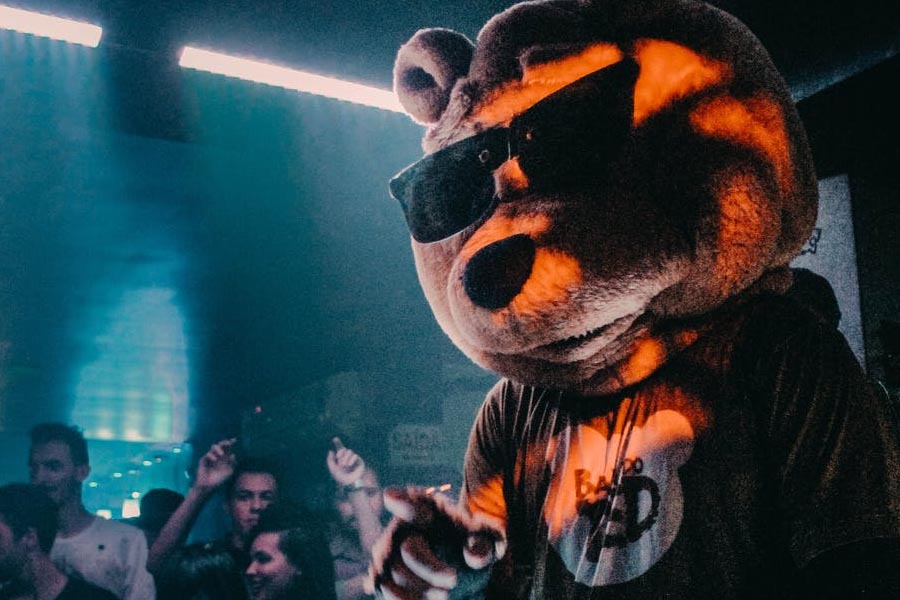 Entertainment
Kelowna Community Theatre - 1375 Water St
Kelowna's Community Theatre lets you experience year-round concerts and live performances in their auditorium on the corner of Water St. and Doyle Ave. Check their new website to book tickets.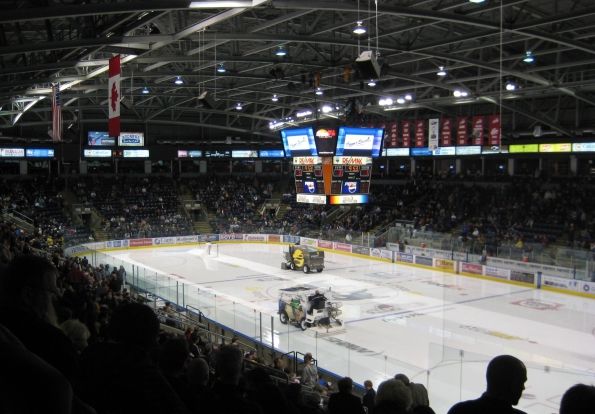 Prospera Place - 1223 Water St
Kelowna's hockey stadium and the largest concert venue in town. Prospera is the home of the Kelowna Rockets, our WHL hockey team. For a fun night, catch a game then head out for a drink.
http://prosperaplace.com/events/
Kelowna Actors Studio - 1379 Ellis St
For a one-of-a-kind cultural experience, book your seat for a real Broadway show at the Kelowna ActorsStudio.
Find out about Kelowna's best live music and new theatre events at the KelownaNow.com Events Page. For something different, check out our Insider's Guide to Underground Art, Theatre, and Music in Kelowna.
Eating & Drinking
Skinny Dukes Glorious Emporium - 1481 Water St
Skinny Dukes is a unique restaurant and new pub concept with a great fruity cocktail menu and a creative food menu featuring 6 types of pizza.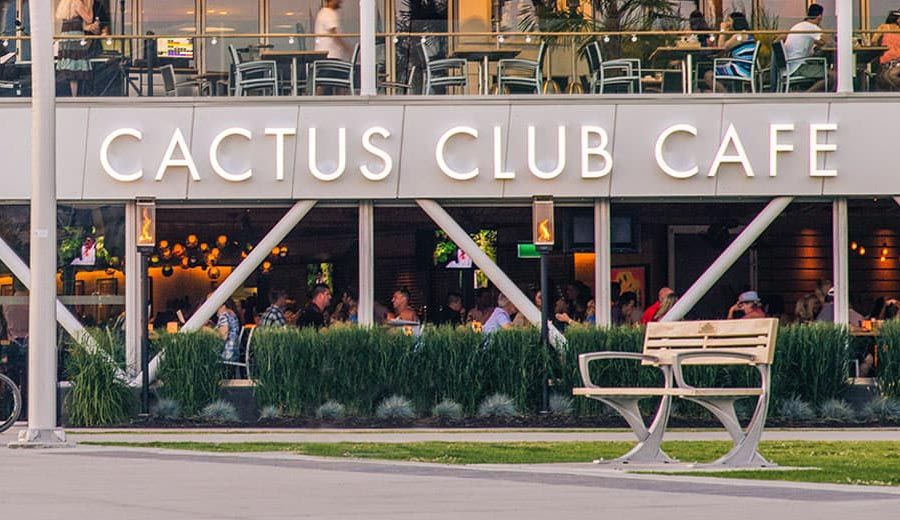 Cactus Club Cafe Kelowna Yacht Club - 1370 Water St
Cactus Club is one of Kelowna's newest, most popular restaurants and lounges with an amazing harborfront atmosphere and fantastic food next to the Waterfront promenade. Book a table for your crew, or sit around the bar to enjoy classic cocktails at one of Kelowna's nightlife centrepieces.
Tonics Pub & Grill - 1654 Ellis St
Tonics is a popular restaurant and lounge with large-screen TVs that's known for chicken hot wings and delicious food like burgers, wraps, and pizzas. They're located on the corner of Ellis St. and Leon Ave.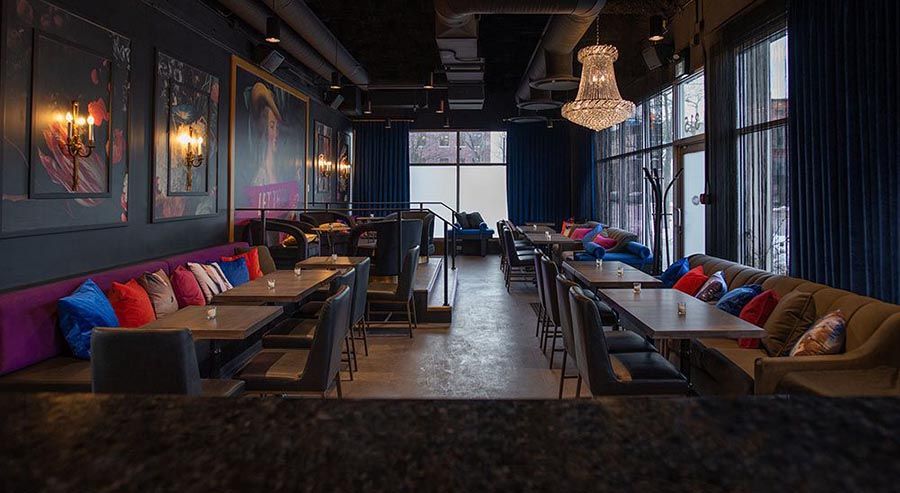 Friends of Dorothy Lounge - 315 Lawrence Ave
Friends of Dorothy is a new Kelowna drinking establishment for the LGBTQ crowd and their allies. Friends of Dorothy Lounge is known for its decadent boudoir furniture, black lights, and a range of unique & delicious cocktails. On Sundays, they host a drag queen brunch.
CRAFT Beer Market - 257 Bernard Ave
CRAFT is a massive new beer hall and restaurant with over 100 brews from around the globe. Check out the view from their gorgeous rooftop patio.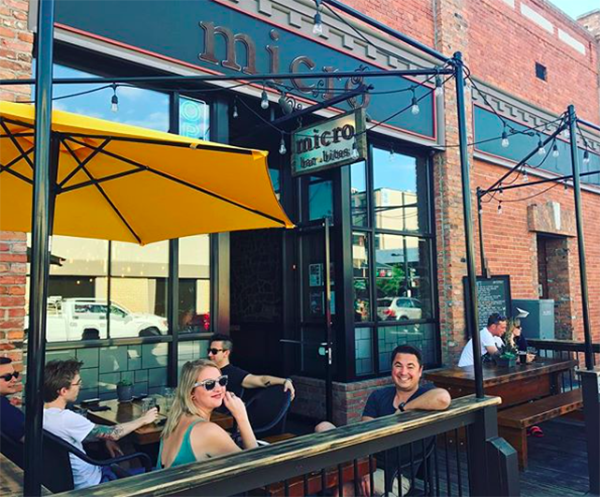 Micro Bar & Bites - 1500 Water St
Micro is a popular craft beer, wine, and tapas spot with local craft beer, local wine, and a slight hipster vibe.
Earls on Top - 211 Bernard Ave
Earls is a classic Kelowna establishment with an indoor dining room and an outdoor patio with rooftop bar that overlooks City Park and Okanagan Lake. Book ahead to experience the patio. Great lunch menu!
Social 242 - 242 Lawrence Ave
The Social is a busy downtown restaurant and lively lounge scene with a popular $35 3-course set menu, food that's suitable for almost every diet (vegan, vegetarian, gluten free), and pumping music to keep you going.
Kelly O'Bryan's Neighborhood Restaurant
One of the famous pubs Downtown Kelowna, Kelly O's is known for pachos, fajitas, and good pub food.
Kelowna pro tip: you can get a free meal up to $30 at Kelly O's for a delicious dinner on your birthday.


Nightlife in Kelowna's North End & Cultural District
Kelowna North End Craft Breweries
New microbreweries have been hopping up all over Kelowna - but especially in the Cultural / Entertainment District. Kelowna's craft breweries are great places to meet friends in the afternoon, wrap up your workday, or start the evening out. Most craft breweries close their doors around 10 or 11pm.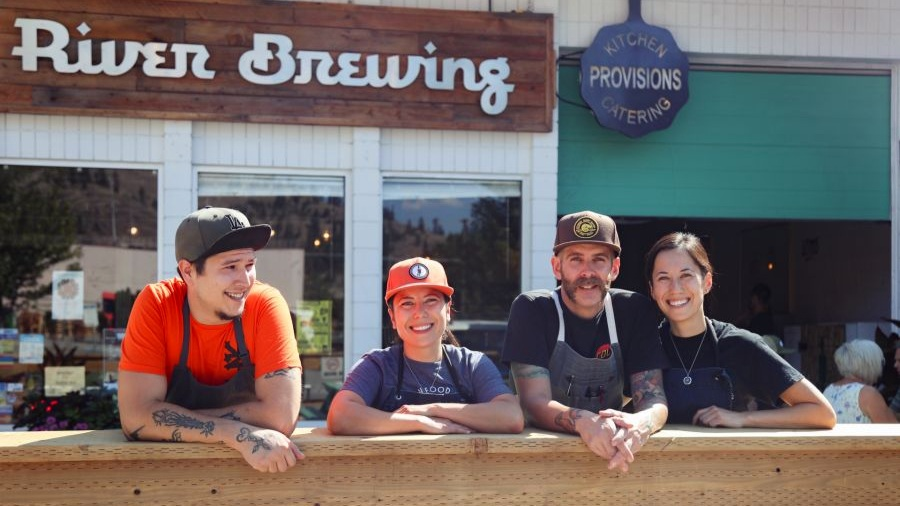 Here are some of our favorite craft breweries in Kelowna's North End for Winter 2022, and a map to help you find them:
Red Bird Brewing
Vice & Virtue Brewing Co
Kettle River Brewing Co
BNA Brewing
Kelowna Beer Institute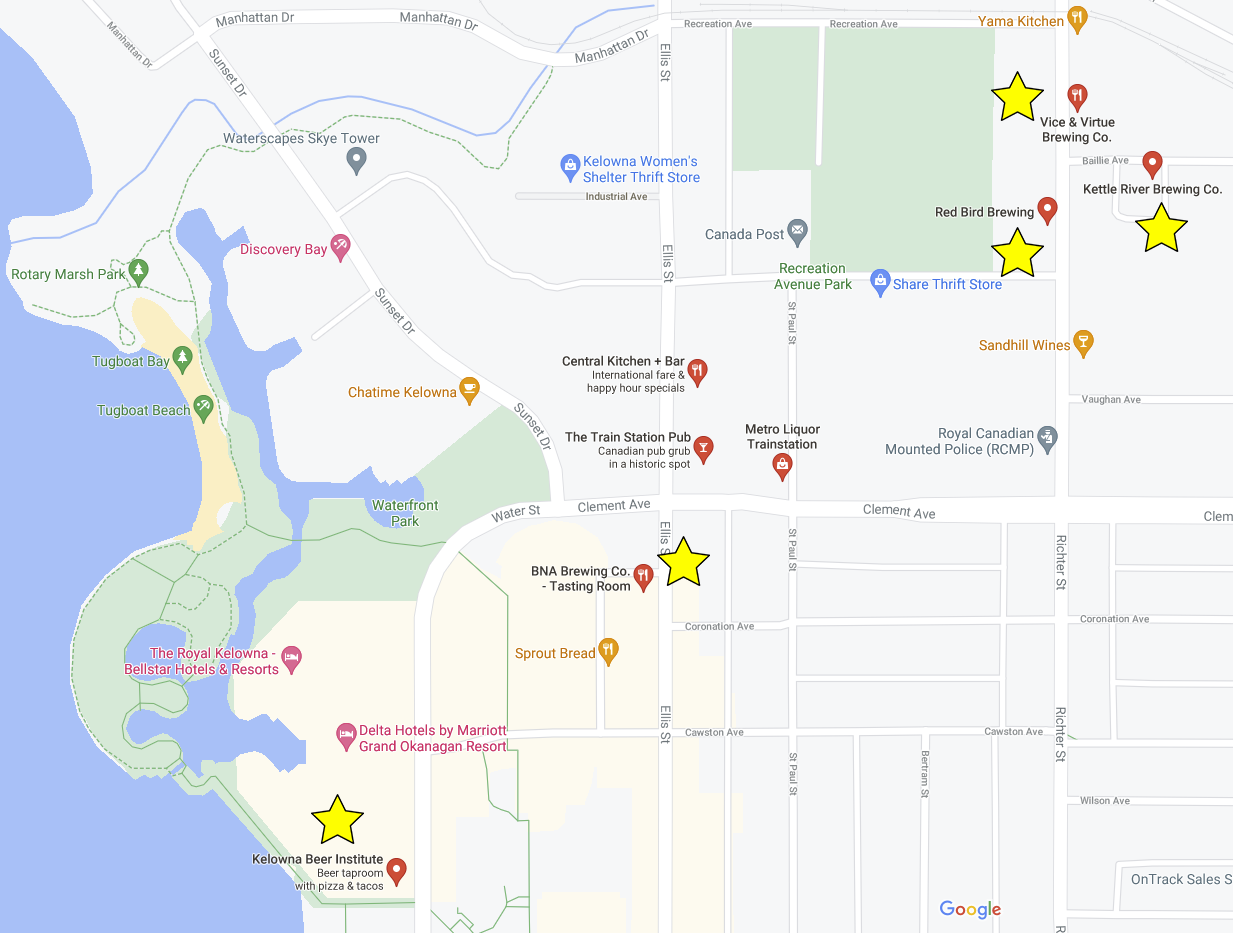 You can learn more about local microbreweries like Red Bird Brewing, Kettle River Brewing, Vice & Virtue, and Rustic Reel in our Kelowna Craft Beer Guide.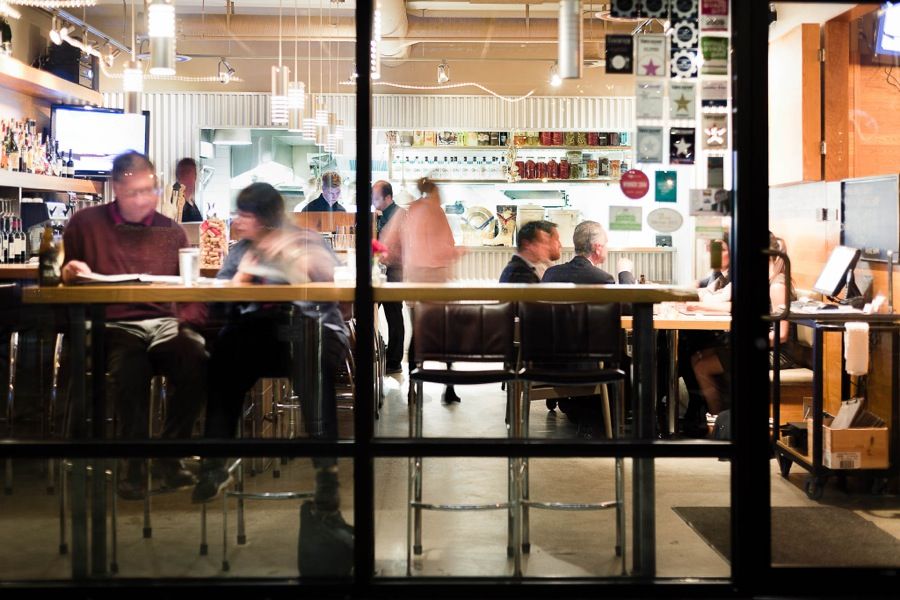 Waterfront Wines - 1180 Sunset Dr
Kelowna's top-ranked fine-dining restaurant with a superb wine menu and food to satisfy everyone. It's a popular place with a small dining room, so book ahead.
OAK + CRU Social Kitchen & Wine Bar - 1310 Water St
OAK + CRU is a fine dining restaurant located on Kelowna's waterfront promenade in the Delta Grand Hotel. They recently introduced outdoor "dining bubbles" that will make you feel like you're eating inside of a fish tank, if that's your thing.
The Train Station Pub - 1177 Ellis St
Train Station is a busy pub on the corner of Ellis St and Clement Ave serving tasty pub food, local beers. Before becoming a pub, this venue was - you guessed it - a train station that originally opened in 1926.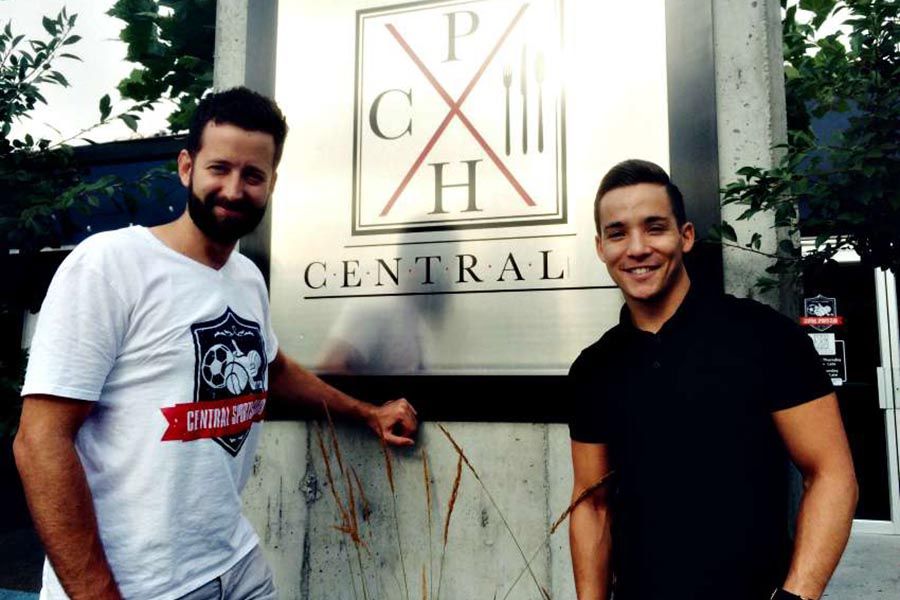 Central Kitchen + Bar - 1155 Ellis St
Central Kitchen is a locally-owned Kelowna eatery started by a well-learned team of restaurant employees with a vision to do things their own way. Since opening as a new venue in 2016, Central Kitchen has wowed us with unique cocktails, a curated beer & wine list, and great pub food. As of 2022, Central Kitchen is dine-in only.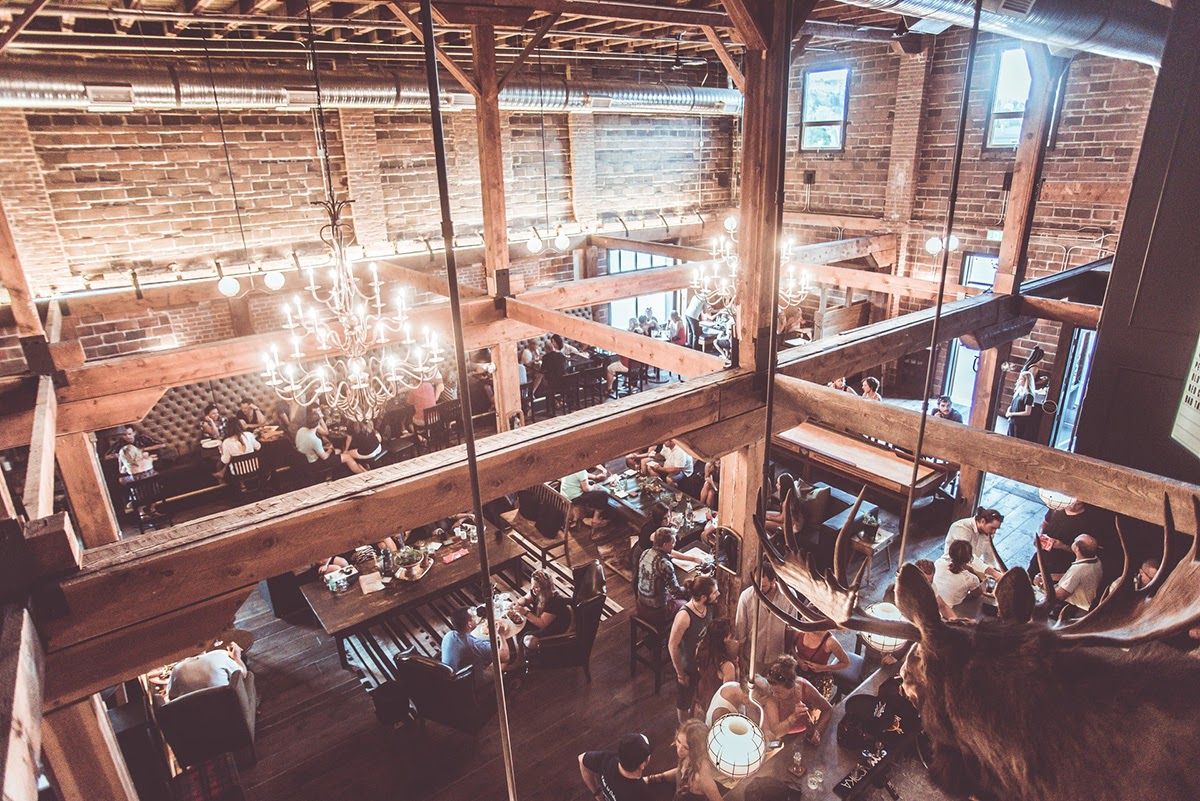 BNA Brewing Co. - 1250 Ellis St
Since opening their doors in 2016, the BNA has become one of the busiest new drinking establishments in all of Kelowna. Awesome spot for locally brewed beer, a full food menu, 2 bars, occasional live music, and 10-pin bowling alley means you might not be leaving any time soon.
Playtime Casino - 1300 Water St
If you're feeling lucky, check out Playtime Casino that hosts table games, poker, and VLTs on Ellis St. next to the Delta Grand Hotel.
Sapphire Nightclub - 238 Leon Ave
Located on the notorious Leon AveSapphire Nightclub was one of Kelowna's only real nightclubs in the 1990s to 2010s. In 2022, they closed their doors to make way for new high rise condos in Downtown Kelowna.
Other Kelowna, BC Nightlife
Dakoda's Sports Bar, Grill, & Comedy Lounge - 1574 Harvey Ave
Get your laugh on at this sports bar and comedy lounge regularly hosting standup comics. Located on Harvey and Burch adjacent to Global Fitness.
Mission Tap House - 3110 Lakeshore Rd
Mission Tap House is one of the only late spots for adult beverages in the Pandosy Village. It's a spacious, open-concept pub with food, TV's and a few pool tables.
Rusty's Sports Lounge - 1525 Dilworth Dr
Rusty's is a massive new venue with several billiard tables & pool tables, big screens, and plenty of room to keep your party separate from the crowd. Rusty's is located at the base of Dilworth Mountain on Leckie Rd.
District Billiards Kelowna - 103-1511 Sutherland Ave
District Billiards is a new Kelowna pool hall and billiard room where you can rent pool tables by the hour or get serious for some league play. There's a bar and kitchen serving drinks, and food like wings, meat pies, chili, and pizza. Pool tables cost $16 an hour (they are excellent quality), and they also offer pool cue repair.
97 Street Pub - 2400 Hwy 97
Located just West of Rutland on Highway 33 and Highway 97, 97 Street Pub which used to be famous for hosting '20 for $20' nights in the 2000s. Nowadays, 97 Street Pub is a well-reviewed venue with pub fare, drinks, and new TVs.
McCulloch Station Pub - 2789 KLO Rd
The only late night spot in the Upper Mission to get good food, music, and bevys - all at reasonable prices.
The Coast Capri Hotel - 1171 Harvey Ave
Coast Capri has a cozy lounge bar that regularly hosts live music (mostly jazz and blues) in the Capri Centre Mall.
Boomers Bar & Grill - 4105 Gordon Dr
Boomers is a new sports bar and restaurant located next to the Capital News Centre in the Lower Mission.


Whiskey Jack's Pub - 2442 Drought Rd, West Kelowna
Whiskey Jack's is West Kelowna's oldest and most popular pub to get food, drinks, & live sports.
Barn Owl Brewing - 4629 Lakeshore Rd #102
Cozy Lower Mission brewpub with that gets rave reviews. Try their pilsner, witbier, IPAs, and more.
Remember to book a safe ride home... check our guide on
getting around
for taxis and rideshares.
See you out there!