Best Craft Breweries in Kelowna, BC | 2022
Best Craft Breweries in Kelowna | Summer 2022 Guide
Did you know Kelowna has a killer microbrew scene?
This guide shows you the best local microbreweries and craft beerhalls in Kelowna, BC.
Most of the Kelowna brewing companies featured in this article aree concentrated in the Downtown North End near Prospera Place.
Best Kelowna Brewery
Lakesider Brewing Co.
Lakesider is a new West Kelowna brewery that's becoming well-known for excellent beer and pizza (our favorite are the shrimp, brie & apple, and funghi pizzas).Dave Kozak, the owner and brewer at Lakesider, has decades of experience brewing beer in the Okanagan.Lakeview Heights shopping centre on Anders Rd.
Favorite Brews: Endless Summer Patio Hefeweizen, Shorecaster Kolsch, Midnight Swim Nitro Stout, Magic Hour NEIPA (New England IPA).
Address: 835 Anders Rd, West Kelowna, BC V1Z 1J9
Phone: (236) 766-1144
Web: https://lakesiderbrewing.com/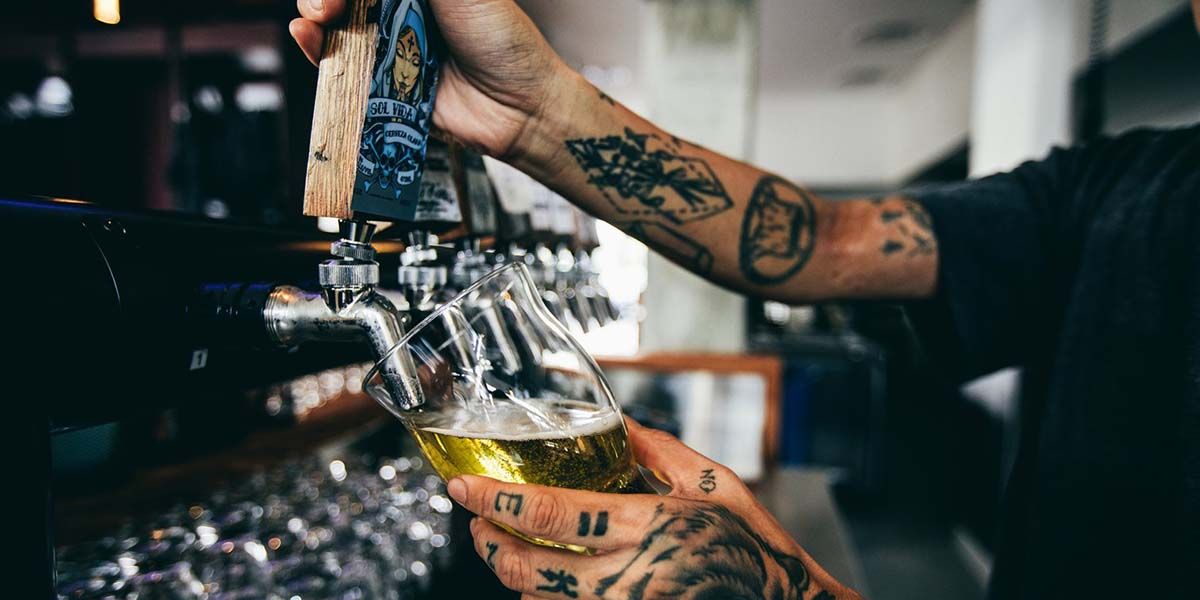 Bad Tattoo Brewing
Penticton-based Bad Tattoo Brewing opened their Kelowna, BC location in Summer 2021 and is already one of the most popular breweries in town.
With a wide variety of unique brews on tap and some of hte best pizza anywhere in Kelowna, Bad Tattoo is well worth a visit.
Their pizzas come in 3 categories: red (tomato-based), pesto, and "weird," which includes a vegan Aloo Gobi pizza that get's raving reviews.
On your way home, grab a fresh 4-pack of 500ml brews.
Favorite Brews: Juice Bomb New England IPA (6.2%, 30 IBU), True Love Kolsch (4.5%, 26 IBU), Hellion IPA (6.3%, 66 IBU), Tramp Stamp Pale Ale (5.3%, 45 IBU).
740 Clement Ave, Kelowna, BC, V1Y 7C9
(778) 940-3914
Kelowna Beer Institute
Tree Brewing is a longstanding Kelowna brewery with a spacious flagship microbrewery near the waterfront boardwalk along Water Street that launched in 2014. Tree's Beer Institute serves hot pizza, tacos, pretzels, excellent brews, and wine and cider for those who are barley and hop-averse. With board games, large communal tables, and outdoor seating, Tree Brewing stays busy with happy beer drinkers all year round.
Favorite Brews: Pilsner (4.8%, 24 IBU), Golden Honey Ale (5.3%, 22 IBU), Summer Stout (5.9%, 30 IBU)

Address: 1346 Water St, Kelowna, BC V1Y 9P4
Phone: (778) 484-0306
Web: treebrewingbeerinstitute.com
BNA Brewing Co. & Eatery
Since opening its doors to the public in 2014, 'the BNA' has become one of Kelowna's go-to nightlife venues. This massive, 2-story building has 10-pin bowling upstairs, shuffleboard, arcade games, and plenty of seating options, including comfortable leather couches. The BNA attracts a diverse and fun-loving audience, serves great food, and stays open later than every other venue in this guide, so you might want to end, or also start your night there.
Smash a Dinosaur IPA, Wild Blonde, or for something actually unique to Kelowna, the Earl Grey Pale Ale. If hipster beer just isn't your thing, there's also an extensive wine and cocktail list.
Favorite Brews: Otis Stout (5.4%, 28 IBU), Dinosaur IPA (6.2%, 70 IBU), Animal IPA (6.2%, 45 IBU)

1250 Ellis St, Kelowna, BC V1Y 1Z4
(236) 420-0025
Kettle River Brewing Co.
To give you a sense of what Kettle River Brewing's tasting room is about, know that they are dog friendly, play foosball, darts, and host an open mic night every Thursday. In other words: rad. Their lineup of masterful and experimental craft brews is served in a not-uncommon industrial-cabin-thing building with curious art pieces to yammer over and a bright outdoor patio to hang out with your pup, human, or mobile device.
Favorite Brews: Business in the Front Blonde Ale (5.5%), Cougar's Hand Red Ale (6.0% IBU), Loose Canoe Double IPA (7.0% IBU)

731 Baillie Ave, Kelowna, BC V1Y 7E9
(250) 862-5115
Red Bird Brewing Co.
Red Bird Brewing opened its doors to Kelowna's new north end beer scene in 2017 and is well known for their spacious patio, German Kolsch, IPA, and reasonably priced 6-packs. Their wood-framed roadside venue features communal bench tables, games, and often has a Surf Side California Taco Truck parked outside, which means you might make some new friends or at least go home with a delicious taco.
Favorite Brews: Lady of the Lake Lager (5%, 20 IBU), The Captain Kolsch (4.5%, 36 IBU), The Tomb Stout (4.5%, 44 IBU)

1086 Richter St, Kelowna, BC V1Y 2K5
(250) 317-5468
Vice & Virtue Brewing Co.
Vice & Virtue opened its ozzie-owned doors to rave fanfare in 2018 and has since won multiple awards for their fresh beers and fantastic restaurant open for brunch through dinner. Vice has a clean cut, industrial, and slightly upscale feeling going on inside and gets high praise for their virtuous charcuterie platters, cured meats, pilsner beer, and smoked brisket sandwiches.
Favorite Brews: Fact Czecher - Czech Pilsner (5.3%, 41 IBU), First Crush Cherry Sour (5.9%, 10 IBU), Giver Pale Ale (5.1%, 30 IBU)

Address: 1033 Richter St, Kelowna, BC V1Y 2K4
Phone: +1 800-325-3686
Rustic Reel Brewing Company ("Rusty Reel")
This modern, spacious, Bavarian-themed brewery is quickly becoming one of Kelowna's most well-known microbreweries. Located next to Sandhill Wines on Vaughan Ave, Rustic Reel is the largest North End beer venue with high ceilings, catching decor, and a large outdoor patio. Whether it's the great food or their delicious beers, they must be doing something right as they're getting rave reviews online after one season of business. It's the only place we know of in Kelowna that serves German favorites like Schnitzel and Dunkelweizen.
Favorite Brews: Blonde Ale (4.3%, 15 IBU), West Coast IPA (6.5%, 70 IBU), Amber Ale (5%, 20 IBU)

Address: 760 Vaughan Ave, Kelowna, BC V1Y 7E4
Phone: (250) 862-3737
Web: rusticreel.com