Top Free Things To Do in Kelowna, BC (2023 Guide)
Top Free Things To Do in Kelowna, BC (2023 Guide)
Looking for fun things to do in Kelowna for free?
Nestled in the heart of British Columbia's beautiful Okanagan Valley, Kelowna, British Columbia is a charming city that offers a plethora of activities for every kind of traveler.
Whether you are just visiting for a few days, or make this city your home, Kelowna has many free places to visit, with activities and attractions to ease your budget.
Explore Knox Mountain
Love the outdoors? Knox Mountain is a 766-acre park located 10 mins drive from Downtown Kelowna, and a must-visit for any traveler or newcomer to the city.
Knox is ideal for scenic hiking, tennis, disc golf, and natural wildlife viewing. With a network of trails, ranging from easy to challenging, leading to breathtaking viewpoints, you can hike through Ponderosa Pine forests and see species like birds, deer, coyotes, and other wildlife. From the top, you can take shade under the gazebo and get stunning panoramic photos of the valley.
Knox Mountain Disc Golf
Knox Mountain Disc Golf Course is a meticulously designed 18 hole course that caters to both beginners and seasoned players. As you traverse the course, you'll be treated to breathtaking vistas of Okanagan Lake, lush forests, and the city skyline. The natural ambiance and lakeside tranquility offers an unparalleled disc golf experience.
Paul's Tomb
Paul's Tomb Trail is a 4.8 km hike from start to finish also located in Knox Mountain Park. Along the water, you get beautiful views of Okanagan Lake. Rembler Paul was an early entrepreneur who was well known as a gold miner and philanthropist in the early 1900s. You can also swim at a quiet pebbled beach in the cove by his family's tomb.
Stroll Along the Waterfront Promenade
Kelowna's waterfront promenade is a captivating place to explore for free. Take a leisurely walk along the boardwalk from City Park, past the Downtown Marina, to the Rotary Marsh Bird Sanctuary while taking in panoramic views of Okanagan Lake's natural beauty. The lovely waterfront park is a picturesque setting that's perfect for photography, relaxing picnics, or unwinding after a day of adventuring.
Visit the Rotary Marsh Bird Sanctuary
Nature enthusiasts will appreciate a visit to the Rotary Marsh Bird Sanctuary.
Located between Okanagan Lake and the Delta Grand hotel along the waterfront promenade, this bird sanctuary provides a haven for species like Great Blue Heron, Bufflehead, Redwing Blackbird, Belted Kingfisher, and Yellow-rumped Warbler.
Explore the Myra Canyon Trestles
Just a 45 minute drive from Kelowna, the Myra Canyon Trestles offer a scenic and historic adventure. This former railway route features a series of breathtaking wooden trestles and tunnels nestled amidst beautiful mountain scenery. Hike or bike along the trail, marvel at the historic engineering, and soak in the stunning views.
Myra Bellevue Canyon at the Kettle Valley Rail Trestles is part of the Trans-Canada Trail and is a prime hiking and biking path along the old railroad. One-way it is 12 km long.
Enjoy Kelowna's Beautiful Parks & Green Spaces
Downtown Kelowna Parks
In the downtown core you can take in the gorgeous greenspaces at City Park, Stuart Park, and Waterfront Park. Have a relaxing picnic, take a leisurely stroll along the charming boardwalks, try thrilling water sports, and even attend free outdoor concerts or festivals held in these lively parks.
Kasugai Gardens
Kasugai Japanese Gardens, located at 1435 Water Street, gives you an escape from downtown bustle in the heart of Kelowna. With colorful flowers, manicured maple trees, and a calming pond, Kasugai is one of the best free things to do in Downtown Kelowna. This beautiful hidden Japanese garden is open from 9 to 5pm most days, with extended hours on Victoria Day weekend.
Bear Creek Provincial Park
Bear Creek Provincial Park, located down Westside Road, is a beautiful place for a day at the beach (including a dog-friendly section) or a challenging hike with great views. The Canyon Rim Trail is the most challenging and popular path which offers view of Downtown Kelowna, Okanagan Lake, and the surrounding mountains. Check Alltrails Best Hikes in Bear Creek to choose your way up.
Kelowna Splash Parks
Need some free playgrounds and splash parks to cool off with the kids?
In Rutland at Ben Lee Park (900 Houghton Road) your family can enjoy a wealth of free activities including basketball courts, a playground, skateboard park, hiking trails, and a water park with a waterslide.
City Park Splash Park in the heart of downtown has an excellent splash park with several water features and pads.


Parks for Kids
At 3400 Lakeshore Road, you can easily get to Boyce-Gyro Beach Park from downtown. Swimming, a zipline in the water, a playground and picnic table make this an ideal family location. Sutherland Bay Park at 700 Ellis Street is another excellent beach area with a playground and paths.
Bella Vista Park at 2342 Loseth Road is a splash park near Black Mountain. Amenities include a climbing wall, climbing dome and spiral slide.
You can find Blair Pond Park at 333 Clifton Road. Baby swings, a teeter-totter, and a walking path with benches and surrounding trees make this park great for small children.
More Kelowna Parks Central City & Gardens Central City
Kelowna parks with playgrounds:
City Park & Hot Sands Beach (1600 Abbott Street) - playground, splash park, basketball, and beach volleyball
Kinsmen Park (2600 Abbott Street)
Lombardy Park (1340 Wilson Avenue)
Mission Creek Regional Park (2363 Springfield Road)
Pacific Court Park (1961 Pacific Court)
Quilchena Park (347 Quilchena Drive - in the village of Kettle Valley)
Osprey Park (2600 Richter Street)
Rutland Centennial Park (250 Rutland Road N)
Gerstmar Park (955 Gerstmar Road)
Caro Park (27 Caro Road)
Other great Kelowna parks to visit for free:
Knowles Heritage Park (865 Bernard Avenue)
KLO Creek Regional Park (3730 Field Road)
Knox Mountain Park (450 Knox Mountain Drive)
Millbridge Park (1999 Bowes Street)
Waterfront Park (1200 Water Street)
Redlich Pond Park (1646 Gillard Drive)
Walking & Hiking Trails in Kelowna
With gorgeous scenery and great weather, walking and hiking are some of Kelowna's top free activities.
Just off Chute Lake Road in South Kelowna you can boulder at John's Family Regional Conservancy Park and enjoy many trails with panoramic views.
Stephens Coyote Ridge Regional Park located west of Glenmore Road in north Kelowna has much wildlife due to its pristine condition. You can cycle and hike on the trails to glimpse forest and grassland animals.
With many entrances for hikers, cyclists, horseback riders, runners and walkers, you can enjoy Mission Creek Greenway year-round.
In the north-east of the city, Mill Creek Regional Park is one of several places you can see waterfalls.
For more information on parks and beaches, please see City Hall Parks Department or Alltrails.com for hiking options.
Kelowna Kangaroo Farm
If you love animals, and are part of a charity or not-for-profit organization in the area, you may be able to organize a free visit to Kangaroo Creek Farm with goats, tropical birds, and a charming porcupine named Priscilla. To see if you qualify for a free visit contact [email protected]
Kelowna Farmers Market | Street Markets Central City
For the full Kelowna experience, be sure to visit the Kelowna Farmers' and Crafters' Market. Peruse everything from handmade jewelry to fresh organic produce.
You can visit the winter market on Saturdays at Parkinson Recreation Centre, the main outdoor market on Saturdays and Wednesdays 8 am-1 pm at the corner of Dilworth and Springfield, and the Satellite market on Sundays downtown. Check out the official Farmers market website for the latest.
Kelowna Art Galleries and History Museums
Want to enjoy local history and art for free?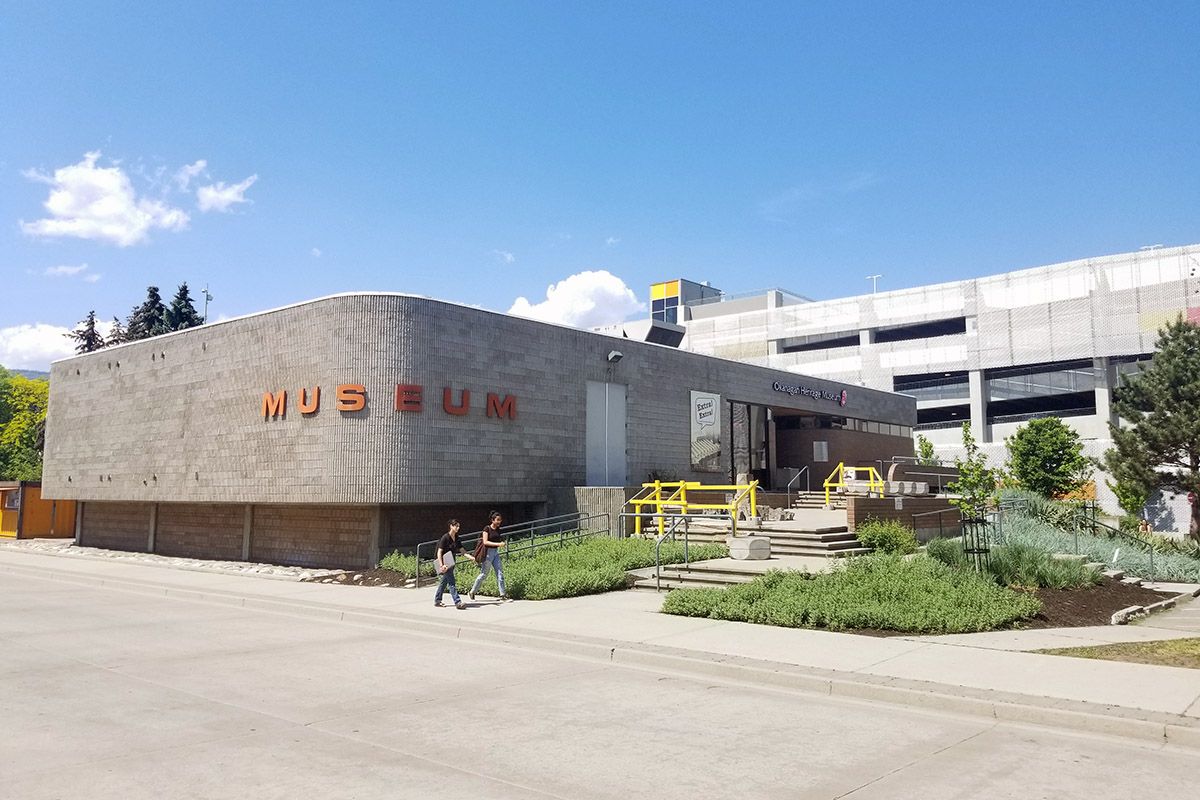 Okanagan Heritage Museum, located at 470 Queensway has got you covered for a free activity with a free/donation based entry. Visit the Kelowna Museums website to find more about others including Okanagan Military Museum, Okanagan Wine and Orchard Museum, Central Okanagan Sports Hall of Fame, and Laurel Packinghouse. You can also go to Guisachan Heritage Park for free, located at 1060 Cameron Avenue.
For art lovers, Kelowna Art Gallery has a part of its exhibit free to the public. Visit them at 1315 Water Street. For details, check their website.
The Geert Maas Sculpture Garden and Gallery at 250 Reynolds Road, is donation based entry and open regularly from 10 AM to 5 PM. You can view bronze sculptures, paintings and more by Dutch-born Maas. Contact the gallery at [email protected] or +1-250-860-7012.
Kelowna Scenic Drives
If you have a vehicle, the Kelowna area is a beautiful place to take a scenic drive with your crew. Some of our favorites are Lakeshore Rd to Okanagan Mountain Park, Glenmore to Winfield, and Westside Road.
For more cruising ideas, check out our full list of scenic drives near Kelowna, British Columbia.
The Okanagan Regional Library Kelowna Branch
If you love books, want to rent out some DVDs, need a quiet place to study, or want to bring your kids to an interactive storytime, head to the Kelowna Regional Library at 1380 Ellis St. Note that you'll need a library card to rent out books from any ORL branch.
What's Happening This Week in Kelowna?
Looking for free things to do in Kelowna today?
For more free activities and events on the days you're visiting Kelowna, check Eventbrite.
If you've exhausted your options and want to splurge, check out our list of things to do on a hot day in Kelowna, and things to do in Winter.
Almost Free Things to Do
Breweries Central City | Distilleries Central City
Kelowna is now home to a thriving craft brewery scene with excellent brewers in West Kelowna (Lakesider), Winfield (Big Bear, Lake Country) Kelowna's cultural district (Vice & Virtue, Red Bird). While they're not exactly free, some will let you sample their brews before ordering a pint. Check out our Kelowna brewery guide.
If spirits are more your thing, visit Okanagan Spirits, a Kelowna distillery with 2 decades of experience making premium whiskey, gin, bourbon, vodkas, and more.
For wine tastings, check our guide to Kelowna's best organic wineries.