Kelowna Beach Guide 2022/23 | 8 Best Beaches to Swim, Tan, and Paddleboard
Kelowna is well known in Canada as one of the best cities to hit the beach in summer and soak up the sunshine. This article shows you our top 5 beaches in Kelowna. If you want to bring along your furry friend, check out our Kelowna dog beach guide.
The Best Kelowna Beaches in 2023 | Best Beaches in Kelowna
1. Boyce Gyro Beach
Boyce Gyro is Kelowna's most popular beach located in the South Pandosy along Lakeshore Road. With soft sands, shallow water for swimming, two kids' ziplines, a playground, picnic tables, and change facilities, it's also one of the best beaches in Kelowna for families.
Boyce Gyro Beach is always bustling in the summer with paddleboard rentals, beach volleyball courts, outdoor ping pong, and sunbathers.
Hit up the iconic apple-shaped concession for a hot dog, an ice cream cone, or a cold drink. After the day at Gyro you're walking distance from a number of great restaurants and bars down Pandosy Avenue. There's a large pay parking lot and street parking nearby.
2. Hot Sands Beach & Water Park – Kelowna City Park
Hot Sands Beach is located in City Park in the heart of downtown Kelowna. With outdoor volleyball, tennis, basketball, a skateboard pit, picnic areas, 2 water parks, and lawn bowling, there's literally something for everyone.
Kids can play in the free Kelowna water park adjacent to the beach, or do some supervised swimming in the Splash BC Water Park.
In the summer, Hot Sands beach hosts Kelowna's floating adventure playground that's very popular for families with young children. Dogs can play at the Sails dog beach between City Park and the marina dock.
End your beach day with dinner at Earl's patio or check out the downtown nightlife on Bernard Avenue.
3. Tugboat Bay – Kelowna Waterfront Park
Tugboat Bay is a sandy beach with change rooms and paddleboard rental at the north end of Kelowna's waterfront promenade. It's one of the best beaches and swimming areas in downtown Kelowna. When you've had enough sun take a stroll through the manicured gardens of the Delta Grand Hotel, enjoy nature at the Rotary Marsh bird sanctuary, Kasugai Gardens, or try your chances at Lake City Casino.
Tugboat Bay is right next to Kelowna's cultural district with a number of excellent restaurants, tasting rooms, coffee shops, and microbreweries.
4. Strathcona Beach
Strathcona beach is located south of downtown and next to the Kelowna General Hospital. Strathcona Park has public washrooms, a kids' playground, grassy areas, and plenty of shade.
After the beach, take a walk through Maude Roxby Bird Sanctuary or head down Pandosy Ave for a bite to eat.
5. Paul's Tomb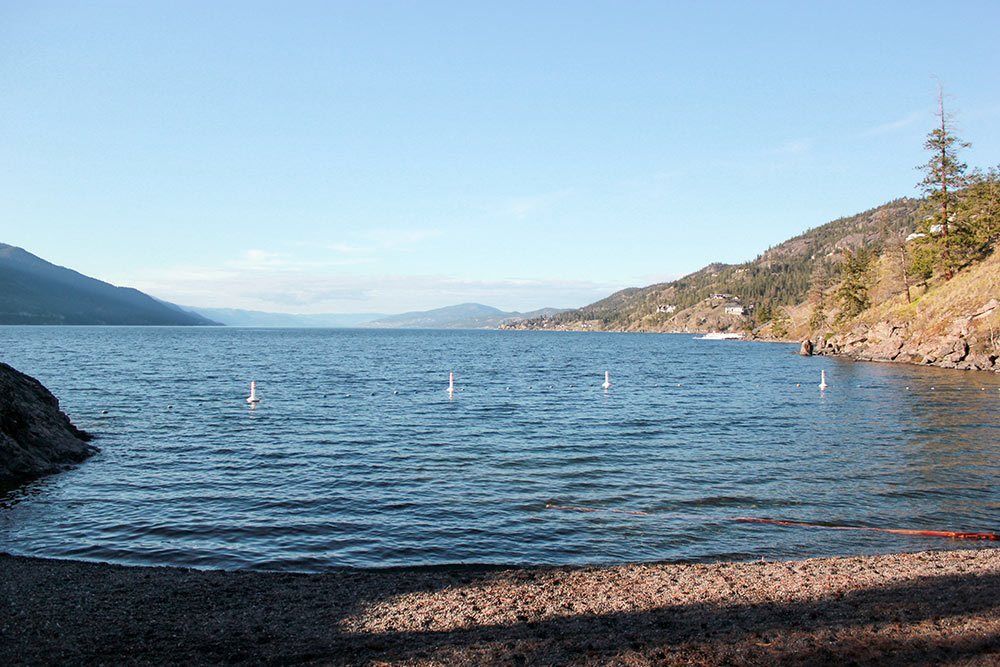 For the more energetic types, or for those looking for seclusion, Paul's Tomb is our top pick for the best beach in Kelowna. A gentle 5km hike from the north end of Poplar Point Drive leads you to a pebbled, dog-friendly beach with spectacular lake views. There's a picnic table, an outhouse, and some very mellow cliff jumping. After, continue your hike up the Lochview Trail to the top of Knox or take in a round of waterfront disc golf.
6. Bear Creek Provincial Park Beach
Bear Creek Provincial Park has a family-friendly beach with 2 playgrounds, a concession, and well-maintained washroom & shower facilities. There's a dog-friendly section of beach at the far end, near the log booms. Hike the Canyon Rim Trail for excellent views and a workout. Bear Creek Campground is popular with local families, tourists, and Okanagan RV enthusiasts.
7. Gellatly Bay, West Kelowna
Gellatly Bay is the most popular beach on the westside, especially with families. Gellatly has jumping platforms, picnic tables, a rocky beach area, and an off leash dog park. You get great views across the lake to Okanagan Mountain park. Be extra careful If you plan to jump off the docks.


8. Rotary Beach
Rotary Beach is a well-maintained beach located at 3736 Lakeshore Rd in the Lower Mission. The beach has fine sand which is great for building sandcastles and relaxing under the sun.
Rotary is a family-friendly Kelowna beach with fine sand that's great for building sandcastles, shallow water due to the long sandbar, bathrooms, and watersports equipment rentals (paddleboard, paddleboat, & kayak rentals).You get great views all the way to Peachland and fantastic sunsets. There's pay parking right next to Rotary Beach.