Kelowna Ice Cream Shops | 10 Best Ice Cream, Sorbet, and Gelato Shops in Kelowna, BC
Want to beat the heat in Kelowna, BC with a cool treat? This article shows you the best places to get gelato, frozen yogurt, sorbetto, and ice cream in Kelowna, BC - with each ice cream shop ranked by their Google reviews.
Delectable scoops, rootbeer floats, sensational affogato desserts, milkshakes… this list has it all.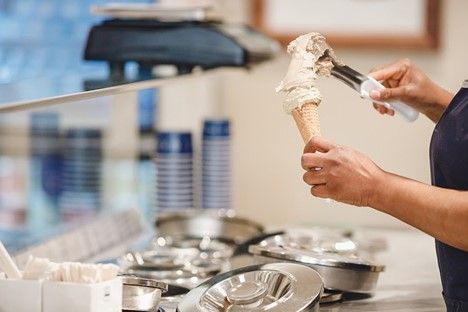 Fortuna Gelato
5.0 stars (25 reviews)
About
If you are shopping at Orchard Park, Fortuna Gelato is a must-visit for some of the best gelato in Kelowna (we think it's better than ice cream). Handmade by their owner Julio - who studied Gelato making in Bologna, Italy - Fortuna offers 12 flavours of gelato, 6 flavours of sorbetto, and some wonderful Italian-style desserts. What's the fuss about Gelato? Compared to ice cream, gelato has significantly less butterfat than ice cream, melts slower, and tastes richer due to its higher density. If you're lactose-intolerant or gluten-free, try their fruit-flavoured "Sorbetto" or grab a shot at their espresso bar. You can take Fortuna Gelato home with you by the pint, or order a custom gelato cake with 2 different flavors.
Details
(250) 712-1226

Located in Orchard Park Shopping Centre at 2271 Harvey Ave, Kelowna, BC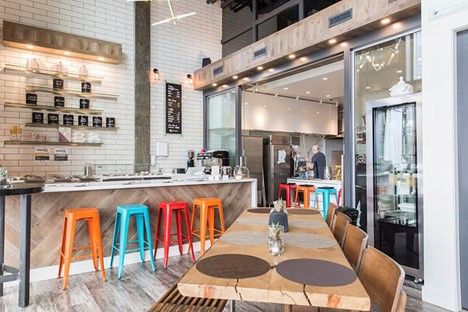 QB Gelato and Bakery
4.9 stars (408 reviews)
About
QB Gelato and Bakery is a homemade gelato shop in Kelowna's Landmark area serving some of Kelowna's best ice cream. Partners Kevin and Victor use only local Okanagan ingredients for their small batch gelatos. If you like Affogatos (ice cream topped with espresso), they serve downtown-roasted coffee that's specially made for QB Affogatos. Celiac, gluten, dairy, or vegan? No worries, There are safe options for everyone - and a monthly flavor that will keep you coming back. With their loyalty program purchases such as a pint of your favourite gelato may earn rewards.
Details
(250) 861-6622

1884 Dayton St, Kelowna, BC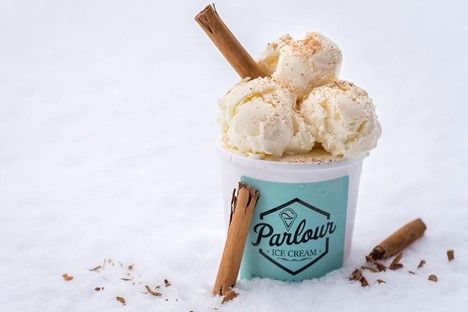 Parlour Ice Cream
4.8 stars (1,035 reviews)
About
Expect super premium ice cream from Downtown Kelowna's Parlour Ice Cream, where everything is made in-house with fresh, locally-sourced ingredients from businesses like Okanagan Spirits, The Bean Scene, the Gellatly Nut Farm, and the Okanagan Lavender Herb Farm. Try unique flavours like whiskey-hazelnut, lavender, or chocolate coffee. There are often line-ups here (for a good reason), but it's well worth the wait. If you fancy a late night cone or bowl, Parlour Ice Cream is open until 10pm.
Details
1571 Abbott St, Kelowna, BC

(250) 300-7071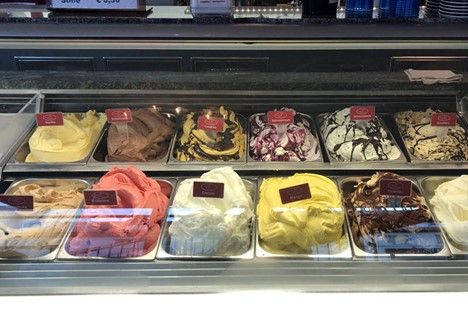 AMORE MIO Italian Artisanal Gelato
4.8 (258 reviews)
About
Amore Mio is a European gelato cafe with unique frozen desserts like gelato spaghetti. The creamy dessert is pressed into linguini-like strands, covered in sweet sauces and garnished with toppings to look just like the traditional pasta dish. Their homemade gelato may also be enjoyed as a sundae- kid's size optional. Vegan options are available, along with coffee, pastry, panini, pastas (really pastas), and a host of other authentic Italian treats. Grab a cone, then take in the Okanagan sunshine and be part of the downtown bustle on their outdoor patio.
Details
270 Bernard Ave, Kelowna, BC

(250) 717-5494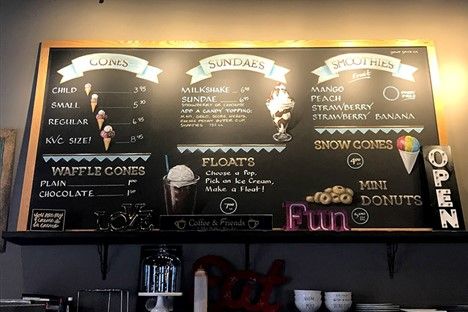 Kettle Valley Coffee & Scoops
4.6 stars (166 reviews)
About
Kettle Valley Coffee and Scoops is a quaint ice cream shop shop and cafe with 12 flavours of Chapman's ice cream (for excellent rootbeer floats) and an atmosphere that invites you to stay. Work a while, or play a board game after exploring the kids' area which includes a train table. Enjoy Cherry Hill Coffee and a large tea selection, all organic. For something different, try the chai tea latte with real fruit blended with yogurt. Kettle Valley Coffee and Scoops offers a breakfast and lunch menu with sandwiches, salads, eggs, and fresh local baking with gluten-free options and whole ingredients.
Details
5315 Main St #203, Kelowna, BC

(250) 764-1777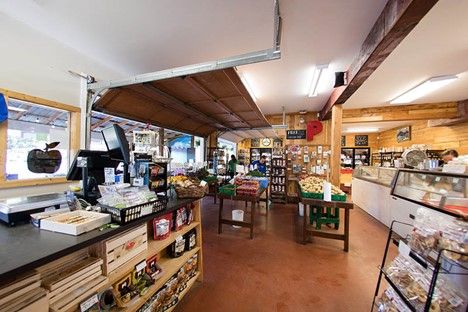 Paynter's Market, West Kelowna, BC
4.6 stars (648 reviews)
About
Opening from late June to late October, Paynter's Market is a West Kelowna fruit stand and market that offers Island Farms and Foothills Creamery ice cream by the scoop. Paynter's market is known for fresh, local BC produce like cherries, apricots, plums, pears, and peaches - some grown right on their family farm. For a small entrance fee, you can eat whatever you can pick in the orchard, then fill up a reusable container to take home.
Details
3687 Paynter Rd, West Kelowna, BC

(250) 768-7313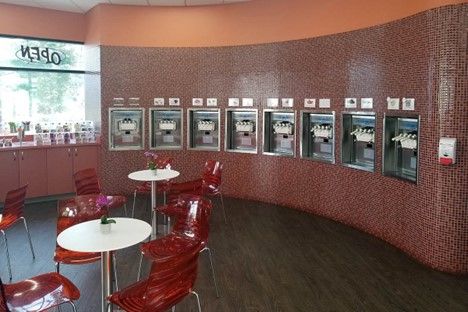 Frozen Yogurt at Sonic Wash
4.8 stars (8 reviews)
About
Looking for the best frozen yogurt in town? Frozen Yogurt at Sonic Wash offers 16 flavors of frozen yogurt and over 40 delectable toppings. Sonic is perfect for grab and go, or as a cool treat when you're getting a car wash at one of their 2 locations (Springfield Rd in Kelowna and Hudson Rd in West Kelowna).
Details
Kelowna Sonic Wash
1920 Springfield Rd, Kelowna, BC

(778) 760-1349
West Kelowna Sonic Wash
1200 Hudson Rd, West Kelowna, BC

(250) 769-0038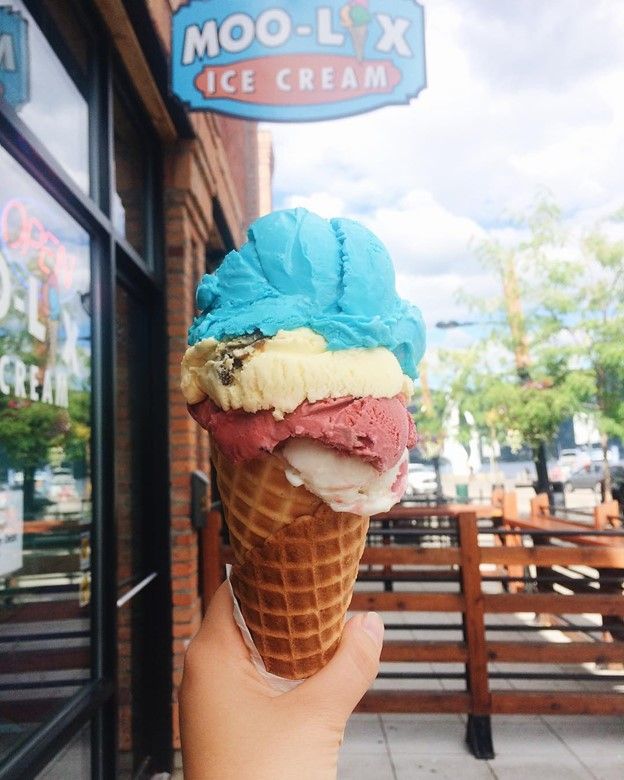 MOO-LIX Ice Cream Shop
4.4 stars (535 reviews)
About
With fresh waffle cones made using a super secret family recipe, and handmade ice cream made locally, MOO-LIX offers some of the best ice cream in Kelowna, BC.
MOO-LIX operates two ice cream shop locations: Downtown Kelowna - with 40 classic and unique flavours, and at McCurdy Corner - with 15 flavours at all times, plus 15 rotating flavors. If you have dietary concerns, consider their soy-based vegan ice cream, mouth-watering sorbettos, and gluten-free waffle cones.
Details
Downtown Kelowna
239 Bernard Ave, Kelowna, BC V1Y 1J6

(250) 826-8144
McCurdy Corner, Rutland
948 McCurdy Rd, Kelowna, BC V1X 2P7

(250) 826-8144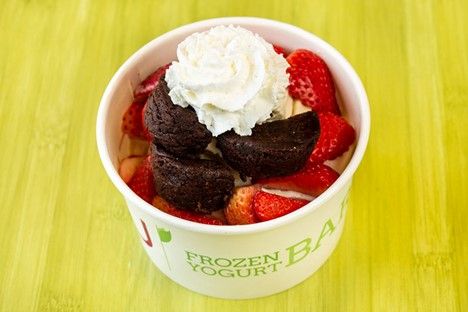 Tru Frozen Yogurt
4.3 stars (79 reviews)
About
Tru Frozen Yogurt in Kelowna, BC offers 12 flavors of nutrient and probiotic-rich frozen yogurt - with a wild variety of toppings. You can try candy balls, boba tapioca, chocolate brownies, caramel - plus dozens of others. Treat yourself to a smoothie, coffee, hot chocolate, tea, or crepe (sweet and savory options). If you have dietary concerns, Tru Frozen Yogurt offers dairy-free, gluten-free, fat-free, and sugar-free options. They also offer Harden & Huyse artisanal chocolates, to take home with you.
Details
3030 Pandosy St #103, Kelowna, BC V1Y 0C3

(778) 484-1424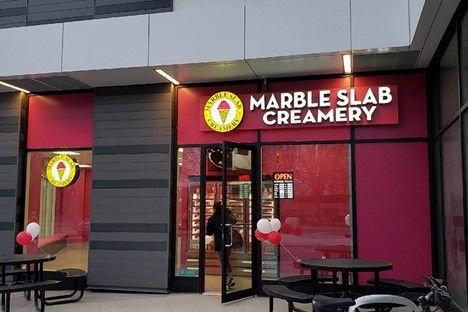 Marble Slab Creamery, Kelowna BC
4.1 stars (79 reviews)
About
Marble Slab Creamery is an ice cream shop with 66 different ice cream flavours made in store - plus 65 mix-in options like brownie bits, cherries, butter pecan, and chocolate mint. Low-fat sorbets, no-sugar-added ice cream, low-calorie frozen yogurt, or 4 flavours of vegan ice cream. At Marble Slab Creamery your personalized combination is hand churned "frozen slab" style for exceptionally delicious results. Try a classic banana split, gourmet Poko Popcorn, cookie sandwiches, cupcakes, cakes, and crumbles.
Details
3477 Lakeshore Rd Unit 112, Kelowna, BC V1W 3S9

(778) 484-0244
Kelowna's Best Ice Cream: Runners Up
Tickleberry's Ice Cream, OK Falls
Tickleberry's Ice Cream is located in Okanagan Falls (hence the runner up position). But, if you find yourself on a scenic drive south of Kelowna, you must stop here…
Gargantuan scoops with 72 different flavors (some made in house), an in-house fudge factory, kettlecorn, chocolate, and real fruit-flavoured Ticklebeans. Check out their unique gift-shop where you can buy fun trinkets and souvenirs.
Details
207 Main St, Okanagan Falls, BC V0H 1R4

(250) 497-8862
Dairy Queen & Orange Julius in Kelowna & West Kelowna
Dairy Queen is a classic restaurant location for both hot eats and cool ice cream treats. DQ offers slushies and soft serve ice cream as a Blizzard, Dilly bar, milkshake, sundae, banana-split, dipped ice cream cone, or ice cream cake. Orange Julius Originals and smoothies are also on offer at their locations in the Lower Mission, Central City, Orchard Park Mall, Rutland, Glenmore, and West Kelowna.