New Condos For Sale Kelowna: The 2023 Kelowna Condos High Rise Buyer's Guide
Kelowna Condos for Sale | The 2023 Kelowna, BC Condominium Highrise Guide
Kelowna's booming real estate market has led to an increase in new condominium tower developments with Kelowna condos for sale. This blog shows you every built, planned, and under-construction high-rise condo development in Kelowna as of March 8th, 2023. Whether you're moving to Kelowna or an investor looking to generate rental income, our comprehensive guide will help you navigate the most exciting opportunities in Kelowna's condo market.
Condo Living in Kelowna, BC
At 142 thousand residents, Kelowna, BC is Canada's 4th fastest growing city with an annual growth rate of 1.9 percent.
Kelowna's strong economy and booming tech sector is one of the attractions for new Kelownians, and is helping to turn the area into a major cosmopolitan centre. While much of the world entered into recession in 2020, Kelowna shrugged it with the lowest unemployment rate in Canada at 4.6 percent.
On average, we gets 304 days of sunshine per year, making it a repeat holiday destination for generations of Canadians. Defined by ponderosa pine forests, world-class vineyards, and local orchards growing fresh apples, peaches, plums, and pears, the Okanagan Valley is a year-round paradise with a reasonable cost of living.
Condominiums, apartments and townhouse units make great single family homes and come with serious advantages compared to detached homes in Kelowna, BC:
You'll get fantastic views

Get access to private year-round facilities like swimming pools, saunas, fitness centres, and remote working spaces

Living downtown means you can get around on foot or ride your bike

New high rise condos have state-of-the-art security systems and secure entries

You won't be shovelling snow in the winter or doing yard work on weekends

The average condominium price in Kelowna, BC is $417 per square foot

Condos provide an excellent opporunity to generate rental income from tourists, students, and professionals



New Kelowna Condominiums for Sale | Kelowna Condo Developments 2023
New Kelowna Developments: Presale Condominiums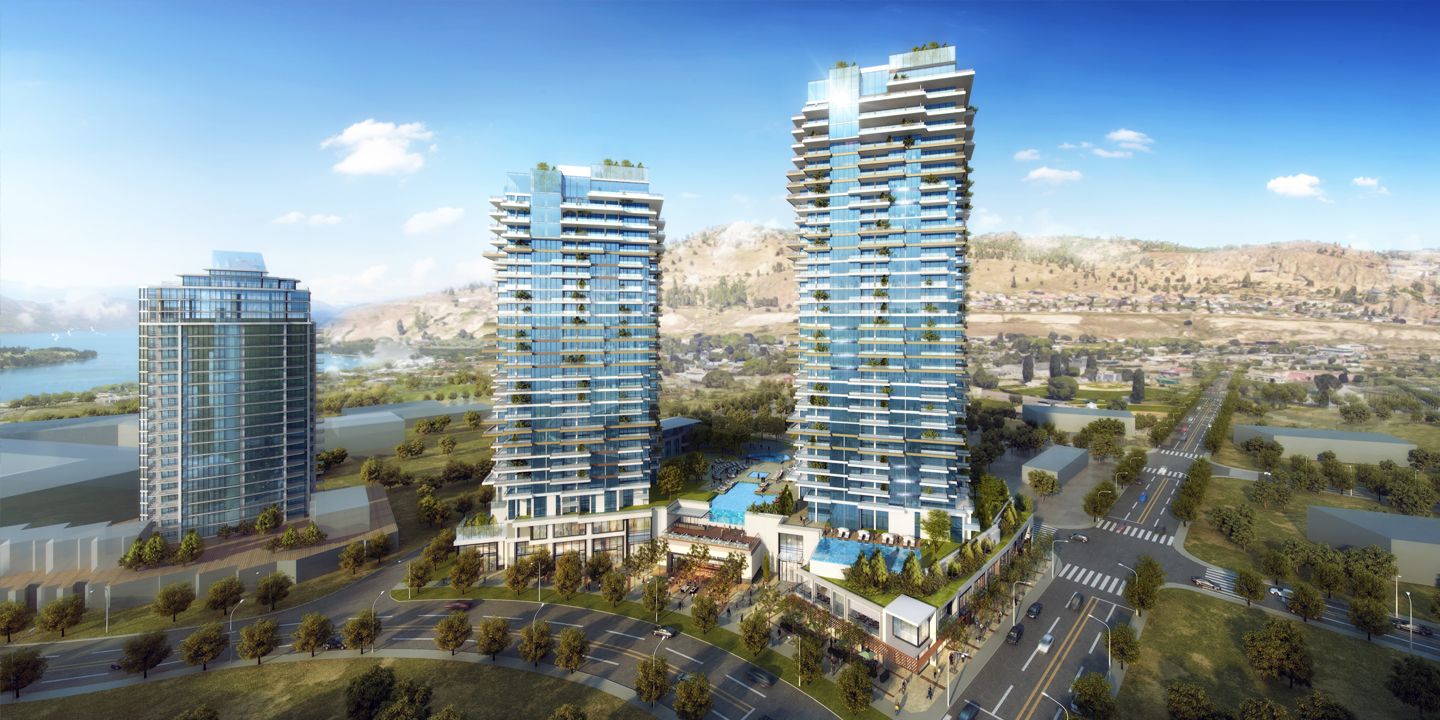 One Water Street | Luxury High Rise Kelowna Condominiums for Sale
With construction nearing 100% completion in 2022, One Water Street has cemented itself as the most prestigious new condominium tower in Kelowna, BC at the high end of the price range.
Prominently located at 1187 Sunset Drive, this twin tower development by Kasian Architecture features 422 units ranging from 1,000 square foot studios & one bedroom suites to 3,500 sq.ft. luxury townhomes for sale.
The development features 2 separate towers of 29 and 36 stories connected by a 4th floor podium so you can visit the neighbors or make new friends without having to leave the building. Condominium interiors feature quartz countertops, contemporary designs, and floor to ceiling wrap-around windows showing magnificent views in 3 directions (lake view suite).
Owners get access to outdoor swimming pools, a hot tub, a dog park, grilling stations, and natural gas fire pits. There's also a business centre, a multi-purpose entertainment room, and a 3,000 square foot health club complete with gym equipment and a yoga studio.
Kelowna's Entertainment District has come alive since local breweries, coffee shops, and restaurants began filling the area in the 2010s. It's now one of the most popular areas to start your evening or end a workday, with quick access to beaches, parks, and bicycle paths.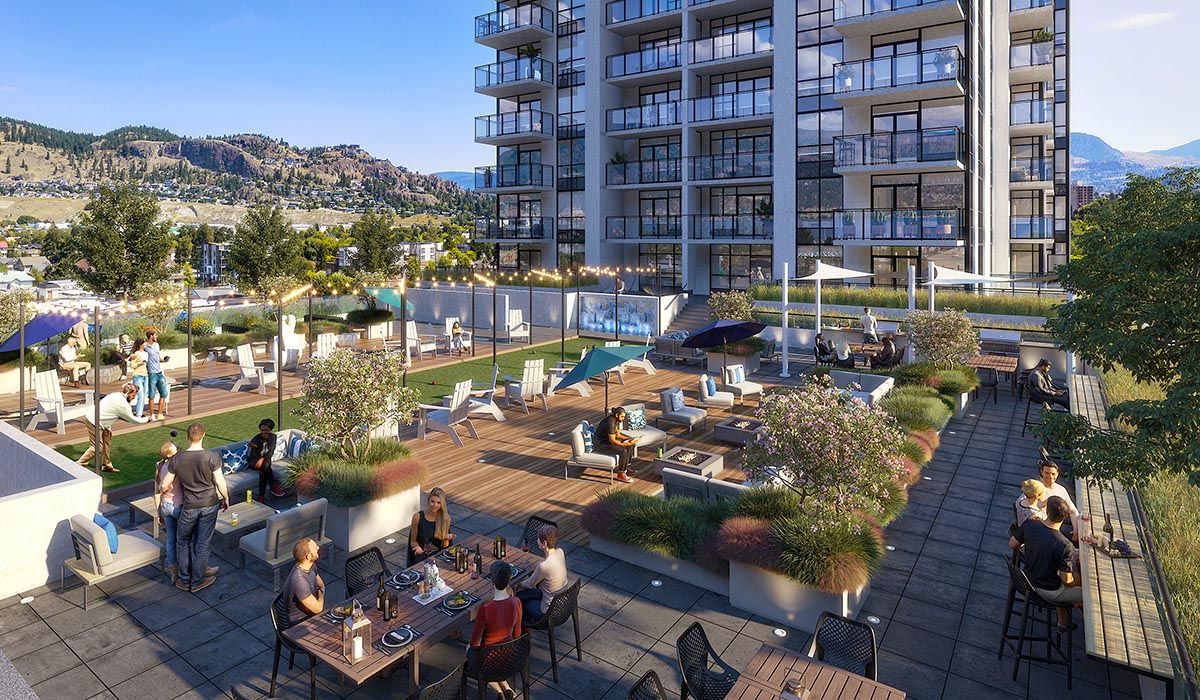 Bertram Bernard Block | Condos for Sale Kelowna
Bertram Bernard Block is a new 34 story residential high rise development in Kelowna, BC by Mission Group Homes.
With a central location at 1488 Bertram on the corner of Bernard Ave, this luxury 3 tower property features 257 new Kelowna condo units for sale ranging from 312 square foot studios to 968 square foot 2 bedroom apartments with a large covered deck.
The 6th floor terrace provides access to spacious outdoor firepits, a shared garden, an outdoor sports area, and an indoor fitness studio. Enjoy the end of your workday with a dip in the rooftop sky pool with 180 degree panoramic views, then show off your culinary skills at the outdoor barbeque.
A main floor co-working space facing Bertram's tree-lined street makes this unit your one-stop shop for modern urban living.
The 3 towers, Brooklyn at Bernard (residential), Bertram at Bernard (residential), and Bernard Block (commercial) are expected to be completed by 2023. Condominium units start at $200K.
Bertram Ave is a quiet reprieve adjacent to Bernard Ave, the main thoroughfare in Downtown Kelowna, BC. The new Bertram Bernard Block, along with a host of restaurants, clothing shops, and entertainment venues, are breathing bringing life to this otherwise quiet neighborhood known for its tall trees, 1950's construction homes, and low rise apartments.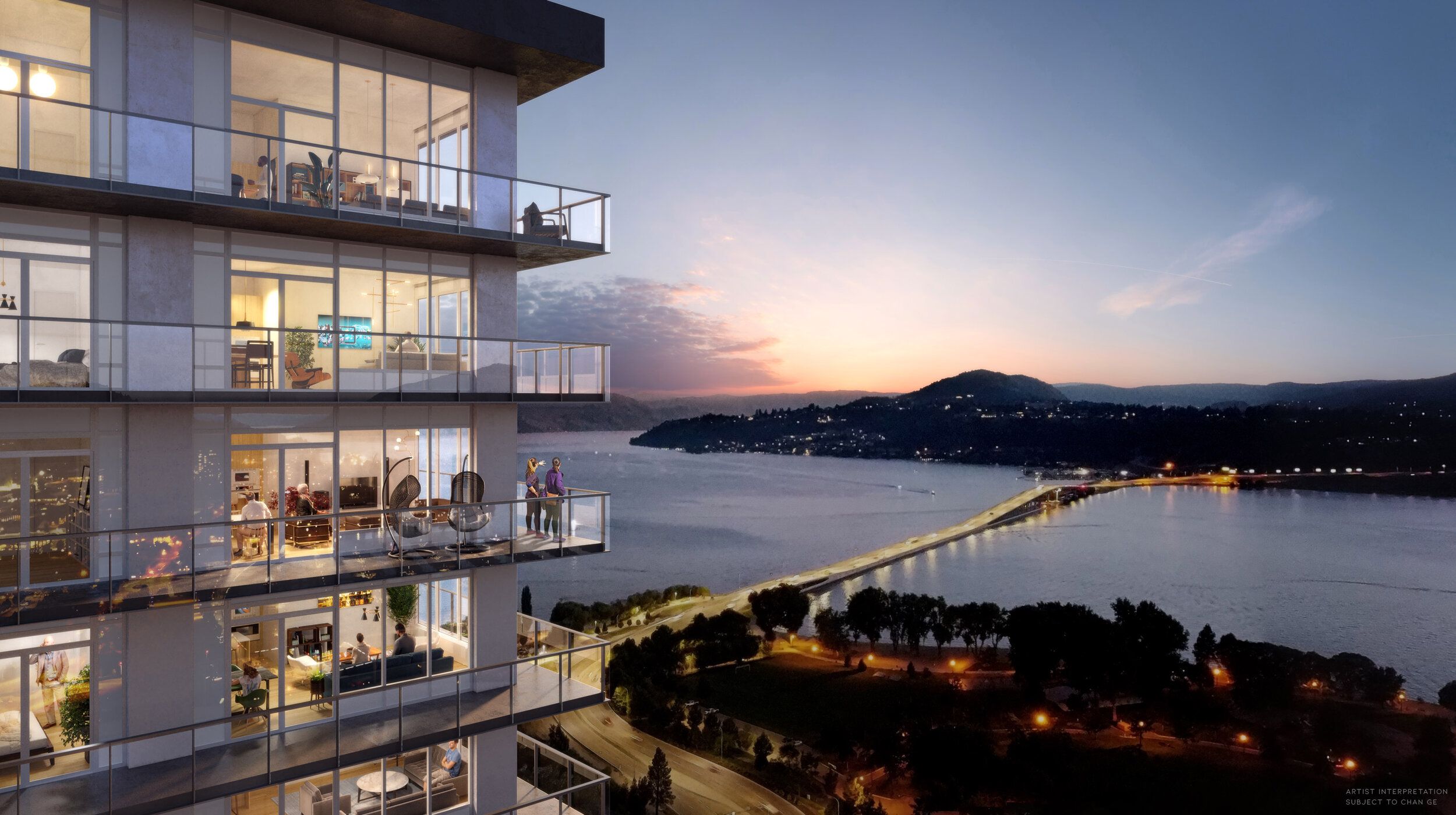 Water Street by the Park is a sprawling 3-tower development ecnompassing 559,000 square feet of mixed-used residential and commercial space that's located next to Kelowna City Park on Water Street's 1600 block. The triple tower design by HDR Architecture Associates includes 3 towers of 24, 26, and 42 storeys.
Water Street by the Park broke ground in April 2022. When it's completed between 2023 and 2025, the awe-inspiring 42 storey tower will be BC's tallest building outside of the lower mainland at 132.7 meters (442 feet). Water Street by the Park offers 650 residential condominiums including 1, 2, and 3 bedroom modern corner units, and over 43,000 square feet of exclusive amenities that are truly unparalleled in Downtown Kelowna, BC: there's a workout area, a golf simulator & putting green, a movie theatre, and on-site office space.
A mass timber skybridge running parallel to Water Street will connect the tallest 2 towers to create an urban oasis and social area featuring a year-round heated swimming pool, 2 hot tubs, gas fire pits, and communal BBQs. At street level, this remarkable development will feature 45,000 square feet of commercial space for offices, restaurants, grocers, and retail stores. Underground, 727 secure underground vehicle parking stalls and 566 long-term bicycle parking stalls are exclusively available to tenants of One Water Street.
To get floorplans and pricing for condos for sale at One Water Street, Bertram Block, and Water Street by the Park, contact Vantage West Realty at (250) 717-3133 or schedule a coffee.
Kelowna High Rise Condos & Apartments for Sale
Ellis Parc
Prestigiously located at 1232 Ellis Street on the corner of Clement Avenue, Ellis Park is the newest high rise condo development for sale in Downtown Kelowna, BC.
Completed in 2020, the expansive Ellis Parc property is a 14 storey mixed-use residential tower that's redefining the bustling North End neighborhood with its unique architectural design.
Built with concrete, steel, and glass, Ellis Parc features 91 luxury condos with breathtaking views of the Okanagan Valley. Floors 4-13 offer 1 and 2 bedroom units with ample living space, while floor 14 features 2 and 3 bedroom penthouse units up to 2,600 square feet. Entertain guests at the multi purpose room with an outdoor deck or in your private suite of this stunning unit.
These fantastic condo interiors feature welcoming 9 foot ceilings, faux-wood laminate flooring, polished quartz countertops, and stainless steel appliances. Modern bathrooms showcase tile flooring with undermount sinks, bathtubs, Kohler porcelain, and spacious glass-doored showers.
Located in a bustling neighborhood, life at Ellis Parc will satisfy urban tastes year round. Townhouse suites are walking distance to the best coffee shops, artistic venues, and vintage clothing stores in Kelowna, BC. Tugboat Beach, the Playtime Casino, award-winning restaurants like Bouchons Bistro and Waterfront Wines, and Prospera Place - the home stadium of the Kelowna Rockets are all at your doorstep.


The Ella is a 20 storey concrete and glass tower designed by IBI Group Architects with a central location at 1588 Ellis Street, Downtown Kelowna.
The modern condo tower features 116 high rise condos with open-concept floor plans, European styling, and gorgeous views.
Ella features a variety of units from studio up to 2 bed + 2 bath Kelowna condominiums, with and without dens. Tall ceilings, expansive windows, and bright, spacious rooms define the interiors at Ella.
Stainless steel appliances, natural gas cooktops, and sleek countertops fill the gourmet-ready kitchens and energy efficient heating and cooling systems keep you comfy no matter what's happening outside. Bathrooms feature contemporary faux-wood wall tiling, quartz counters, and spacious showers with waterfall showerheads.
The downtown core is one of the most vibrant and social neighborhoods in Kelowna, BC; it's home to the most well-known restaurants, entertainment venues, and clothing stores. Ella is 5 minutes walk to Hot Sands Beach, and 10 minutes by bike to the Entertainment District.
The Ella is already 100% sold out, so look for new listings on the MLS. Condos at Ella now range from $300 thousand to $1.25 million.
Discovery Bay Towers
With a highly sought after location next to Tugboat Beach in Kelowna's Entertainment District, Discovery Bay gives you a summer resort lifestyle all year-round.
Discovery Bay condos for sale rise 22 storeys from their prized location backing out onto Waterfront Park and the hot sands of Tugboat beach.
Residents enjoy an outdoor pool & year-round indoor pool, 2 hot tubs, gym, sauna, games, and an outdoor communal barbeque with a pergola shade structure. You can park your vehicles in the secure underground lot or along Sunset Drive.
If you own a boat, you can store it in the lagoon, then use the water elevator boat lock to get out for a day on the water. You can also rent boats and equipment from nearby Okanagan Rent a boat or Lakefront Sports.
Within blocks of the tower you'll find affordable restaurants, craft breweries, independent coffee shops, and event venues like Prospera Place, the Kelowna Art Gallery, & the Kelowna Community Theatre.
Discovery Bay is a 5 to 10 minute walk to the best Kelowna, BC restaurants including Bouchons Bistro, Waterfront Wines, and Oak and Cru Restaurant at the Delta Grand.
Stroll down the waterfront during summer to hear buskers and rock bands playing music through the summer at the Island Stage and along the Simpson Walk. Further along, high end boats, yachts, and float planes decorate the waterfront at the Kelowna Yacht Club. When you need peace and quiet, walk through the Rotary Marsh bird sanctuary and see the resident family of ospreys.
The Lagoons
The Lagoons is a 17 storey townhome high rise with 104 units and a great location in Kelowna's Cultural District.
Located next to The Dolphins at 1152 and 1156 Sunset Drive, The Lagoons is a concrete and wood structure built in 2000. Lagoons units are a mix of renovated and original interiors with open concept designs and covered outdoor decks.
Amenities include an indoor and outdoor pool, hot tub, steam room, gym, and a clubhouse. Guests enjoy secure underground parking and a secure entryway to the building.
You can moor your boat in the Lagoon in the Summer months, then use the boat elevator to get out on the water and back again. Tenants at The Lagoons can keep 1 dog and 1 cat up to 15" shoulder height in the Lagoons.
The Lagoons has a prime location just a few minutes walk to Tugboat Beach or the Rotary Marsh bird sanctuary. It's 5 minutes walk to lively bars and restaurants like BNA Brewing Co., The Train Station Pub, or Central Kitchen. Local favorites like Eurobean Coffee, Sprout Bread, and Waterfront Wines, and The Kelowna Beer Institute are within 10 minutes walk.
If you use the MLS to search, you'll notice it's rare to find new listings at the Lagoons.
The Dolphins
Located adjacent to The Lagoons at 1160 Sunset Drive, The Dolphins is a 17 storey, 69 unit condo high-rise that was completed in 1994.
Named after the famous Dolphin statue (Rhapsody sculpture), The Dolphins condos feature open concept interiors, spacious covered balconies overlooking Waterfront Park and the surrounding mountains.
Residents get exclusive access to the exercise room, outdoor tennis court, pool, swirl pool (hot tub), and secure underground parking. Boat moorage available in the nearby lagoon, and small pets are allowed.
The Dolphins has an ideal location that's walking distance to Tugboat Beach, Playtime Casino, and Prospera Place - the home stadium of the Kelowna Rockets hockey team. It's just a 10 minute walk to great restaurants like Cactus Club Cafe, OAK + CRU Social Kitchen & Wine Bar, or Nagano Sushi.
Waterscapes Skye Tower
Located at 1075 Sunset Drive in Kelowna's North End neighbourhood, Waterscapes is a luxury high rise built in 2010 by Rositch Hemphill & Associates.
Facing Okanagan Lake from 3 directions, Waterscapes Skye Tower stands 27 storeys tall and features 188 contemporary condo units with tall windows, outdoor decks, and modern interior designs. Waterscapes features 1 to 3 bedroom condos in a resort-style building with secure underground parking and private amenities.
Residents get access to the Cascade Club, a private 4,000 sq.ft. recreation and leisure facility offering a resort style living experience. Live life to the fullest with an outdoor terrace, swimming pool, hot tub, BBQ area, and a putting green. Inside the club you can exercise in the yoga and fitness rooms, play billiards, watch the big screen TV, or read a book in the library.
Waterscapes is centrally located in the North End, the home of Kelowna's Cultural District
with brewpubs, coffee shops, art galleries, and the Playtime Casino all within walking distance. The North End is full of recreation venues like the Kelowna Badminton club, the Kelowna Curling Club, the Elk's Stadium baseball diamond, and the outdoor ice rink at Stuart Park.
Waterscapes Tower is 5 minutes walk to Tugboat Beach, Waterfront Park, and some of the area's liveliest restaurants like Train Station Pub, Bouchons Bistro, and Soul de Cuba Cafe. Stroll through Sunset Drive Park to reach the Rotary Marsh bird sanctuary and the hot sands beach at Tugboat Bay.
Pets are allowed at Waterscapes. Condo units range from $600 thousand up to $2 million.
The Madison Kelowna | Luxury Highrise Condos
The Madison, Kelowna is a 15 storey high rise with 57 units in Kelowna's vibrant cultural district, one block from Kelowna's waterfront promenade. This luxury condo development is prominently located on the corner of Ellis St and Doyle Ave across from the Kelowna Library and the Kelowna YMCA.
The Madison features a modernist architectural design with spacious open concept unit plans, outdoor decks with stylish pergola roofs, and floor-to-ceiling windows with stunning views.
Condo interiors boast marble flooring in the bathrooms, hardwood in the kitchen and living rooms, and carpets in the bedrooms. Kitchens feature open designs with quartz countertop islands, gas ranges, and professional stainless steel appliances. The main bedrooms feature walk in closets and twin sinks in the main bath.
The Madison is pure luxury. Residents are greeted by a doorman in the main floor lobby filled with marble flooring, curated artwork, and fine decor. Amenities include an exercise room, conference room with a kitchen, and secure underground parking.
The Madison is centrally located in Kelowna's cultural district. Suites are walking distance to great coffee shops like Bean Scene Coffee Works North, Bliss Bakery, and Blenz Coffee. You'll be 5 minutes from restaurants along Ellis St like Gather, Dawatt, Curious Cafe, and El Taquero. The neighborhood offers every convenience: banks, spas, gyms, yoga studios, nightclubs, and bars.
You can catch performances nearby at the Kelowna Actors Studio or Kelowna Community Theatre, shop at vintage clothing stores, or take a relaxing walk through the Kasugai Gardens just 5 minutes from The Madison.
The Lofts
Centrally located at 1329 Ellis St in Kelowna's Cultural District, The Lofts is an 11 storey condo high rise built in 2007.
The Lofts features 48 condo 2 bed + 2 bathroom condo units up to 1,500 sq ft of convenient living space with only 5 units per floor. With 11 foot ceilings, ceramic tiling, hardwood in the kitchen and living room, and carpet flooring in the bedrooms. Suites are open concept, bright, and airy with tall windows offering magnificent views of the mountains, Okanagan Lake, and Kelowna. Kitchens feature professional-grade natural gas stoves and stainless appliances.
The Lofts residents enjoy access to the exercise room, social area & kitchen, underground parking, and the secure bike room & storage area. Fish and up to 2 cats are allowed as pets at the Lofts.
You can live an urban lifestyle at The Lofts, which is walking distance to salons, restaurants, pubs, and nightlife. It's 8 minutes drive to bigbox shopping at Canadian Superstore and Costco, and 16 minutes drive to the Kelowna International Airport.

Image Credit: Aquilini Development
SOPA Square
Located at 485 Groves Avenue in Kelowna's South Pandosy neighborhood, SOPA Square is a mixed-use commercial and residential development built in 2018 by the Aquilini Investment Group.
The building is separated into a 14 storey high rise condo tower and a 3 storey low rise townhome development that adds a touch of bourgeois to this otherwise bohemian neighborhood known for its boutiques & art galleries, restaurants, and hot sand beaches popular with summer vacationers.
SOPA features 1, 2, and 3 bedroom units with open-concept floor plans, floor-to-ceiling windows, modern kitchens, and spacious wrap-around balconies. The 1 bed units start around $550 thousand.
SOPA tower units offer unmatched views in the South Pandosy neighbourhood with modern features like bike storage, state-of-the-art security, and underground parking. Residents enjoy access to the outdoor pool, hot tub, and expansive open air terrace with a communal fire pit.
The South Pandosy has virtually everything you need for life in Kelowna including fitness, groceries, healthcare providers, brewpubs, and vintage shopping. Eateries like the Canadian Brewhouse, Mucho Burrito, Zabb Thai, Chutney Cuisine of India, and the Bean Scene are all at your doorstep.
When the summer sun gets hot, it's a 5-10 minute walk to Boyce-Gyro beach, Rotary beach, and the secluded beach access points along Abbot Street.
InVue Sky Residences Tower
Kelowna's InVue Sky Tower is a modern 12 storey, 92 unit condo development on Springfield Road near the Orchard Park Mall and Mission Creek Regional Park.
Built in 2009 with steel, stucco, and concrete, InVue Tower's bold, ellipse-shaped design atop a concrete podium offers panoramic views from the triangular east and west wings.
InVue's luxury condo units are known for tall glass windows, modern interiors, and spacious outdoor decks with gorgeous views over Kelowna and the surrounding mountains.
InVue Sky Residences Tower amenities include a rooftop patio with swimming pool & hot tub, infrared dry & wet saunas, and a modern exercise facility with a yoga & pilates room. You can book guest suites or use the conference centre for your business needs. Pet owners will appreciate the dog wash area and pet-friendly condo units. The lower levels are reserved for parking and commercial tenants.
Invue Sky Residences is conveniently located adjacent to Orchard Plaza with shopping, healthcare providers, grocery stores, and restaurants. It's a 5 minute ride by car or bike to the Kelowna Farmer's & Crafter's Market on Wednesday and Saturday mornings.
Centuria Urban Village
Centuria is a 17 storey, pet-friendly condo tower in Kelowna's quiet, tree-lined North Central neighborhood at the base of Knox Mountain and Dilworth Mountain.
This Tommy Award winning steel and concrete building showcases a terraced architectural design with a bold exterior clad with red brick. Centuria features 151 bright condo units with large windows, spacious interiors, gas stoves, BBQ outlets, and a host of amenities in the building and neighborhood.
Centuria boasts a year-round hot tub, seasonal swimming pool, fitness centre, sauna & steam room. Tenants enjoy secure parking, an indoor car wash & vacuum, bike storage, and an outdoor garden area.
Centuria is conveniently located on Gordon Dr and Lawson Ave, near the Mediterranean Market, 7-Eleven, and Subway. Hot sands beach is a 10 minute cruise by bike. It's a 3-minute drive or 10-minute walk to Capri Centre with a grocery store, walk-in clinic, post office, and boutique retail.
Park Place Condos
Park Place is a 103 unit, 17 storey high rise tower for tenants aged 19 and over. The towers feature a postmodern concrete, stone, and reinforced brick design.
Located at 1947 Underhill Street, Park Place belongs to a group of 4 residential buildings. Townhouse units offer bright, airy interiors with beautiful views above Kelowna - at an affordable price.
Residents enjoy shared access to the outdoor pool & hot tub, tennis court, fitness centre, and the activities area with a pool table, theatre room, & library. Secure parking stalls are available underground, and small pets are allowed.
Conveniences like banks, restaurants, clothing, furniture, and electronics stores are all located minutes from Orchard Park Mall or along Baron Rd. It's a 5 minute drive or bike along Baron Road to nearby conveniences like Real Canadian Superstore, Costco, and Staples.
Mission Creek Towers
Kelowna's Mission Creek Towers is a 2-tower development serenely located next to 16.5kms of cycling, hiking, and walking trails in the Mission Creek greenway.
Units range from small bachelors up to semi penthouse suites with stunning views. Interiors feature gas fireplaces, covered balconies, and comfortable floor plans. The building has an indoor pool & hot tub, 3 expansive outdoor balconies, and underground parking & bike storage.
Located in a convenient neighbourhood, the towers are 5 minutes drive to shopping at Orchard Park Mall, BestBuy electronics, Jysk furniture, and Staples. On Wednesdays and Saturdays, the Kelowna Farmers' and Crafters' Market runs in the lot adjacent to Mission Creek Towers from morning till afternoon.
It's a 12 minute drive from Mission Creek Towers to Gyro Beach in the South Pandosy or 10 minutes to Hot Sands Beach.
Upcoming High Rise Tower Developments for Sale in Kelowna
The following projects have been approved or are pending approval.
Aqua by Mission Group
Aqua is a multiphase development with 3 towers of 13, 15, and 17 stories in Kelowna's Resort District in the trendy Lower Mission neighborhood.
With a proposed address at 550 Truswell Road, Aqua will feature 154 homes, a 4 storey parkade, and retail shops at street level.
The Aqua property includes a members-only boat club with dry rack moorage, a valet service, and a boat-sharing program. This master-planned development will permit vacation rentals, so you can AirBNB your suite or townhouse during the off season.
With a prized location in the South Pandosy neighbourhood next to Trust Creek and the Greenway, Aqua is walking distance to great restaurants like Lakeside Dining at the El Dorado Hotel, Mint + Basil, and Smack Dab.
Aqua goes on sale Summer 2021.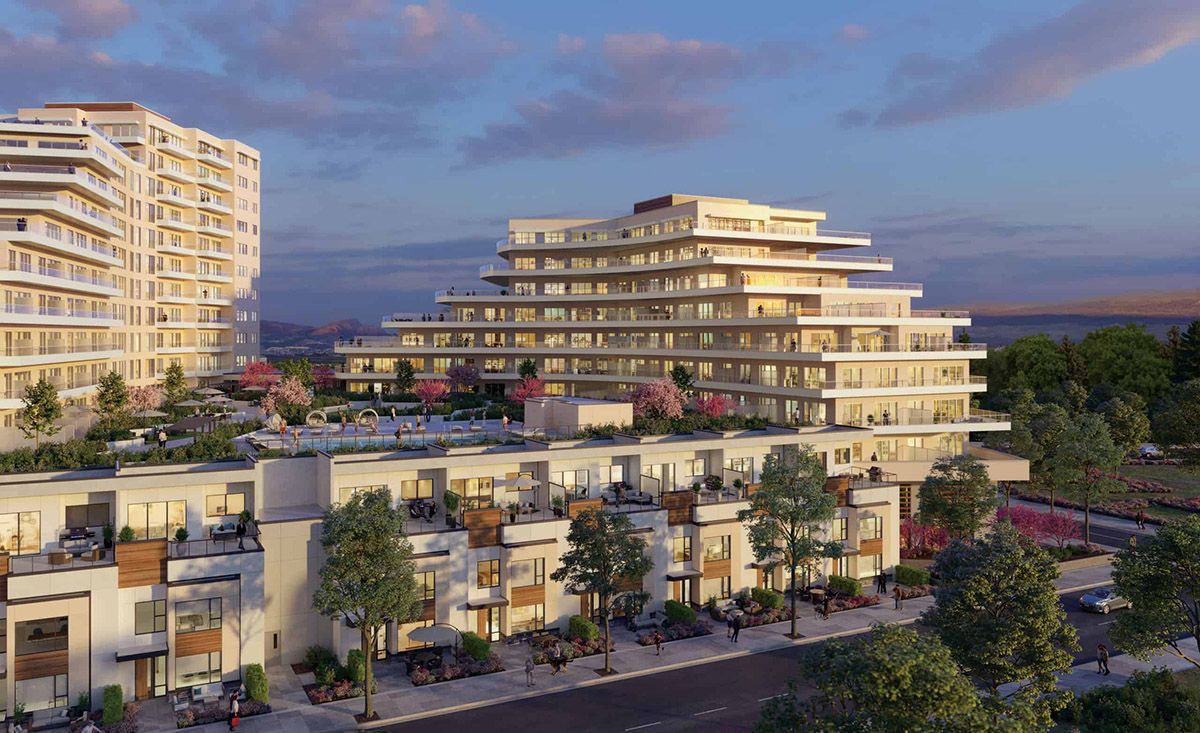 Movala by Stober Group
Movala is a new lakeside Kelowna condo development with 345 condo and townhome units in Kelowna's Lower Mission area. This unique multilevel complex by Jim Meiklejohn and the Stober Group features 2 towers of 10 stories and 14 stories with a terraced architecture that gives lower units more natural light than conventional tower designs.
The Lakeside Veranda is an outdoor amenity space at Movala with an outdoor pool, hot tub bocce lawn, alfresco BBQ, and fireside lounges. The Residence Club is an indoor space with fitness facility (weights, cardio, yoga), a social lounge, games room, private dining room and kitchen.
Movala Kelowna is located at 3440 Lakeshore Road, across from Gyro Beach on Okanagan Lake and a short walk to the Pandosy Village with grocers, restaurants, coffee shops, boutiques, vintage stores, and art galleries. Movala in Kelowna, British Columbia is expected to be completed between 2023 to 2024.
Centro | Presale Condos for Sale West Kelowna, BC
Centro is a new high rise condo development located in West Kelowna, British Columbia - just minutes drive to the beach and Okanagan Lake waterfront.
Centro condos for sale include spacious 1, 2 and 3 bedroom units of 1,312 to 1,809 square feet with oversize balconies and patios to enjoy the view. Centro condos for sale include quartz counters, island kitchens, flat panel cabinetry, vinyl plank floors, ceramic bathroom floors, and stainless appliances. Movala condo units come
The Centro building features a gym, meeting room, games room, and studio guest suite you can rent for visitors.
Image credit: Westcorp
Westcorp's Waterfront Hotel
Westcorp's Waterfront Hotel is a 33-storey upscale resort high-rise project by Barcelona-based GCA Architects that will feature 65 condo units on upper floors 19 to 33 and hotel units below. The ellipse-shaped design will stand over 430 feet tall on the site of the former Willow Hotel at 289 Queensway Ave next to Kerry Park.
This boutique Hotel & Apartment housing development features 175 hotel rooms, a conference centre, 18th floor restaurant, and retail outlets on the ground floor. Underground parking will be available with separate areas for hotel guests and long-term tenants.
1241 Water Street
1241 Water Street is a twin tower development proposed for what's now the Prospera Place parking lot. The GSL Group design boasts two towers of 27 and 37 storeys with 330 condo units overlooking Prospera Place, the Kelowna Yacht Club, and Lake Okanagan.
A rezoning application is pending approval with council.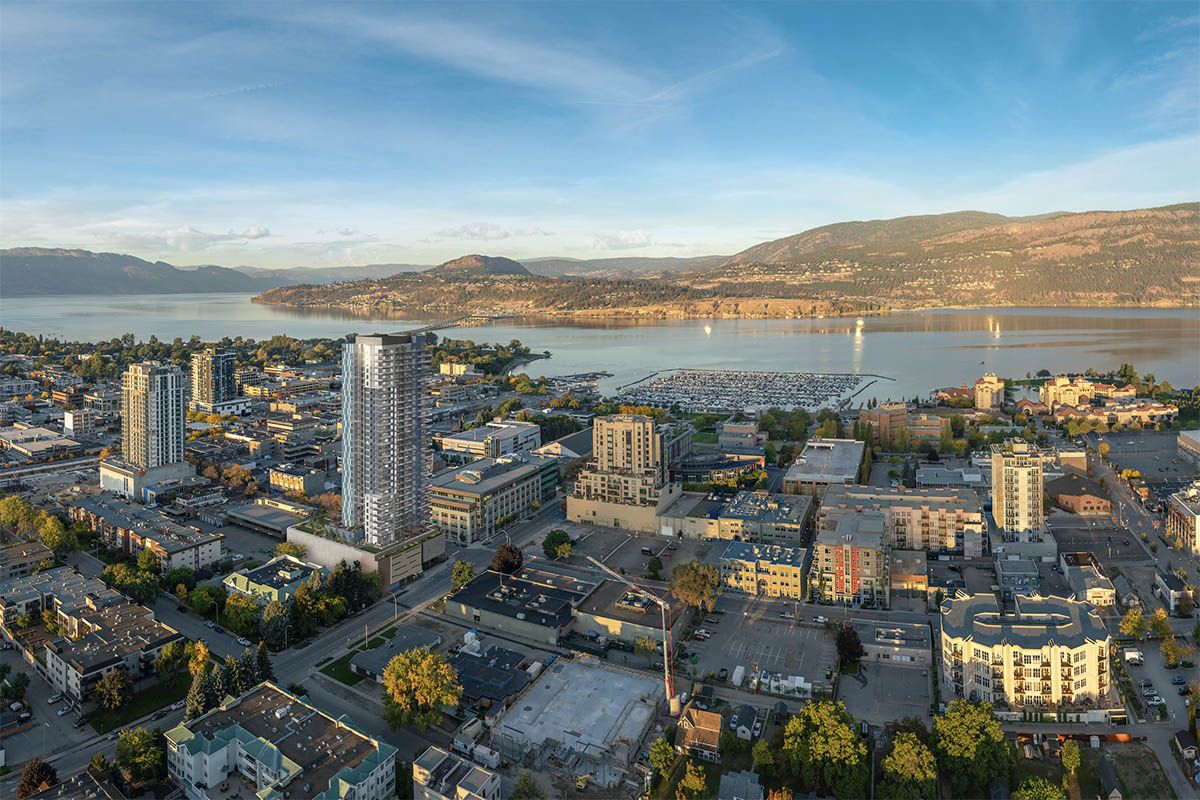 Image credit: onevarsity.ca
ONE Varsity | Doyle Ave & St. Paul St
ONE Varsity - a proposed condominium tower adjacent to the UBCO Towers - has gained initial rezoning permission at Doyle Ave and St. Paul Street. This 36 storey condo tower by Kerkhoff Construction, the team behind One Water Street, will feature a total of 341 residential units - including
ONE Varsity details:
outdoor pool & hot tub
rooftop green space, BBQ & lounge area
coworking space
yoga studio & gym
dog run, dog wash & doggy social lounge
6,900 square footage of commercial space
5-level above ground parking podium with vehicle & bicycle stalls
According to Mark Aquilon, the project's architect, the development will feature, "true mixed-use, live-work, play and shop contribution to the emerging and expanding downtown university hub area. Commercial retail functions are proposed for street level use along St. Paul, and the main building residential entry will add a dynamic element to the Doyle street facade..."
Homes at Doyle & St. Paul will include 56 micro-suites, 56 studios, 55 1-bed units, and 56 1-bed plus den condo units, and 118 2-bedroom units. Due to a zoning limitation in this neighborhood, the developer has submitted a yet-to-be-approved rezoning application for their 36 storey design.
Kelowna High Rise Rental Towers
"The Muse" by Appelt Properties
Toronto-based Appelt Properties, formerly Rise Developments, has submitted a proposal for a 25-storey residential tower called The Muse at the site of the former RCMP attachment at 350 Doyle in Downtown Kelowna. This building is expected to provide upscale rental accomodations, but has not yet been approved by Kelowna City Council.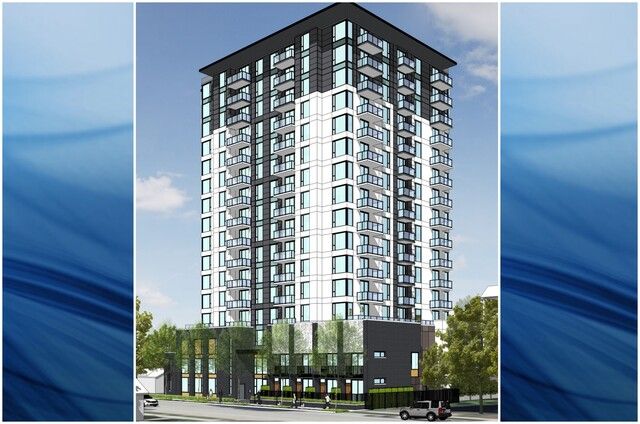 1333 Bertram St. by Mission Group
The Mission Group has proposed a 16-storey rental highrise at 1333 Bertram in Downtown Kelowna with 3 storeys of parking and 13 storeys of residential rental suites including studio, 1-bed, and 2-bed units. The plan for 1333 Bertram also includes 4 townhome units with 2-bedroom designs featuring outdoor patios at ground level on Bertram Street. This property is currently zoned for up to 12 storeys and will variance approval from Kelowna City Council.
"Bridgewater" a 40 Storey Tower at Harvey, Pandosy, and Water
Kelowna-based developer Ride North America is proposing a 40-storey mixed use rental tower downtown with 327 rental condos, a 5-level parking podium with 265 stalls, rooftop amenities, and retail space below. A propsed 6-storey woodframe building will lie adjacent to the tower with 70 additional rental units.
Kelowna's Growing Skyline | New Condos Kelowna
Looking up at Kelowna's skyline in 2023 is testament to the region's development into a cosmopolitan centre.
For sale condos aren't the only new high-rises coming to Kelowna and West Kelowna. Construction on Landmark 7 is currently underway along Harvey Ave in the Landmark District. This new 23 storey office tower is expected to be completed in Summer 2021. Downtown, the University of British Columbia's Okanagan campus is expanding with a new high-rise tower planned for 550 Doyle Ave.
To see the location of every high rise development proposal in town, check out the interactive map by the City of Kelowna.
For floor plans, pricing, and access to exclusive for sale listings in Kelowna, contact our real estate professionals.
Vantage West Realty
(250) 717-3133
Overview of Kelowna Condos for Sale: High Rise Towers
| | | | | | |
| --- | --- | --- | --- | --- | --- |
| Development | Height in Storeys | Number of Units | Completion Year | Starting Price | $ per Square Foot |
| One Water Street | 29, 36 | 427 units | 2020 | $998,000+ | $638 |
| Bertram Bernard Block | 25, 34 | 257 units | 2018, 2021 | $409,000+ | $800 |
| Water Street by the Park | 24, 26, 42 | 650 units | 2023 - 2025 | $380,000+ | TBA |
| Ellis Parc Residential Tower | 14 | 91 units | 2021 | $389,000+ | $530 |
| Ella | 20 | 116 units | 2021 | $317,500+ | $600 |
| Discovery Pointe Resort | 22 | 130 units | 2005 | $999,000+ | $600 - 900 |
| The Lagoons | 17 | 104 units | 2000 | $799,000+ | $569 |
| The Dolphins | 17 | 69 units | 1994 | $699,000+ | $566 |
| Waterscapes Skye Tower | 27 | 188 units | 2010 | $880,000+ | $500 - 1350 |
| The Madison | 15 | 57 units | 2009 | $1.25 million+ | $685 |
| The Lofts | 11 | 48 units | 2007 | $749,000+ | ~$500 |
| SOPA Square | 14 | 105 units | 2017 | $520,000+ | $500 |
| InVue Sky Residences Tower | 12 | 92 units | 2009 | $509,000+ | $541 |
| Centuria Urban Village | 17 | 151 units | 2008 | $1.9 million+ | $328 - 550 |
| Park Place | 17 | 103 units | 2005 | $550,000+ | $508 |
| Mission Creek Towers | 9 | 118 units | 2005 | $422,900+ | $329 |
| Aqua | 13, 15, 17 | 154 units | TBA | $450,000+ | TBA |
| Westcorp Waterfront Hotel | 33 | 65 units | TBA | TBA | TBA |
| 1241 Water Street | 27, 37 | 330 units | TBA | TBA | TBA |
| ONE Varsity | 36 | 341 units | 2026 | TBA | TBA |
Water Street by the Park:
Registration Now Open
If you'd like to get ahead of the inevitable crowd this summer, fill out a registration form or contact us for more information.
Schedule a Call