Why Remote Workers Love Kelowna / The Okanagan
We're in the middle of the biggest disruption to work life in over a century. As of July 2020, 73% of Canadians call themselves remote workers - that's a 4x increase over pre-pandemic numbers.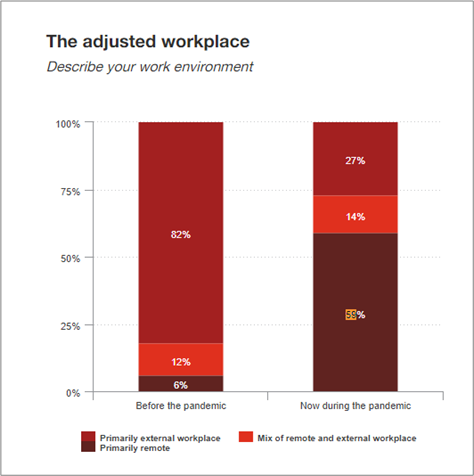 Source: Price Waterhouse Cooper Canadian workforce survey
Sending all those employees home turned into a valuable learning experience. According to PwC, 75% of employees are equally productive or more productive at their home offices. Only 25% reported decreases in productivity while working from home.
If you consider how much companies with remote workers can save on office rent, it's no wonder some economists expect the remote working trend to continue far beyond the COVID-19 pandemic.

What Makes a City Attractive to Remote Workers?
By now most of us have our own home office setups, but to truly thrive as a remote worker, you're going to need more than just a desk and a computer with good Internet. You need a place that lets you live life to its fullest, and keep up with your demands as a remote worker.
Small cities don't quite fit the bill. The internet is less reliable, there's no food delivery, and unless you make great friends with nature – they're kind of boring.
Big cities are just no fun during a pandemic. Rising crime rates, severe lockdowns, and high costs of living are eroding city culture and making regular life a plain nuisance. That could be why Vancouver, B.C. has over 1,000 active condos listed on the market, or why Toronto's apartment vacancy rate just hit an all time high.
Mid-sized cities? They're not too crowded, not too quiet, and fit pandemic life just right. Here in the Okanagan, we broke real estate sales records in 2020.

Kelowna is a Goldilocks Zone for Remote Workers
The Okanagan tends to attract people with a certain mindset. You'll find a mix of do-it-yourself gritty types, techy business people, and a lot of laid back wholesomeness. Overall, Kelowna's cultural vibe is more akin to California than Vancouver.
Young workers from across the country move to Kelowna in droves seeking jobs, community, and mild weather. Kelowna now has more entrepreneurs per capita than any other Canadian city at 17% of our population. In 2016, we were ranked the top city in Canada to start a business by the Canadian Federation of Independent Business. In 2021, the population of Kelowna grew to 144,576, representing a 13.5% increase since the 2016 census.
What's all the fuss about Kelowna, and what makes life here special? Let's get to the details.

Kelowna Demographics
Kelowna is one of the fastest growing cities in Canada. Between 2011 and 2016 (the most recent census) we experienced 8.4% population growth. In 2021, Kelowna's population was estimated at 144,576. If you include West Kelowna and our surrounding communities, the Kelowna area population is 222,162.


Jobs and Economy in Kelowna, BC
Kelowna's job market is now one of the main attractions. In 2021, Kelowna was ranked the number one city in Canada for labour market performance by the Bank of Montreal.
While the world's economy suffered through COVID lockdowns, Kelowna's employment rate ticked upwards during 2020 to reach 62.3 percent. In of December 2020, Kelowna had the 2nd lowest unemployment rate in Canada.
Kelowna's mid-sized population means the community is big enough to make friends, have fun, and even make a name for yourself. Kelowna's median household income is $68,000; more than enough to live well in our modestly-priced city.

The Okanagan Tech Scene
Kelowna's tech scene has been blossoming since the early days of the internet. Through the 2010's, the technology sector matured into one of Kelowna's key economic drivers. Companies like Shopify, Disney, and Rogers collectively employ thousands of Kelowna residents - many of whom are remote workers.
Kelowna gets excellent internet and 4G coverage from our big Telco provider, Telus, who has been rolling out high-speed fibre connections through the city. Generally speaking, the closer you are to the Landmark buildings in Capri City centre, the faster your internet connection.
If things do ever get back to normal, coworking spaces like Okanagan coLab and alternawork will be great places to network with fellow professionals.


Kelowna Has The Best Weather in Canada
Kelowna gets an average 304 days of sunshine per year. We get pleasantly warm springs, hot summers, mild autumns, and winters that are rarely colder than -5C.
Unlike many Canadian cities like Calgary and Toronto, Kelowna's flowers start blooming in April, you can grow a garden into early winter, and you'll enjoy being outdoors year-round.
There's no need to fret over social distancing and travel restrictions when you have the Okanagan Lake, hot sand beaches, and the ever alluring mountains in your backyard.
Image: weatherspark.com
Kelowna's average rainfall is 311mm (12.26 inches) with 136.6 days of precipitation on average - most of that happens in fall, winter, and late spring. In the city we get an average annual snowfall of 89cm. If you love summer heat and are fine with some winter chill, the Okanagan Valley is an outdoor paradise.

Recreation
If you work remotely in Kelowna, there's a lot more to recreation than following Youtube videos and riding your Peloton. The Okanagan Valley's moderate weather and low density means that - even during a pandemic - you can be outside exercising any day of the year.
Kelowna has well established Community sports associations and Parks & recreation sports leagues so unless you play rep hockey, you probably won't be spending every weekend on road trips.
Winter
Kelowna's low atmospheric humidity means we get smooth, dry, champagne powder in the mountains during winter - just like the Rockies.
Downhill skiers and snowboarders have it good in Kelowna; Big White, Silver Star, and Apex Mountain are all less than 90 minutes drive from town. For more serious slopes - and some of Canada's gnarliest pow - take a weekend trip to Revelstoke Mountain Resort, a 3 hour drive from Kelowna.
For Kelowna's best cross country skiing or snowshoeing, head to Kelowna Nordic Club (on the way to Big White), Telemark Nordic Club (near West Kelowna), and Sovereign Lake Nordic Club (near Vernon).
Don't like the mountains? Check our Ultimate Winer To Do List for Kelowna.


Photo: bigwhite.com
Spring, Summer & Fall
There are so many ways to enjoy spring, summer and fall in Kelowna, even if you're social distancing.
Cycle down the Mission Greenway, rail trail on a real bike, stroll on beautiful walking trails, or relax at one of Kelowna's best beaches.
Kelowna's a great place for hikes or gentle walks through nature. The Okanagan's high biodiversity makes the region especially popular with bird watchers and wildlife photographers on the one hand, and hunters and fishermen on the other hand.
Kelowna also has one of Canada's longest golf seasons which, depending on the year, runs from March or April until November or December.
Dining & Food Delivery in Kelowna
Kelowna is known for award winning restaurants, bars, and pubs; and most of them offer home delivery via SkipTheDishes or DoorDash.
If you feel like getting away from your desk, Kelowna has over a dozen craft breweries, coffee shops to suit every taste, and world class Okanagan wineries.
For special occasions or business functions, Bouchons, Waterfront Wines, and Raudz are some of our best-reviewed fine dining options in Kelowna.
Shopping & Entertainment
In the 1990's there was basically one place to shop in Kelowna - Orchard Park Mall. Nowadays, you'll find vintage clothing stores along Pandosy St. and Bernard Ave., sophisticated men's clothing stores, and boutique art galleries featuring talent from Canada's Group of Seven.
Musical events are concentrated in the entertainment and culture district at Prospera Place, the Kelowna Community Theatre, or one of the many outdoor summer stages.
Since becoming a popular college and university town, Kelowna has blossomed its own underground art and music scene.
Getting Around Town
Besides the summer months, and one particular strip of Highway 97 between Orchard Park Mall and Walmart, traffic in Kelowna is very quiet, which makes it easy to get around town.
Some Kelowna neighborhoods are walkable, but otherwise car ownership is highly recommended in the Okanagan. If you're driving, most neighborhoods are within 10-15 minutes of Kelowna's major amenities.
Lucky To Go started ride sharing services in Kelowna in 2020, BC Transit provides 28 bus routes, and you can call Currentaxi any time of day for a Tesla ride.
When the ground isn't covered in snow, Kelowna's bike lane network is steadily growing with $4.8 million in improvements planned before 2027.
Planning to leave town someday? The Ebus service runs throughout BC, and the Kelowna International Airport has direct flights to Mexico, the Caribbean, and the Hawaiian islands.
Image: City of Kelowna
Healthcare
Throughout the Okanagan, Kelowna has by far the best infrastructure for healthcare. With dentists, walk-in specialists, and a range of paramedical practitioners like chiropractors, massage therapists, and acupuncturists.
Kelowna General Hospital is the largest and most well equipped hospital in the Central Okanagan with its own Heart & Surgical Centre and Urgent & Primary Care Centre. Kelowna also has the best mental health infrastructure anywhere in the Okanagan through private providers and the Interior Health Authority. Check out our Kelowna Healthcare Guide.
Education
Education in Kelowna comes in many forms. You can attend story time at the Okanagan Regional Library in Kelowna, Rutland, or West Kelowna, or take informative nature walks in Mission Creek, Maude Roxby Wetland, and the Kettle Valley Trail. Then there are those years of your life spent listening to teachers in classrooms. Fortunately, Kelowna has great schools.


Primary and Secondary Schools
Kelowna's elementary schools are highly regarded, with private schools taking home top marks year after year. Aberdeen Hall was ranked 9.0 out of 10 by the Fraser Institute in 2018. Kelowna Christian School takes 2nd place at 8.0 out of 10.
Kelowna's public secondary schools flip the score with OKM taking first place at 8.0 out of 10. Check our full report on Kelowna's best schools.


Post-Secondary Education
Kelowna is the top city for post-secondary education in the Okanagan. You can get certified for a trade or a new career at Okanagan College or Sprott Shaw College.
If you're more of an indie type, the digital art, music, and film programs at the Centre for Arts and Technology are well known throughout Canada, and still on offer in 2021.
For more formal studies, the University of British Columbia's Okanagan campus attracts thousands of students to Kelowna every year.
Kelowna Neighborhoods
Kelowna neighborhoods offer everything from modern urban living to country life out on the farm. If you're looking for an affordable Kelowna neighborhood, look at places like Glenrosa, Rutland, and Black Mountain.
Is a safe neighborhood your top priority? Check out Glenmore, The Mission, or South East Kelowna. If a postcard view is at the top of your list, don't miss West Kelowna. If you're looking for nightlife and things to do, check out or high rise Kelowna condos during your home search.
We know that finding the right neighborhood is just as important as finding the right home, so let's schedule a virtual coffee and find you a remote working place that fits just right.