2023 Kelowna Healthcare Guide | Medical Coverage, Hospitals, and Walk in Clinics
Since its incorporation in 1905, the population of Kelowna, BC has grown from 600 up to today's population of 144,576 citizens.
According to Stats Canada, Kelowna is the fastest growing city in British Columbia with an annual growth rate of 1.8%.
Why do people move to Kelowna in droves? It could be the great weather, laid back lifestyle, and growing economy. Or it could be the free access to great public schools and the best healthcare services in the Okanagan Valley.
According to the Conference Board of Canada, BC is also considered to be Canada's healthiest province.
If you're moving to Kelowna from out of province or out of country, you'll be pleased to know that BC citizens and permanent residents get free basic health care services through the British Columbia government's Medical Services Plan (MSP).
Expats living in Kelowna are also eligible for MSP health care coverage if their work permit is at least 6 months in duration.
MPS premium payments were completely eliminated on January 1st, 2020.


The BC Medical Services Plan covers the following medically necessary health services:
Access to physicians, specialists, & midwives

Eye and ear exams (when medically necessary)

Diagnostic services (blood work, x-ray, ultrasound, laboratory services)

Medically necessary dental surgery that is done in hospital

MSP does not cover the following services:
Prescription drugs

Dentistry (cleaning, fillings, root canals, caps)

Orthodontics (braces, retainers, nightguards)

Acupuncture, chiropractic, massage therapy, naturopathy, physiotherapy, and alternative medicine

Cosmetic surgery, unless medically necessary


Many full-time employers in Kelowna, BC provide extended healthcare benefits plans for their employees that provide an allowance for the above alternative health services.
Interior Health Authority
Interior Health is Kelowna's regional health authority that serves 4 regions in the BC interior:
Okanagan
Kootenay Boundary
East Kootenay
Thompson Cariboo Shuswap
Interior Health Authority manages and operates every hospital and primary health care facility in the Okanagan Valley.
They also offer health care services in prevention & health promotion, home care, long-term care, mental health & substance abuse, environmental safety, and lab & diagnostic imaging services.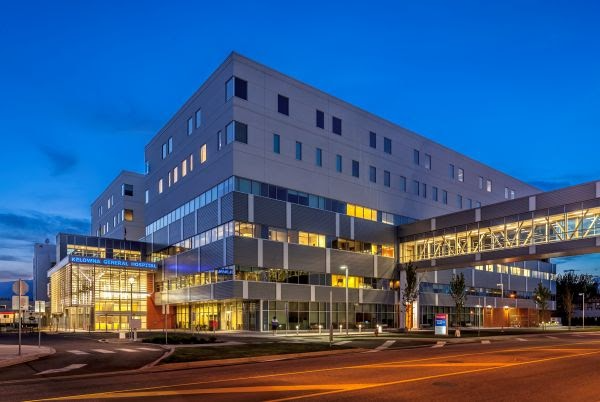 Photo: airbnb.ca
Kelowna General Hospital | Emergency Treatment in Kelowna, BC
The Kelowna General Hospital (KGH) is a leading healthcare facility in the Okanagan region. With over 700 patient beds, KGH is known for exceptional care and is recognized as one of 5 cardiac surgery centres in British Columbia.
For emergency medical treatment, the ER intake is located on the north side of the building along Royal Ave. Free parking can often be found on the residential streets north of the hospital.
KGH provides a wide range of medical specialties and services, including advanced cardiac care, cancer treatment, neurosurgery, orthopedics, pediatrics, and more.
KGH also collaborates with other healthcare institutions and research centres, further enhancing its reputation for medical excellence. They also offer educational programs and training opportunities for medical professionals.

Walk-in Clinics
Your first point of contact for non-emergency health care services will be with a General Practitioner (GP) at either a walk-in clinic or family doctor's office.
Walk-in clinics often involve long wait times before you see a doctor. Before heading there, we recommend either phoning ahead or check Kelowna's Medimap for a list of live wait-times.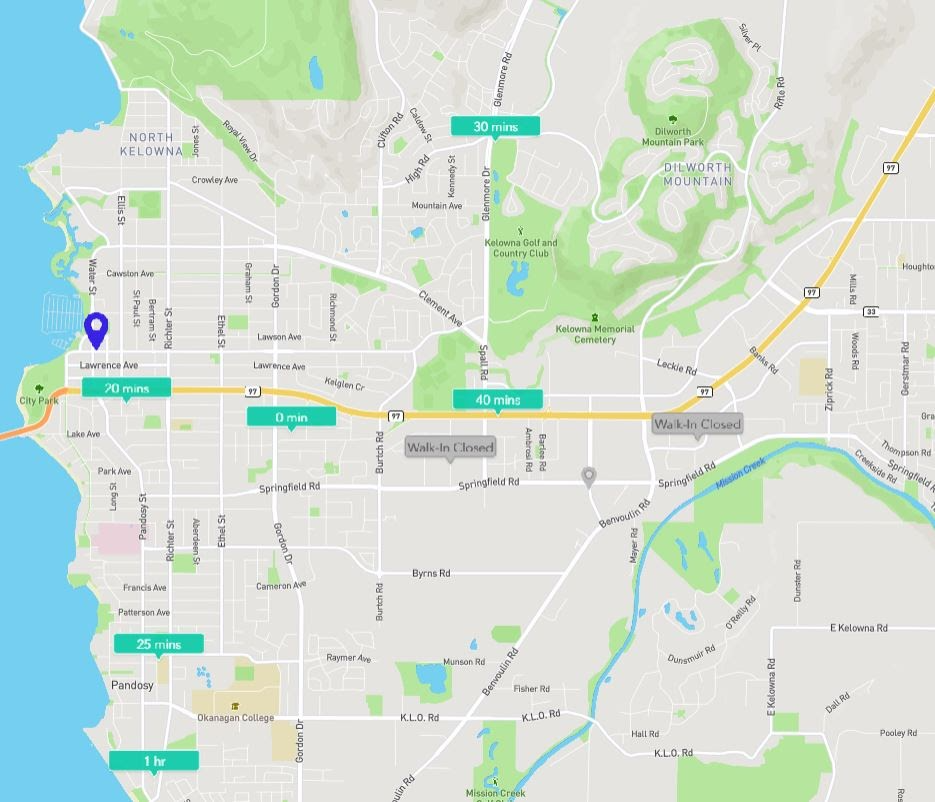 Here's a list of the walk in clinics open for health care services in Kelowna:
Kelowna Walk In Clinics
Medi-Kel Family Practice
1715 Ellis St, Kelowna, BC V1Y 8M9
(250) 862-4996
Monday to Friday 9am – 12:30pm; 1pm – 4pm
Centuria Medical Clinic
1499 Gordon Dr #2, Kelowna, BC V1Y 9R2
(250) 763-5152
Monday to Friday 9am – 4pm
Capri Medical Centre
1835 Gordon Dr, Kelowna, BC V1Y 3H4
(250) 717-3211
Monday to Friday 8am – 5pm
Saturday 11am – 1pm
Spall Medical Clinic & Walk-In
150-1940 Harvey Ave, Kelowna, BC V1Y 8J8
(250) 860-9909
Monday to Friday 8:30am – 7pm
Saturday 9am – 2pm
Orchard Medical Centre & Walk-In
1990 Cooper Rd, Kelowna, BC V1Y 8K5
(250) 861-3235
Monday to Thursday 8am – 3pm
Friday 8am – 1pm
Saturday 9am – 1pm
Mission Medical Centre
3320 Richter St #102, Kelowna, BC V1W 4V5
(250) 868-8222
Monday & Tuesday 9am – 7pm
Wednesday 9am – 6pm
Thursday 9am – 8pm
Friday 9am – 5pm
Saturday 9am – 4pm
Sunday 10am - 2pm
Lakeshore Medical
2280 Baron Rd, Kelowna, BC V1X 7W3 (inside Real Canadian Superstore)
(250) 764-8878
Monday to Friday 9am – 5pm
Saturday 10am – 4pm
Sunday 10am – 4pm
Glenvalley Medical Centre
201-437 Glenmore Rd, Kelowna, BC V1V
(250) 860-5811
Monday to Thursday 8:30am – 5pm
Friday 8:30am – 3pm
Westside Walk In Clinics
Towne Centre Medical
18-2475 Dobbin Rd, West Kelowna, BC V4T 2E9
(250) 768-8315
Monday to Friday 8am - 6pm
Saturday 9am - 3pm
West Kelowna Walk-In
2231 Louie Dr, Westbank, BC V4T 3K3
(250) 768-6985
Monday to Friday 9am – 7pm
Saturday 9am – 3pm
Sunday 10am – 5pm
Lakepoint Medical
#202-525 Highway 97 South, West Kelowna, BC V1Z 4C9
(778) 755-0700
Monday to Friday 9am – 4pm
The College of Physicians and Surgeons of British Columbia Physician Directory shows you a complete health care directory of registered physicians and family doctors in BC.