Kelowna Art Galleries: The Best Places to Buy Artwork in The Okanagan
From boutique studios to well-established Okanagan art galleries, this post shows you the best Kelowna art galleries to buy original artwork to decorate your home.
The Okanagan's gorgeous scenery has inspired a range of Canadian collections by artists like Ken Gillespie, Robyn Lake, David McLean, Anita Skinner, and Aunaray Clusiau. You can find their artworks for sale at these 8 art galleries in Kelowna, BC.
8 Best Art Galleries Kelowna, BC | 2023 Guide
Image courtesy of Joshua Peters at Hambleton Galleries
Hambleton Galleries
Located downtown in Kelowna's Cultural District, Hambleton Galleries has an extensive collection of original paintings, sculptures, glasswork and ceramics for sale from Canadian artists like Don Berger, Leslie Bolin, and Ronan Boyle. Their entire collection is browsable online, and they offer complimentary art installation and design consultations with free delivery in Kelowna. Hambleton Galleries has regularly changing exhibitions of individual Kelowna artists in addition to seasonal showcases featuring multiple artists with fine works for sale.
1290 Ellis St, Kelowna, BC V1Y 1Z4
Phone: (250) 860-2498
Image courtesy of Marianne at the Tutt Street Gallery
Tutt Street
Tutt Street Gallery is located in the heart of Kelowna's vibrant Pandosy village and specializes in original contemporary Canadian oil and acrylic paintings.
Featuring works by Terry Ananny, Jane Appleby, and Erica Hawkes, Tutt offers framing, delivery and art installation services.
3045 Tutt St, Kelowna, BC V1Y 2H4 Canada
Phone: (250) 861-4992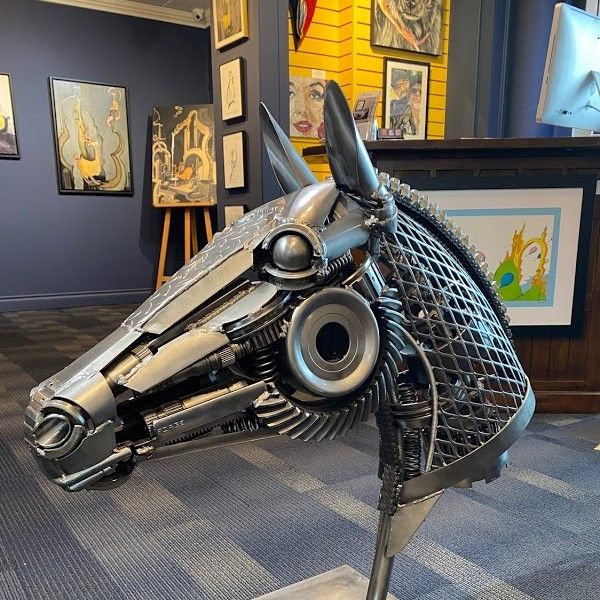 Art Lovers Gallery
Art Lovers Gallery is a boutique art shop located in the Delta Grand Hotel lobby at 1310 Water Street in Kelowna's Cultural District. Art Lovers Gallery features paintings, photography, glasswork, and sculptures by local Canadian and Kelowna artists; there's also a significant collection of nostalgic artwork by the famous Dr. Seuss.
1310 Water Street Delta, Kelowna, BC V1Y 9P3
Phone: (778) 215-3614
SOPA Fine Arts
Deborah at SOPA Fine Arts in Kelowna, BC is well-known for her contemporary art expertise and ability to make your art-buying experience an exciting personal journey. SOPA has a collection and rotating exhibits with art for sale beginning the first Thursday of each month.
The finest of modern painting, sculpture and assemblage is displayed at SOPA, whose art collection tends towards the abstract.
2934 Pandosy St, Kelowna, BC V1Y 1V9
Phone: (250) 763-5088
Image courtesy of Ken at Gallery 421
Gallery 421
Gallery 421 is a South Pandosy Kelowna art gallery with a curated collection of artwork for sale by over thirty Canadian and international contemporary artists like Les Dunlop, Jonn Einerssen, and Eduard Gurevich. They offer everything from acrylic and oil paintings to sculptures and captivating free blown glass pieces. Gallery 421 also provides art consultations, framing services, Kelowna-wide delivery, and art restoration services. In 2023, Gallery 421 is showcasing works from Angela Morgan, John Einerssen, Andrew Kiss, David Langevin, William Liao, Doug Swinton, Deb Martin, and many more.
560 Raymer Ave, Kelowna, BC V1Y 4Z5
Phone: (250) 448-8888