14 Best New Clothing Stores in Kelowna, BC | The Top Places for Boutique Shopping & Apparel, 2023
New Clothing Stores in Kelowna, BC (2023) | 14 Best Places for Boutique Shopping & Apparel, 2023
Discover the top fashion boutiques and clothing stores in Kelowna, BC with this curated list of shops for women and men.
Each of these Kelowna stores represents the very best in new fashion & unique styling.
For those trendsetters in pursuit of one-of-a-kind pieces, check out our guide to vintage clothing or menswear in Kelowna.


Index: Kelowna Fashion
Stores for Women
LBV Lifestyle

Frakas

Fosellos

Morgane

Beach Ave

The Wardrobe

Tigerlily

Aldila

Boheme Collective

koLu

Amni

Honest
Unisex Stores
Bia Boro

MAN + WOMAN

Okanagan Lifestyle

Blue Sky
Women's Clothing in Kelowna, BC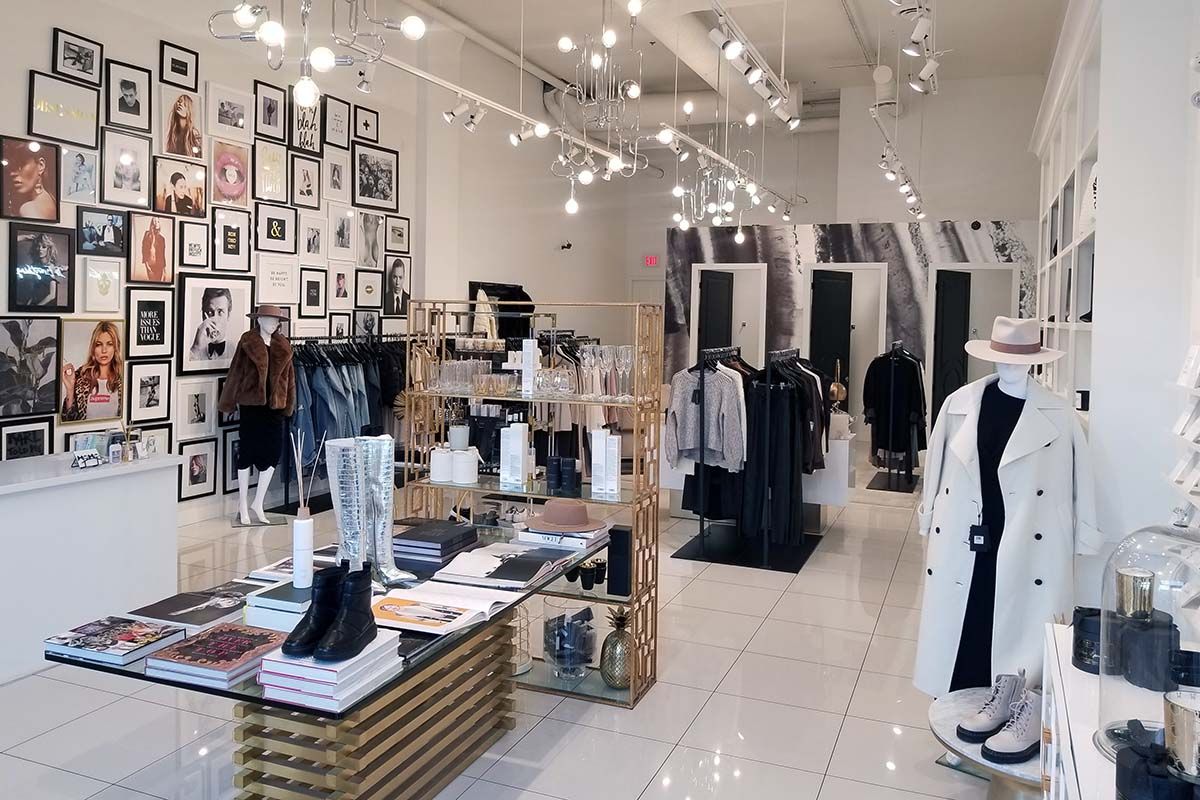 LBV Lifestyle Boutique
LBV Lifestyle is a new boutique clothing store for women in Kelowna's Pandosy Village.
With a welcoming vibe, a spacious layout, and the latest trends in women's fashion, LBV is one of Kelowna's best new clothing stores to find jeans, sweaters, jackets, hats, boots, and accessories.
LBV Kelowna clothing brand names include:
Mackage
Vince
Sand
Kivari
Boheme
Apparis
Faithful The Brand
Free People
Lack of Color (hats)
Ray Ban (sunglasses)
107-2900 Pandosy St, Kelowna, BC V1Y 1V9
(250) 762-8325

Frakas Shops for Women
Frakas is an eclectic store focusing on providing ladies with iconic statement pieces you can build an outfit around. Their mission is to stay up-to-date weekly with new and exciting trends, maintaining the hottest styles while offering unique pieces that reflect each customer's individual tastes. Frakas boasts an accessible online shop with dresses, skirts, tops, sweaters, purses, and more - but don't let that stop you from indulging in the in-store experience.
Featured clothing brands:
MinkPink
Glamorous UK
LUSH
Amuse Society
BITNB
Location: 3155 Lakeshore Rd #20
(250) 762-2234
Fosellos
Fosellos is a women's fashion boutique located in Downtown Kelowna's The District Mall. This Kelowna fashion outlet deters customers from fast fashion ideals by providing a space for quality pieces that are made to last.
Their stock focuses on ethical brands with simple colours and classic silhouettes like: Anine Bing, Richer Poorer, Faithfull, Bare Knitwear, In Wear, and Part Two.
The District, 565 Bernard
(250) 258-8560
Morgane Fashion and Interior Design
Morgane's mission is to uplift feminine fashion through expert styling. Morgane stylists create an empowering atmosphere for customers that goes beyond just picking out dresses. Morgane's indie vibe paired with elegant professionalism makes it a one-of-a-kind styling destination in Kelowna.
Location: 1393 Ellis Street
(236) 420-4224
Beach Ave Clothing
Beach Ave is an iconic Kelowna fashion brand that's located downtown Kelowna's main thoroughfare. Beach Ave curates a free-spirited and easygoing vibe from the atmosphere to the attire and accessories they stock, both in store and through their online shopping portal.
Location: 293 Bernard Ave
(250) 862-8778
The Wardrobe
The Wardrobe is a vegan clothes outlet offering both the latest and greatest and classic styles, located in the heart of the Pandosy village. In addition to fashion-forward women's clothing and dresses, The Wardrobe specializes in the stock of high-profile vegan leather brands for accessories, handbags and footwear.
Location: 2987 Pandosy Street
(250) 763-6668
Aldila
Aldila is a Canadian clothing company with locations in Vancouver, Calgary, and Kelowna. They're focused on providing a next-level women's shopping experience with their wonderfully versatile and unique stock. Aldila is primarily female run, which means their services and selections are provided for women by women. Search through their quality collection to find a perfect addition for your wardrobe.
Location: 3155 Lakeshore Rd
(250) 763-4840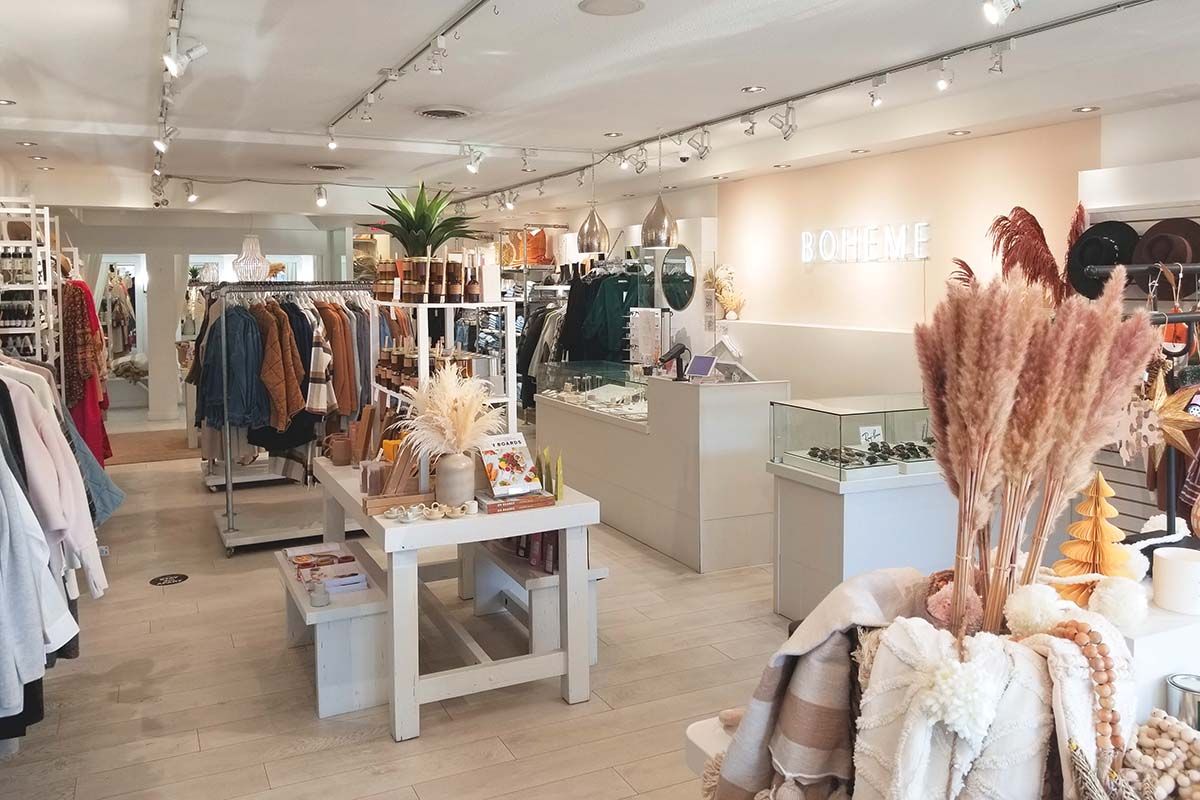 Boheme Collective
Boheme is a womens' clothing and lifestyle store in Kelowna, BC that carries designer fashions, hats, footwear, accessories, beauty products, and homewear from top brands like Agolde, Free People, Lack of Color.
1-2925 Pandosy St
(778) 484-4638
koLu Kelowna
koLu brings international fashion to Kelowna with its expansive collection from designers around the world. As the winner of several fashion awards, the team at koLu pride themselves on always having new and tasteful items in store.
Located off of Harvey Ave outside the downtown core, this shop is the ideal one-stop to get women's clothing and shoes.
1950 Harvey Ave #115
(250) 861-5658
Honest Boutique
Honest is a locally owned and operated women's clothing business located in the Orchard Park Mall off of Harvey. The eclectic bohemian styles reflect the beachy, outdoor vibe of Kelowna itself. Honest sells women's clothes, footwear, sunglasses, and hats that can please even the hippest of ladies. Their home and lifestyle business offers a menu of scented candles and unique coffee mugs.
942-2271 Harvey Ave, Orchard Park Mall
(778) 484-5469
Amni Apparel
Amni is a womens shop located in downtown Kelowna's The District mall. Amni is owned and operated by Lily Wilkinson, an internationally recognized fashion designer with a unique taste and a love for floral patterns. Her collections are synergistically stylish and always functional. Check out the interior of Amni to see the results of Lily's expert eye for style and fashion.
565 Bernard Ave #14
(778) 484-2664
Blue Sky Clothing: Kelowna
Blue Sky's mission is to provide comfortable, affordable items using sustainable practices and natural fibers & dyes. Blue Sky emphasizes the importance of inclusive sizing and crafting quality items that last and support the environment.
541 Bernard Ave
(778) 484-2759
Creative Muse
Tigerlily Fashions
Tigerlily Fashions has been a well-known fixture in the downtown shopping world for years. The shop focuses on a casual and comfortable but stand-out stylish look for ladies. Tigerlily supports local designers, Canadian products and the use of natural fibers.
Location: 543 Bernard Ave
(250) 762-8384
Where to Buy Unisex Clothes in Kelowna, BC
If you're updating your wardrobe with a guy in tow, here are our favorite stores for both men and women in K-town.
Bia Boro Kelowna
Bia Boro combines the vibrant styles of its home in Nelson, BC with the sophistication of its well-traveled owners and designers. From men's and women's attire to various home and lifestyle products, Bia Boro's collections are internationally inspired and well curated. You'll enjoy the search finding your next fabulous wardrobe piece.
102-510 Bernard Ave
(778) 484-2676
MAN + WOMAN
MAN + WOMAN focuses on an effortless shopping endeavour, with elegant and professional stylists to help you curate the perfect outfit. Their casual but chic mentality is evident in their street-focused collections.
MAN + WOMAN is a local Kelowna brand with 2 locations:
Orchard Park Mall, 2271 Harvey Avenue | (778) 484-5057

Kelowna North End, 135-1295 Cannery Ln | (778) 484-0157
Okanagan Lifestyle Apparel Inc.
Okanagan Lifestyle is a clothes store with a real hometown look. Their comfortable, practical and stylish textiles provide a springboard for giving back to the community through the support of local charities and promotion of local artists' work featured on their clothes.
OKGN offers, making it a great stop for travelers looking for some unique Kelowna merch.
1295 Cannery Ln #115
(250) 861-6546