HOMEOWNERS: The Market Has Shifted! 5 Reasons Why Selling This Fall May Be Your Best Move
HOMEOWNERS: The Market Has Shifted! 5 Reasons Why Selling This Fall May Be Your Best Move
If you're an Okanagan homeowner and you're thinking about moving, downsizing, or rebalancing your real estate portfolio - selling your house this fall could be your last chance to get top dollar…
If you're still on the fence, this article explains some concerning aspects of the 2023 housing market that might make your decision to sell this fall a bit easier – and avoid the blunder of waiting until things change for the worse.
But first let's review our track record navigating the Okanagan housing market over the past few years...
During the pandemic-driven housing boom of 2020 and 2021, The Vantage Report predicted our red hot housing market with 15%+ annual gains would cool off and we'd enter into a new phase of the housing market. We also predicted the average single family home price would breach over $1 million.
Again in October 2021, The Vantage Report predicted that Okanagan housing market activity was unsustainable, and the market was on the precipice of a major shift.
Those who heeded our advice were able to sell their homes into the best seller's market we've ever seen in Canada.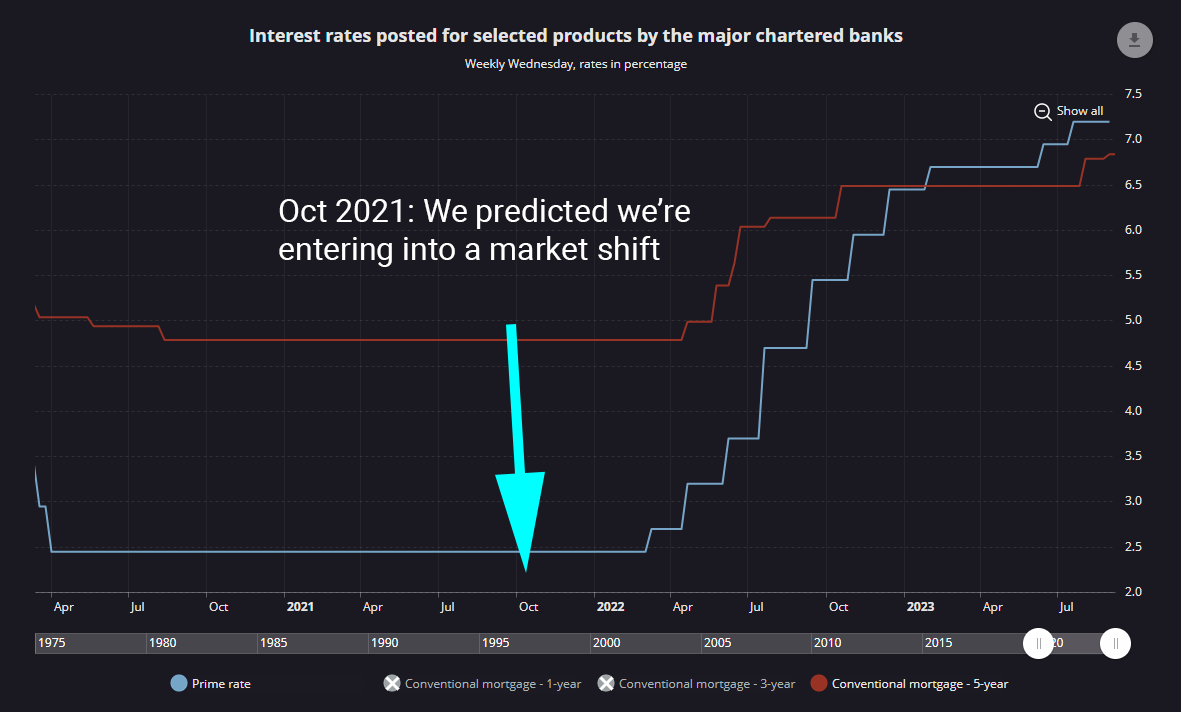 As predicted, single-family homes crested the $1 million mark in January 2022, before peaking at $1.28 million in March 2022.
After the Bank of Canada began hiking interest rates in 2022, The Vantage Report issued a market alert suggesting that a severe market shift was indeed taking place.
We predicted that higher interest rates would make home ownership unaffordable for many Canadians, which would lead to an increase in housing supply and put downward pressure on prices.
One year later, the 5-year variable mortgage rate is over 7% APR, and the average single-family home is back around $1 million.
Unaffordable mortgages may soon force a wave of Canadian homeowners into selling. According to Canada Mortgage and Housing Corporation, 24% of mortgage holders are having troubles meeting their mortgage obligations in September 2023.
If you're looking at downsizing, moving from Kelowna, or rebalancing your portfolio, we think the best time to sell your home is right now.
5 Reasons Why Selling This Fall May Be Your Best Move
After the housing market FOMO of 2020 and 2021 led to the best sellers market in Canadian history, the Okanagan housing market is at a standstill in 2023.
Listings are up, transaction volume is down, and FOMO is shifting into anxiety for many homeowners.
Here are 5 reasons these neutral market conditions might not last for much longer.
1. Sales Are Dropping While Inventories Are Rising
As we enter September 2023, we've seen sales in the last 2 months decline by 23% from 1,300 to 1,000.
We've seen active listings increase from about 1,600 in Q3 2022 to 2,696 in Q3 2023.
Six months of inventory is typically considered a balanced market where neither buyers or sellers have the upper hand. The market has now tipped up to 6.5 months of inventory, putting us slightly into buyers market territory.
Buyers now have a slight advantage and can take their time shopping for the right property, get home inspections, and send in lowball offers.
We're also seeing downward pressure on home prices and rental rates.
Compared to the market peak of March 2022, the median price of a single family home in the Central Okanagan in August 2023 is down 12% from $1.15M to $1.01M million, while the average price is down 15% from $1.28M to $1.08M. Over the last year, the average 2 bedroom rent is down 13% from $2,300 to $2,000.
To top it off, we're also witnessing a brain drain in Kelowna as many long-time residents are listing their homes and moving east to places like Calgary, Cochrane, and even New Brunswick
But right now, the desirability of the Okanagan housing market is keeping things balanced.
Appropriately priced homes are selling in approximately 60 days, and the average transaction – including all condos, townhomes, lots, and homes – is around $850,000.
2. There Are Fewer Qualified Buyers
With high interest rates, fewer would-be homebuyers are able to qualify for large mortgages like we saw in 2020 and 2021.
Those who can get approved for a home mortgage are getting approved for smaller mortgage amounts and looking at condos, townhomes, and duplexes instead of single-family homes.
With a shrinking pool of buyers, we can expect to see less demand to soak up the rising supply of housing, which could mean a strong buyers market ahead.
3. FOMO Has Shifted Into Anxiety
If there was such a thing as a bunny hill for home sellers, 2021 was it.
But that window has already closed and we've graduated to intermediate-difficulty..
In 2023 - with higher interest rates and lower sales volume, there's some serious housing anxiety in the air.
The bidding wars are over, which means you can no longer dictate your own terms and sell quickly above your list price.
But pretty soon, we could be shifting towards black diamond conditions for sellers.
The good news is, in fall of 2023, homes in the Central Okanagan are still selling within 3% of list price, and single-family homes are still selling for more than $1 million.
You may want to take advantage of these neutral market conditions and sell your house this fall – before the winter slowdown takes place, which happens every single year.
On September 9th, 2023, the Bank of Canada announced they would adopt a wait and see approach and hold their policy rate steady at 5%.
Since interest rate changes have a lagged effect, the Bank of Canada wants to wait and see how their latest round of hikes impacts inflation before making any further changes.
What this means is that the unaffordability picture for homeowners will not improve any time soon. It could also get even worse if our central bank continues to hike.
We could even see an economic recession take place.
In the coming months, we may see more sellers list their homes, which would put downward pressure on home prices, and take away your window of opportunity.
4. Nothing Lasts Forever
Once you've been through a few market cycles you learn to feel the change between greed and fear.
In January 2016, well before COVID reared its way into our lives, global debts hit all time highs. The economy was already feeling slightly uncomfortable, but now we've hit peak uncertainty.
The first places to show strength and weakness in a shifting housing market are generally large urban centres.
After a spring market rebound in Toronto, Canada's largest city, home prices continue to increase, but an increase in housing supply is slowly shifting the market in favor of buyers.
Our colleagues in Ontario as well as the lower mainland are reporting that market conditions are changing rapidly as high interest rates have sidelined the majority of investors.
At the end of the day, real estate investors are at the mercy of the Bank of Canada, who has increased interest rates in an attempt to bring inflation down between 2 to 3 per cent annually.
With the BoC deciding to keep interest rates at 5% through September 2023, RBC senior economist Robert Hogue suggests that property values could drop more than 10 per cent in the coming year.
We're already seeing some 2021 buyers on variable rate mortgages start to feel the burn from rising mortgage payments.
5. Your Needs Are Changing
Putting aside prices, the times are a changin' and it might be time for you to move to a different property type or a better neighborhood.
If you've outgrown your nest, downsizing now can mean upsizing your lifestyle and increasing your financial flexibility.
For remote workers who spend more time at home than before the pandemic, being comfortable and having a good office space is seriously important. You might also want to grow a garden, start your passion project, or just ditch the crowds.
Make sure you have enough room to live well and take care of your needs.
Wrapping Up
If this year's housing activity is any measure, Okanagan homes could be the juggernaut that stands through our economic headwinds.
We live in an area that's so beautiful, with great year-round weather, quick access to the outdoors, a growing economy, and Lake Okanagan at your doorstep.
That certainly commands a premium in the housing market.
But if you're thinking about selling your Kelowna home, today's market conditions are as prime as they're going to be for the foreseeable future. If maximizing your sales price is important to you then perhaps you should act while the getting's good.
It starts with finding out what your home is worth in today's market.
Partnering with a good agent means you'll get good advice on small improvements that can net you more money and avoid any snares along the way.
To start the conversation, we're offering a free home valuation and a consultation on how to maximize the value of your home.
Schedule a callback or virtual meet to discuss your goals with an Okanagan real estate expert.
Selling Your Home?
Get your home's value in Kelowna, Vernon, or Penticton - our custom reports include accurate, local information using the latest Central Okanagan housing market data.
Get Your Home's Value