2022 Interior Design Trends | New Colours, Patterns, and Textures
Interior Design Color Palette 2022 Trends | Vantage West Realty
Happy New Year! It's time to unveil the top paint and colour trends for interior design.
In 2022, our interior design clients want spaces that showcase their lives, the places they've travelled, and the memories they've created over the years. They also want rooms with personality that inspire great conversations, personal creativity, fun evenings - and foster a sense of calm. Above all, nobody wants to feel kitschy.
We're saying farewell to the safe and austere Scandinavian designs of yesterday to make room for more inviting and naturally-coloured interior spaces featuring warm neutrals, natural earthy tones, and playful new hues.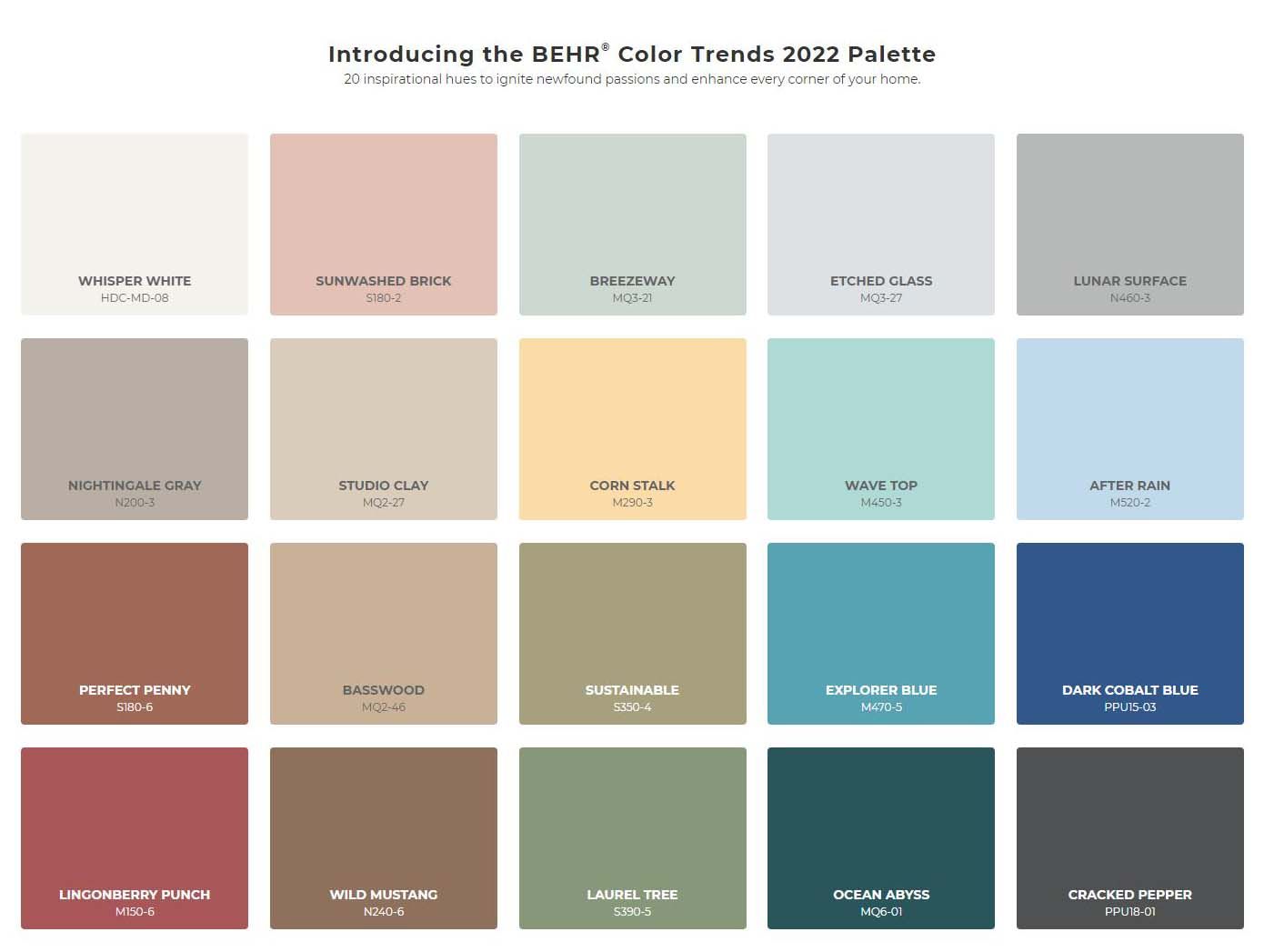 Image: Behr Colour Trends 2022 Palette


To put together our list of 2022's top interior design color trends, we checked on the industry leaders in home design like Veranda, Better Homes & Gardens, and Elle Décor.
Next we analyzed the latest paint swatches from colour experts like Behr, Benjamin Moore, Sherwin Williams, and Farrow & Ball.
Finally, we weaved in Pantone's 2022 colour of the year to bring you Vantage West Realty's top 6 colour trends for interior design in 2022.
Top 6 Interior Color Trends 2022
1. Gray-Greens & Soft Greens
Gray green is one of the most popular and versatile interior design trends of 2021 and 2022; almost every major paint company is showing off a green-gray or grayish green paint colour in their 2022 palette.
Nature inspired gray-greens are soft, relaxing, and soothing tones that remind us of plants and botanicals and help us to relieve stress.
As a neutral paint colour, green-gray works well as a backdrop, accent shade, or as a contrast with creams, off whites, or floral tones. One of our favorite gray-greens is October Mist, a calming sage-green hue that's been selected as Benjamin Moore's Colour of the Year. We expect to see gray-greens and soft purples like lilac and Orchid Bloom dominate interior design trends for 2022.
Gray Greens
Complementary colours
2. Warm Neutrals
Warm neutral colours were very popular in 1990s interior design, and are making a comeback with home decor in the 2020s. Warm neutrals are colours like white, cream, beige, and taupe that usually have a red, orange, or yellow undertone.
These modern classic colours are extremely versatile and work great for adding rich depth and earthiness to any colour palette.
In 2022, interior designers are complimenting warm neutral paint colours with natural materials like wicker to soothe the senses, create familiarity, and add a connection with nature to any room.


Creamy white tones
Grey-Beiges
Taupes
3. Soft Floral Hues
Soft floral hues are a lively addition to the modern colour palette in 2022. Integrating cheerful, fun accent colours into our interior spaces helps to inspire conversation and uplift our spirits through the long Canadian winters.
Floral hues like pink, purple, and yellow work great as accent colours - especially combined with earth tones and warm neutrals. Throw pillows, accent walls, and backsplashes are great places to introduce brighter, bolder colours into your home since they're both noticeable and easy to change up if you ever grow tired of a certain colour.


Orchid Bloom: Pantone 2022 Colour of the Year
Pantone has declared Orchid Bloom (a bright magenta tone, hex code: #C6B0D5) a 2022 colour of the year in fashion. Orchid Bloom pairs well with grey greens, neutrals, and earth tones. The complementary colour for Orchid Bloom is grayish-green (hex code: #bed4b0) - one of 2022's most popular paint colours for home interior design.


Floral Colours
4. Earth Tones
After 2 years of living through a pandemic, earth tones provide a sense of calm and help to relax the mind. As part of a neutral colour palette, warm earthy colours like brown, taupe, and mushroom can be adapted into almost any classic or modern style in your living room, bedroom, or home office.


Earthy Browns
Grounding browns reflect the natural colour of soil and work great as a base foundation for both neutrals and soft floral tones.
Mushroom Colours
Mushroom colours are soft brown, beige, and grey-tone paints that mimic the soft earthy colours of mushrooms found in nature, and have become extremely popular as an alternative to white and grey in interior design.
5. Rebooted Primary Colours
The 3 primary colours - red, green, and blue - make for playful paint choices that evoke childhood memories and help to inspire our creativity.
In 2022, interior designers are using bold primary colours like red and blue as door colours, cheerful wall accents, and throw pillows to create fun interior spaces that rejuvenate our minds, look beautiful, and help strike up conversations with guests.


Fresh Blues
Fresh blues for 2022 are airy, sky-inspired colours that pair nicely with cream, warm tan, taupe, and brown.
Bold Reds
Reds are impactful and emotive colours that pair well with blue, turquoise, cream, white, tan, or soft grey.
6. Natural Materials
Natural materials and sustainable textures like bamboo, wood, marble, recycled metal, silver, and granite are popular trends throughout the kitchen, living room, and bedrooms in 2022.
Soft woven textiles like rattan, hemp, linen and organic cotton add depth to interior spaces and look great as curtains or furniture upholstery. Interior designers are bringing the comforts of nature and outdoor living right into the home with floral wallpapers, stone slabs, and wood-finishes.
Need More Colour Ideas for 2022 Interior Design?
If you're painting your home interior this year, have a look at these 2022 colour trends from interior design experts like Benjamin Moore, Behr, Sherwin Williams, and Pantone: