Kelowna Ski Resorts | The 5 Best Places to Go Skiing Near Kelowna, BC
The Okanagan Valley has some of the best ski resorts in Canada, making it a winter travel destination for people across North America and the entire world.
Our cold and dry winter weather creates perfect snow conditions for powder skiing from November to early March, and there are some excellent ski areas and ski resorts within 3 hours of Kelowna.
These are our favorite ski mountains, ski resorts, and ski areas near Kelowna:
Big White
Revelstoke
Silver Star
Apex
Sun Peaks

Best Kelowna Ski Resorts in 2022

Credit: Big White Ski Resort
1. Big White Ski Resort
Big White Ski Resort is a family-oriented ski resort just 45 minutes from Kelowna, BC by car. With 16 chairlifts and 119 runs from easy greens to intense double black diamonds, there's something to do for everyone at Biggy.
Warm up on classic family runs like Serwas on the Ridge Rocket Express, cross over to the mellow glades at the Black Forest or the Telus terrain park, or try the Powder Chair if you like glade skiing. Our favorite chair is the Gem Lake Express with a 693 meter vertical drop, fast groomers with wide turns, huge rollers, and beeline straight aways. Ride up the T-Bar to the top of Big White for an amazing view, then choose your own adventure on the way down: Easy Out (beginners), Whitefoot Trail to the Powder Bowl (intermediate riders), or The Cliff (experts only).
Big White night skiing includes a handful of runs on the Bullet Express and Plaza Chair (the bunny chair). On Friday nights you can get $10 lift passes, $10 rentals/lessons, and $10 dinner deals. Most years we get great powder with an average annual snowfall of 750cm. To see the latest Big White snow conditions, check the snow report.
After a day of skiing, Big White's pubs, bars, and restaurants are great for an evening out. There's an international crowd at Big White Ski Resort most years, so you'll meet people from all around the world, including Australia. During the ski season there's a free firework show every Saturday night.
Credit: Andrew Melville, Google Photos
Accommodation options at Big White include cabins, hotel rooms, condos, and hostel beds. If you'd rather just buy a house there, check out our Big White Real Estate listings. In summer, you can check out Big White's downhill mountain biking trails, bike park, and 12:0hiking trails with alpine flowers & gorgeous panoramas.
Chair lifts: 16
Runs: 119
Adult Day Pass: $123
Vertical drop: 777m (2,550 ft)
Other Activities: 25km of nordic cross country trails, skating rink, tube park, hiking trails, mountain biking trails (spring to fall), ice climbing tower, sleigh rides, dog sledding tours
Getting there by car: 55 min
Take Highway 97 west through Kelowna, then turn right onto Highway 33. Continue about 30 minutes then turn left at the sign onto Big White Rd. You can get to Big White Ski Resort from Kelowna by car, shuttle bus, or airport taxi.
2. Revelstoke Mountain Resort
If you're an experienced skier or snowboarder who loves deep snow, you've probably shredded Revelstoke already - if not, it should be on your bucket list.
Revelstoke Mountain Resort has the longest vertical descent of any ski resort in North America, the highest elevation of any ski mountain in British Columbia, and holds the record for the most snowfall in a single winter at 2,438cm (80 ft).
While the views are spectacular, due to the steep inclines and vast amounts of powder, we don't recommend Revelstoke Mountain Resort to beginners. You'll ride steep faces, alpine bowls filled with powder, and technical glades that challenge your leg muscles. Revelstoke has the third most snowfall of any ski resort in North America with 5.4 meters annually, so your chances of getting a snow day are pretty good. After a big snow dump, line up early to experience some of the best snow conditions anywhere in the world.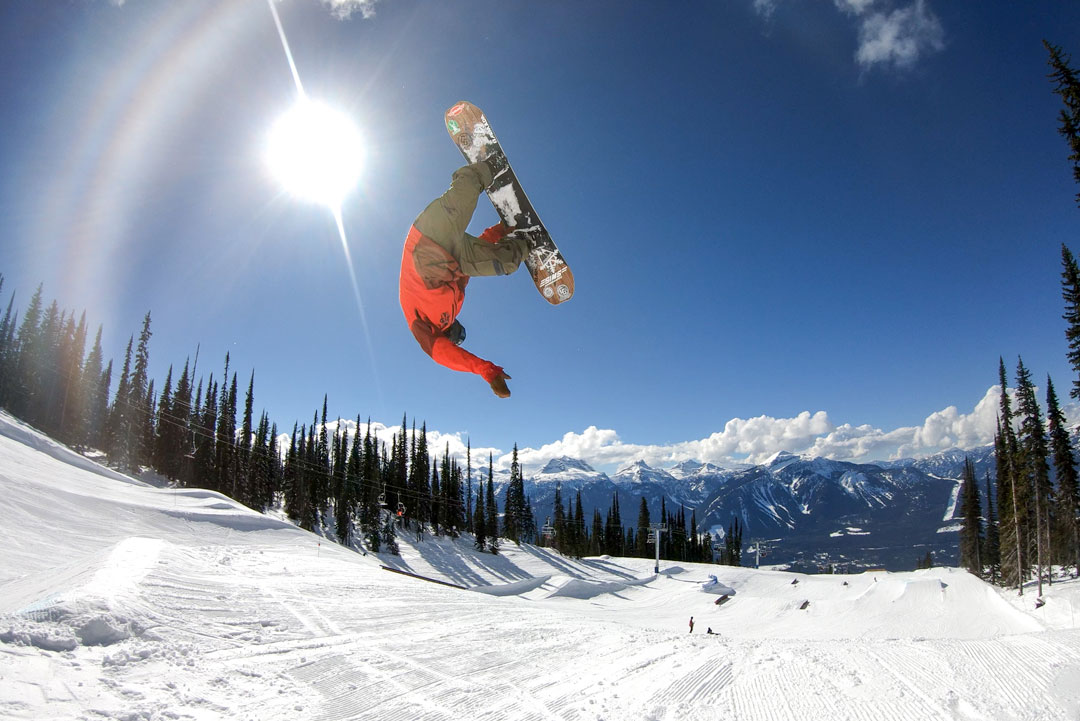 Credit: Chad Bowes @ travelinchad
Warm up on rippers like Critical Path, then shred the Conifers of Gnarnia, Jalapeno, or get air in the terrain park. If you like steep double black diamond runs, hike left from the top of The Stoke Chair to hit the North and Greely Bowls. The further up you hike, the better your chances of getting a fresh line. Traverse to the far side of the bowl for some gnarly glade skiing, but also some dangerous leg-breaking cliff drops. Glades are best skied with a guide or somebody who knows the way.
At lunchtime head to Mid Mountain Station burgers, fries, and beer. You can stay in chalets and hotels at the base of the mountain, or in the town of Revelstoke to experience some raucous apres ski. Opening day at Revy is usually at the end of November or early December. The Revelstoke area is very popular for snowmobiling, heli tours, cat skiing, and cross country.
Lifts: 5
Runs: 75 (12% beginner, 43% intermediate, 45% advanced)
Adult Day Pass: $139
Vertical drop: 1713m (5,620 ft)!
Other Activities: Heli tours, cat skiing, snowmobile tours, snowshoeing, hot springs, Revelstoke restaurants and bars. Summer activities: aerial park, hiking & mountain biking trails, the Pipe Mountain Coaster
Getting there by car: 2 hr 30 min
Follow Hwy 97, then 97A all the way to Revelstoke. Check the highway conditions before leaving - highway access often closes due to heavy snowfall.
Credit: SilverStar Mountain Resort
3. SilverStar Mountain Resort
Silver Star is a family-oriented ski destination located near Vernon, BC known for its colorful village and a convenient ski-in ski-out experience. The Silver Star village is full of unique winter experiences like tubing, horse-drawn sleigh riding, and mini snowmobiles, making it a favourite location for Canadian tourists. You'll ride a wide variety of terrain at SilverStar, making it a great place to ski for experts and beginners alike.
The slopes on the front side are mellow: mostly greens and blues with a few easier black diamond runs. If you're an intermediate to advanced rider, head to the back side of Silver Star for steep runs, fast glade skiing, tough moguls, and heaps of champagne powder. Our favourite runs at Silver Star are Caliper Ridge, a straight beeline ripper that lets you gain massive speed, and the Ridgeback for stunning views that span all the way to Okanagan Lake. SilverStar offers night skiing on The Gondola, Silver Queen Chair, and the Magic Carpet (bunny hill). Kids can ride the Gondola for free.
Lifts: 10
Runs: 132
Adult Day Pass: $95 (Mon to Fri), $110 (Sat & Sun)
Vertical drop: 551m (1,808 ft)
Other Activities: Cross country ski trails, tube park, snowshoeing, horse sleigh rides, fat biking, snowmobile tours, mini snowmobiles for kids, ice skating.
Getting there by car: 1 hour 10 minutes
Take Highway 97 north from Kelowna to Vernon, then turn onto Silver Star Rd until you reach the parking lot.
4. Apex Mountain Resort
Apex Mountain is a British Columbia ski resort located southwest of Penticton that's suitable for beginners, intermediates, and advanced skiers of all ages.
A wide variety of machine groomed runs, forest & alpine terrain, and ski-in ski-out village make Apex one of the top ski resorts in the Okanagan and a popular destination for families.
Serious riders will enjoy the steep runs, tight glades, and great Okanagan snow conditions.
After skiing, take your family or little ones to the kids tubing park, or coast through tall snow-covered trees on the ice Skating Loop.
Compared to other Okanagan ski resorts, Apex ski passes are far more budget-friendly at $97 per day.
After a morning on the slopes, have lunch or an apres ski beverage at the Gunbarrel Saloon restaurant & bar.
Lifts: 4
Runs: 79
Adult Day Pass: $97
Vertical drop: 603m (1,978 ft)
Other Activities: Tube Park, adventure skating Loop, hockey rink, cross country & snowshoe trails
Getting there by car: 1 hr 20 min
Take Hwy 97 South to Penticton. Turn right on Green Mountain Rd and continue until the Apex parking lot.

5. Sun Peaks Ski Resort
Sun Peaks is a Thompson Okanagan ski area located 45 minutes from Kamloops, BC.
With runs for every skill level, ski schools, and daycare services, Sun Peaks is an awesome family ski resort. Lift tickets give you access to the 3 mountains that make up Sun Peaks Resort: Mt. Tod, Morrisey, and Sundance.
Most of the terrain is suitable for intermediate skiers and snowboarders, but advanced riders will enjoy the steep groomers, moguls, and glades.
Sun Peaks' European-style village has shopping, fantastic dining & apres ski, and some great ski-in ski-out hotels. For a fun night out in Sun Peaks village, check out Bottoms Bar & Grill. If you like living large, our favorite place to stay is the Sun Peaks Grand Hotel, one of Canada's finest ski hotels.
Lifts: 13
Runs: 137
Adult Day Pass: $115
Vertical drop: 882m (2,894 ft)
Other Activities: Cross Country, ice fishing, snowmobiling, heli skiing, fat biking, ski biking, dog sledding tours, horse-drawn sleigh rides
Getting there by car: 2 hr 45 min
From Kelowna, take Hwy 97 northbound to Vernon. Take the left turn at the end of Swan Lake then continue on Hwy 97 until Kamloops.
From Kamloops, get onto Southern Yellowhead Hwy 5, then turn right at the Husky station, then left onto Tod Mountain Rd and continue on Hefley Louis Creek Rd until Sun Peaks.