Selling Your Kelowna Home? Here are 10 Things to Consider First
If you're like most Canadian homeowners, you've probably seen your home value 🚀 skyrocket over the last few years.

With talk of interest rate hikes on the horizon, we don't know how long this bull market will last - and if it's going to end with a whimper or a bang 💥

What we do know is that real estate in Kelowna, BC is selling for record prices in 2022. Many Kelowna homeowners wanting to lock in top dollar for their Okanagan home think now is a great time to sell.

You have a lot of options in Kelowna when it comes to real estate. If you're selling your home in the Okanagan, here are 10 factors to consider before putting your home on the market.
#1. Top Dollar Prices
Last spring 2021, The Okanagan Mainline Real Estate Board (OMREB) showed the average property* sold for 99.8% of list price.
Not all listing brokerages performed the same; however, Vantage West Realty's listings sold on average for 103%* - a 3% increase over the market average. With the price of single-family homes in Kelowna reaching $1 million in 2022, three percent is no small peas.
Vantage West Realty attributes its higher selling prices to its proprietary 3P Listing Launch Method that more often than not, leads to multiple bid situations. That means you'll get the absolute best price and terms for your property.
Vantage West Realty is also known for putting its agents through the rigorous Certified Negotiation Expert (CNE) program to stay on top of their game.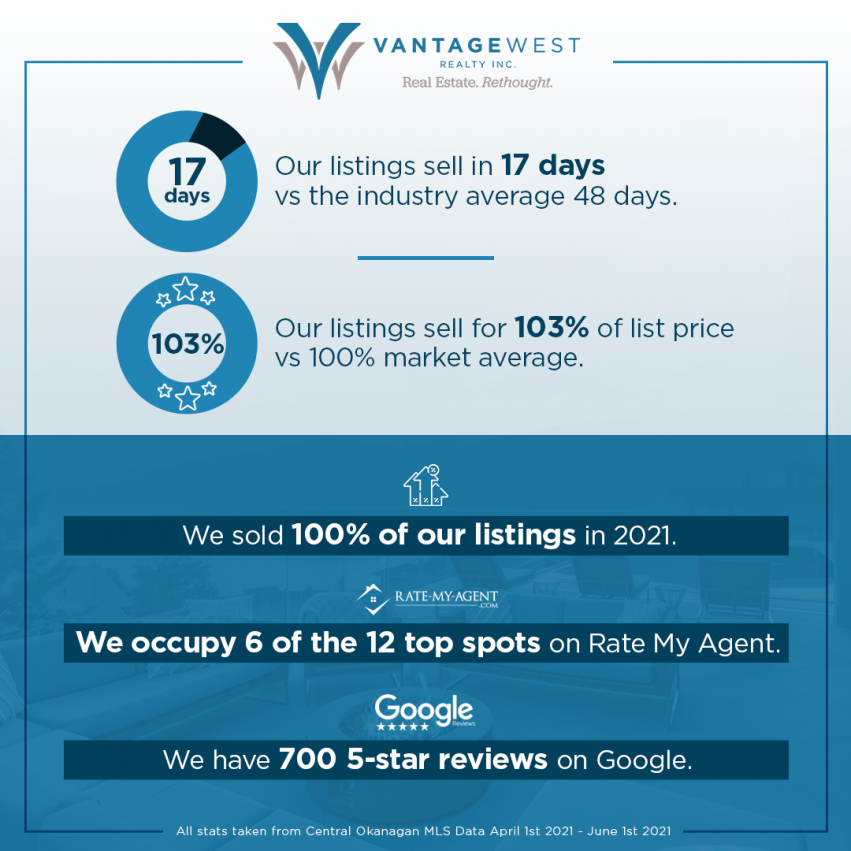 #2. What Guarantees or Sale Assurance are offered?
A quick google search reveals there are a couple of options to consider if you are looking for Guaranteed results. There is a guarantee being offered by the Collective Real Estate Group. If your home does not sell within 39 days they will sell it for free..
And you have the widely known Guaranteed Sold Program at Vantage West Realty. Vantage guarantees that your home in Kelowna will sell for at least fair market value in an agreed-upon timeframe - or they'll buy it from you themselves. This has made them a bit of a Maverick in Kelowna real estate.
If you're selling and buying locally, this is a complete game-changer. The sale assurance effectively turns you into a cash buyer, meaning you can confidently shop for your next home with a leg up against non-cash buyers.
#3. Speed Matters
During the busiest Spring months of 2021, The average listing took 40 days to sell. The market leader Vantage West Realty's listings sold 50% faster than the market average at 19 days.
Their 3P Listing Launch includes a robust Pre-MLS marketing push that gets buyers lined up to view properties on opening weekend.
#4. Secure Your New Dream Home - Before You Sell
If you've got your heart set on a new home but you haven't sold yours yet, the Buy First Then Sell program at Vantage West Realty gets you cash right away so you can secure your dream home and pick your own moving date.
Here's how it works:
If you don't have the capital ready to buy your next home, Vantage West will provide you with a firm Sale Guarantee for your current home, which lets you unlock your home equity so you can secure financing for a home you love.
After you've already moved out of your old home, they help you sell it on the market. To attract the best buyers, the Vantage West team takes care of cleaning, staging, and marketing so your old home looks its best while you relax in your new one. On top, you'll keep every penny above the Guaranteed sold price.
#5. Get Up to $30,000 to Fix Your House (Interest-Free)
If you need to do any upgrades or renovations before selling your home, you can access up to $30K to cover your renovation costs using Vantage West Realty's Fix & List Program.
Here's how it works: A Vantage consultant and staging professional works with you to determine the smart fixes and high return renovations. Vantage will arrange for their preferred licensed contractor to do the work at competitive prices, and loan you up to $30K for your renovations and repairs - completely interest-free.
The Fix & List Program gives you a chance to maximize your current home's value so nothing is left on the table.
If you combine their Fix & List program with their Buy First Then Sell program, you can literally take possession of your new house and use their money to "flip your old house" for profit.
#6. Experts at Maximizing Your Home Value
With over $400M in annual sales and a long history of successful flipping and real estate development, Vantage West Realty has a unique oversight into what it takes to optimize home values.
As part of their selling process, they offer 1-on-1 consultations that can help you boost your home price through low-hanging fruit renovations, government grants, and home staging by interior design professionals.
#7. Rated 4.9/5 With More Than 700 Google Reviews
In a time when online reputation can make or break a company, one only has to spend a few minutes reading the hundreds of heart-felt genuine reviews from customers that were glad they enlisted this little-known boutique agency to help them maximize their largest investment.
Dubbing themselves as the "real estate office of the future," Vantage West Realty now has over 700 positive Google reviews, glowing testimonials on Rate my Agent, and a 2021 Consumer's Choice Award.
#8. The Easy Exit Policy Minimizes Sellers Risk
If you work with a traditional agency, listing your home can be a stressful proposition.
You're usually locked into a sales contract for at least 3 to 6 months, and if you do cancel - for any reason - most agents won't let you sell for 2 months without paying them a hefty commission fee.
Vantage West Realty lets you back out of your contract at any time - no matter what happens. If you don't feel like they held up their side of the bargain, you can fire them and walk away - scot-free.
And if you do walk away, they will help you transfer ownership of their professional photos to your new agent so you don't miss a beat.
#9. Their Concierge Team Does Your Heavy Lifting
We all know that moving can be a stressful event. What should be a fun and exciting time can easily turn into a nightmare.
To make your life easier, Vantage offers all of their clients a white-glove concierge service - a team member who connects you to the best local businesses and service providers that can help with before, during, and after your move.
The concierge team takes a lot off your plate: arranging boxes, moving, storage, cleaning, staging, even interior design for your new home.
They give out helpful checklists to keep your move on track and make sure you don't miss any details like transferring utilities and Canada Post forwarding.
#10. They Pay it Forward
It's no secret that Kelowna realtors have made a good living recently, but some agencies like Vantage West Realty have a long track record of giving back
to charitable causes - here in the community and around the world.
Vantage West celebrated a decade in business by giving $25,000 to the Karis Support Society, a group that helps women experiencing challenges with addictions and mental health.
They also donate to the United Way, the Kelowna Gospel Mission, and Mamas for Mamas. At the onset of the COVID-19 pandemic, they raised $25K to support local restaurants, and every Christmas, they host a toy drive for Okanagan families in need.
AJ & his brother Nick are both proud members of 100 Men Who Give a Damn, a grassroots organization raising money for nonprofits 4 times a year.
In 2020, Vantage West became a strategic funding partner with New Story Charity, which used the funds to build 3D printed homes for people living without shelter in rural Mexico.
Is it your time?
Now that you've know what to consider, you should have a better handle on whether or not it's time to sell. Whether the time is now or you plan on waiting a little longer, we're here to help.
Let's Talk
*Stats - Central Okanagan, period March 1st - June 1st, 2021. Average DOM Vantage 17 vs Avg 48. and Average List to Sale price. Vantage 103% vs average of 100% ($30,000 represents 3% on the average single-family home of $1,000,000)
This representation is based in whole or in part on data generated by the Association of Interior REALTORS®, which assumes no responsibility for its accuracy.